Jayson Tatum is making a living in the clutch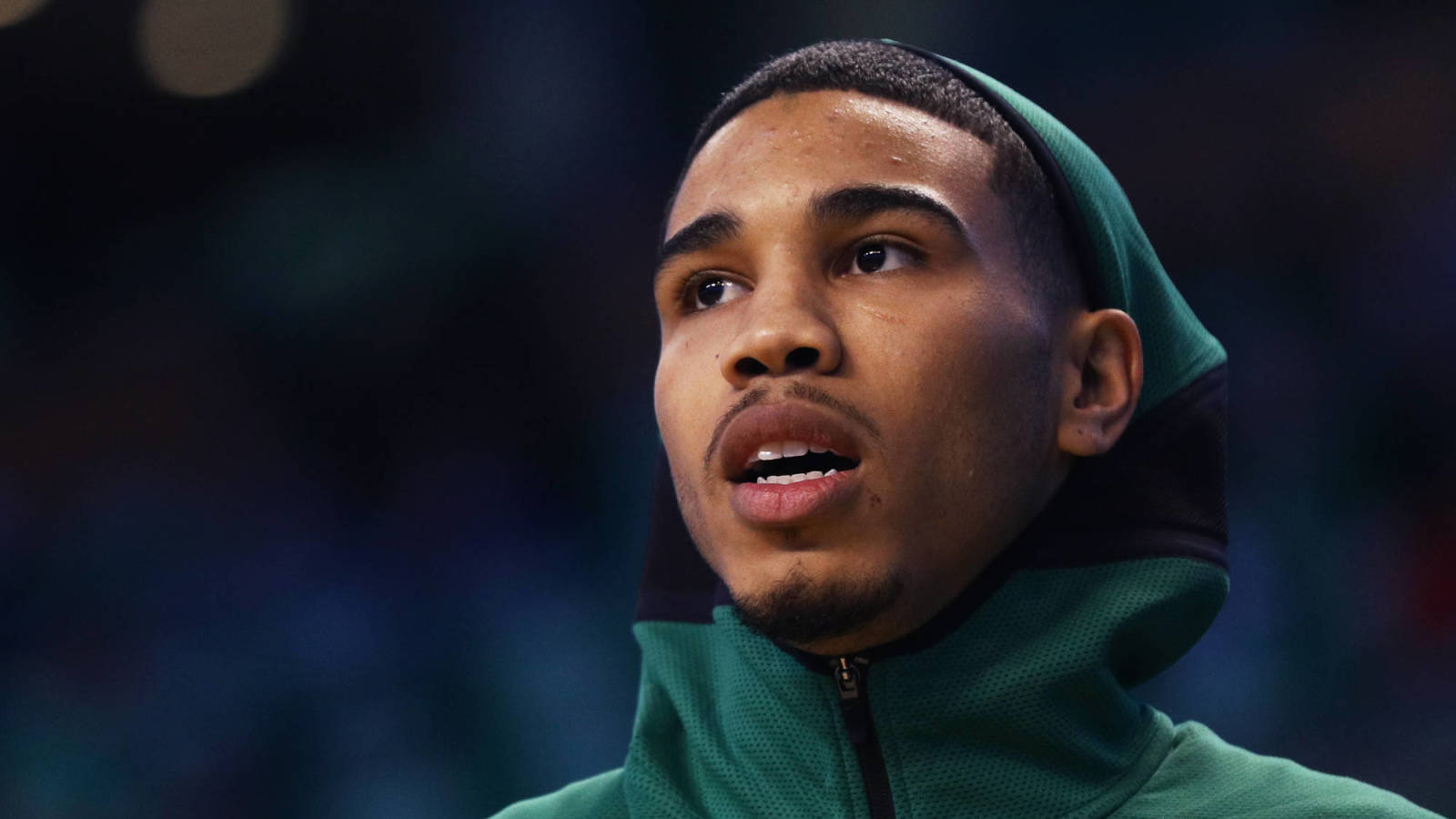 Maddie Meyer/Getty Images
He's been doing it all season. Big shots down the stretch. Huge defensive plays. The baseline dunk against Brooklyn. The James Harden block. The late-game, lead-expanding three in Detroit. He is a forward, a Celtic and a rookie. He can hoop but understands the limitations of his role. He is soft-spoken but will yell obscenities at you after big plays late in the game. He is everything Boston wanted him to be and more. He is Jayson Tatum.
The TD Garden isn't seeing anything they haven't seen before. The city has been blessed with a laundry list of franchise-altering talents to show that the luck of the Irish has as much to do with preparation as it does with circumstance. "Some people have it and some people don't," said Kyrie Irving after Tatum's performance in Detroit. Irving, who knows a thing or two about closing out games, recognized what he has in Tatum early in the season, and the two are tied for the best clutch scoring duo in the NBA (149 points, tied with Butler/Wiggins; Lillard/McCollum as of Jan. 10).
Where Irving gets it done in volume (second in clutch scoring behind LeBron James), Tatum has been the absolute most efficient of any player in the NBA with at least 20 attempts in clutch situations. He's shooting 70 percent from the field, 80 percent from three and 100 percent from the free throw line. He is holding onto the NBA's best eFG% and TS% while ranking in the top 20 in rebounding percentage. In a year that has seen a plethora of rookies perform beyond expectations, it's Tatum alone whose performance is intrinsically sublime when the game is on the line.
You can usually find rookies somewhere on a continuum between discovering themselves and discovering the league. The talent pool is too deep to do them simultaneously, and learnings from one end help substantiate learnings on the other. It's a natural teeter-totter effect that helps growth, understanding and performance. Tatum was injected into a culture in which he could spend much more time in the middle than most rookies are afforded. Even with the injury to Gordon Hayward, the Celtics have proven to be deep enough to give Tatum the kind of opportunities that lend to early success even with who he's asked to be in a constant state of variability.
His role with the Celtics changes from night to night, and in some games, possession to possession. He plays for a coach who doesn't believe in traditional positions and can have the responsibilities of a player who we'd describe as a 2, 3 or 4. He's being asked to take on a lot, and even outside of clutch situations, he's been not only the most efficient player on the Celtics or one of the most efficient rookies in the league, but one of the most efficient players in the NBA. He's shooting .462 from deep, which is best on the Celtics and fourth in the NBA. He's only one of two rookies with at least two defensive win shares on the season (Ben Simmons is the other).
Despite everything great Tatum is doing for the Celtics, he is operating as the team's fourth option and is averaging only nine field goal attempts per game. He's third on the team in scoring behind Irving and Jaylen Brown but seventh on the team in usage (while he's not counted, Gordon Hayward's usage rate of 18.0 in the five minutes he's played all season is a tenth higher than Tatum's 17.9). When Hayward returns, Tatum's role is sure to change, which could mean even fewer touches.
Tatum has been excellent all season long, and there is nothing to suggest that he will not continue to impress, but it will be increasingly more difficult to place what his impact means for the Celtics until Hayward comes back and is fully healthy and fully ingrained into the system. Tatum's success is due in large part to his ability to take advantage of Brad Stevens' offensive system. He's been an excellent spot up shooter and finds a lot of easy baskets around the rim because of the attention drawn by Irving and Al Horford. With a third player in Hayward dictating how the offense is run and no real reason to decrease the looks Brown receives, we're left to wonder what Tatum's numbers will look like for the first few years of his career.
There is no doubt that as he continues to improve and show that he can score in isolation at the NBA level, Stevens is going to have to give him the ball more. It's a great problem to have if you're Boston, especially with another lottery pick coming their way this summer. Tatum is in a perfect position for a rookie who wants to win, and even without the numbers of a Simmons, Donovan Mitchell or Kyle Kuzma, he could still end up with the coveted Rookie of the Year award off the sheer strength of what his production means to his team. Quality over quantity. And even if he doesn't win the award, he's going to have the opportunity to be a key contributor to a team with Larry O'Brien aspirations.
He is Jayson Tatum, and right now, that's all the Celtics need him to be.
Celtics News

Delivered to your inbox

You'll also receive Yardbarker's daily Top 10, featuring the best sports stories from around the web. Customize your newsletter to get articles on your favorite sports and teams. And the best part? It's free!
MORE FROM YARDBARKER
Celtics News

Delivered to your inbox

You'll also receive Yardbarker's daily Top 10, featuring the best sports stories from around the web. Customize your newsletter to get articles on your favorite sports and teams. And the best part? It's free!