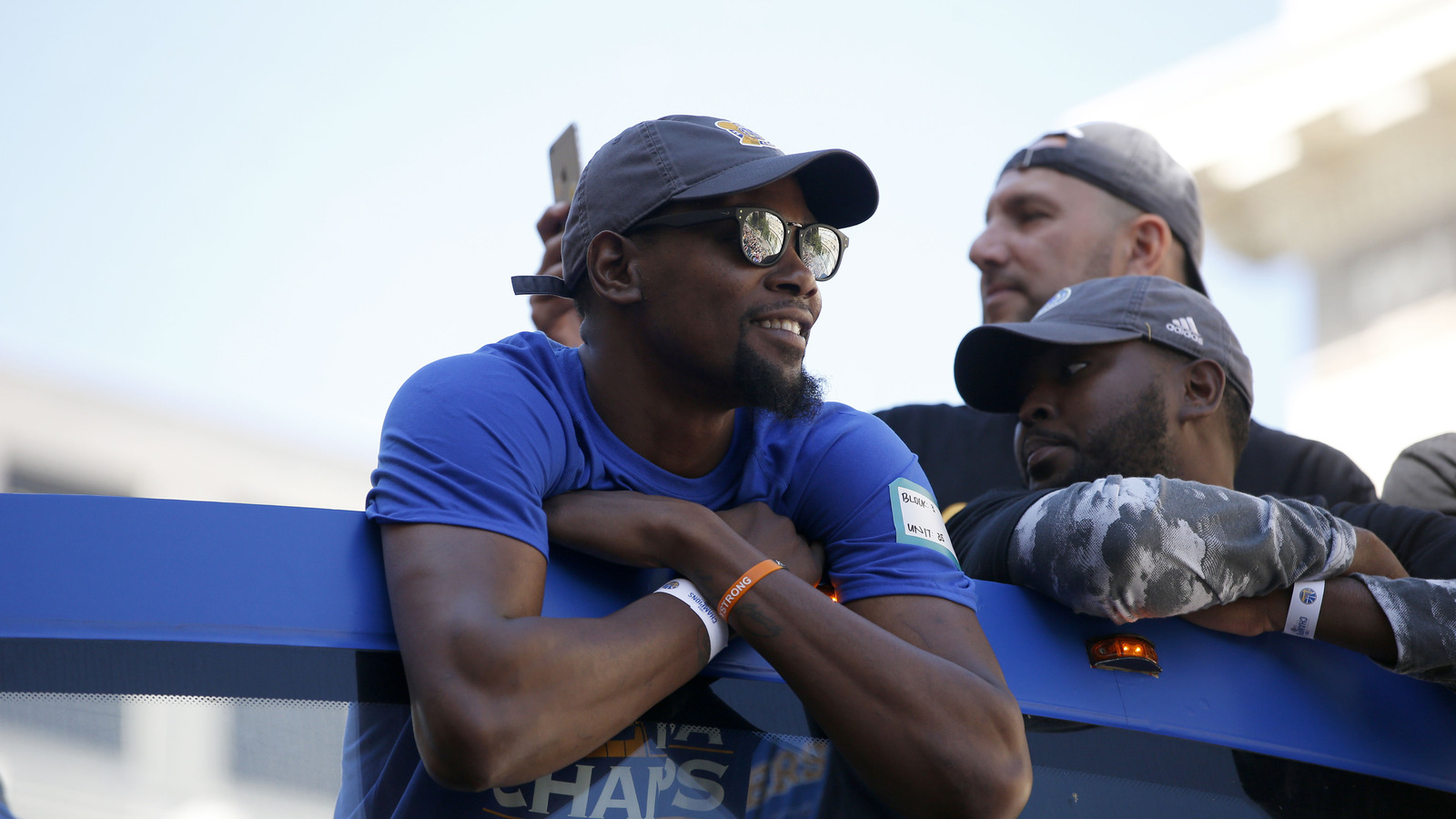 Jun 15, 2017; Oakland, CA, USA; Golden State Warriors forward Kevin Durant smiles during the Warriors 2017 championship victory parade in downtown Oakland. 
Cary Edmondson-USA TODAY Sports
Kevin Durant wasn't the first athlete to take a pay cut to help out the organization he plays for, but his decision was criticized largely because he's a member of the Warriors.
Heading into the offseason fresh off of an NBA championship, the Warriors had a few questions that needed to be resolved regarding their roster. Andre Iguodala and Shaun Livingston, two key contributors to Golden State's recent success, were set to become free agents, as were Durant and Stephen Curry.
Curry and Durant were virtually a certainty to return. The same couldn't be said for Livingston and Iguodala. Golden State re-signing the latter two became a reality in part thanks to Durant agreeing to a contract for less money than he could have received.
Durant deciding to take a pay cut was met with criticism from some. The NBA Finals MVP said the criticism not surprising because people "love to hate" anything the Warriors do.
"They only criticized it because it's the Warriors and it's me and they love to hate anything we do right now," Durant told The Athletic. "A lot of players have taken pay cuts. It wasn't that I wanted the praise. I've learned from Tim Duncan and Dirk Nowitzki and how it has helped them over the years and I thought, if they did it, why can't I? Why shouldn't I sacrifice? People wanted the money to break us up and I didn't want that to happen."
The combination of the sheer dominance of the Warriors after the addition of Durant, combined with a perceived arrogance and presence of Draymond Green, have turned Golden State into a bit of a villain. There have been some who have wondered aloud if the Warriors are bad for the NBA.
Durant is obviously correct in that Duncan and Nowitzki sacrificed personal dollars during their careers in order to help their respective organizations build around them. He has decided that sacrificing money is worthwhile if it leads to more success for his team.
MORE FROM YARDBARKER:
QUIZ: Name every NBA All-Star Game MVP
The NBA All-Star Game has been held since 1951. Can you name every All-Star Game MVP?
Note: The 1998-99 ASG was cancelled. There were co-MVPs in 1958-59, 1992-93, 1999-2000 and 2008-09.
MORE FROM YARDBARKER
Warriors News

Delivered to your inbox

You'll also receive Yardbarker's daily Top 10, featuring the best sports stories from around the web. Customize your newsletter to get articles on your favorite sports and teams. And the best part? It's free!