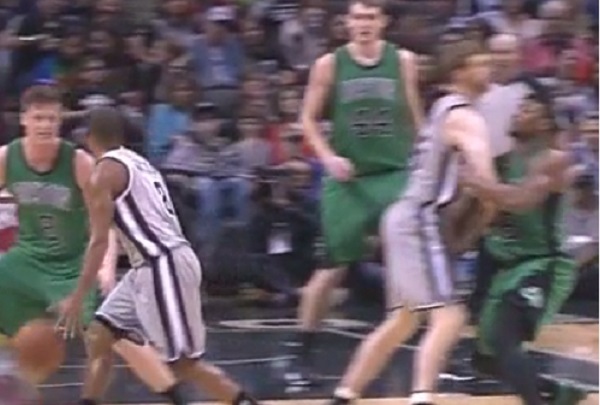 The Celtics' Marcus Smart hits San Antonio's Matt Bonner in a very tender place.
Screenshot: Fox Sports Southwest
Marcus Smart was ejected from a game earlier this month against the Magic for an elbow to the face of Elfrid Payton. On Friday, Smart once again saw his evening end early. This time it was for contact he made to an area much lower than the shoulders.
After fighting through a screen, Smart wildly swung his right arm with his hand connecting with Matt Bonner's crotch. An officials review led to Smart being assessed a Flagrant 2 foul and ejected from the game.
After the incident with Payton, the Magic guard indicated he didn't think the play was dirty. The opinions of this play by Smart will likely be different, as the motion doesn't appear to be something that would be considered a "basketball play."
A suspension can probably be expected for the Celtics rookie as well as a bunch of questions Smart will have to answer.
MORE FROM YARDBARKER
Spurs News

Delivered to your inbox

You'll also receive Yardbarker's daily Top 10, featuring the best sports stories from around the web. Customize your newsletter to get articles on your favorite sports and teams. And the best part? It's free!