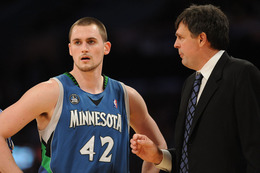 So yeah, anyone who wasn't sure if the Minnesota Timberwolves were cursed when Ricky Rubio decided to stay in Spain, injured his knee last season when leading something of an offensive revival for a fiesty T-wolves squad, or when lynchpin forward Kevin Love fractured his shooting hand in October which put him out for all but 18 games of this season can now be assured that the team is, indeed, cursed. Love has re-fractured the same hand. There is no timetable as of yet for how long he will be out. Unlike Christian Ponder being too injured to play against Green Bay in the Vikings' playoff game, this injury actually affects the team's chances of winning. Zing! The T-Wolves are currently 15-14, just a half-game behind Denver for the final Western Conference playoff spot. Sure it's early, but losing the team's leader in rebounding and scoring isn't going to help them actually make the playoffs, despite how fun Rubio might be. Oh wait, Rubio has missed the last couple of games with back spasms, too. Yeah, the T-Wolves are screwed. Love may be best known for his rebounding prowess, but he does usually shoot from long-distance fairly well. Or at least he did before this season. Coming off the broken hand and before this latest injury, he's making only 22 percent of his threes, well below his averages from the past two years.    
MORE FROM YARDBARKER
NBA News

Delivered to your inbox

You'll also receive Yardbarker's daily Top 10, featuring the best sports stories from around the web. Customize your newsletter to get articles on your favorite sports and teams. And the best part? It's free!