NBA referee hotline bling: Green reaches out to touch somebody
By Sean Keane | Last updated 1/11/17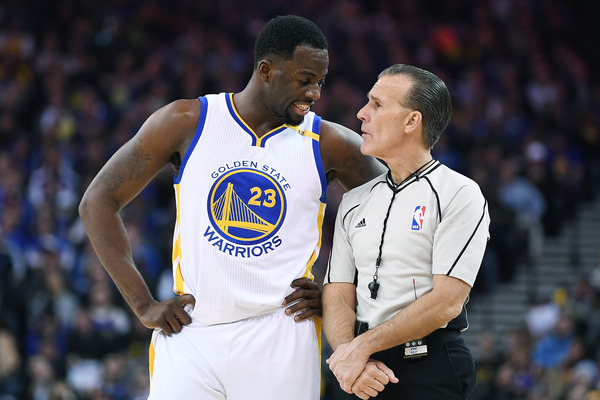 'Sir, I have Draymond Green on line two."
Thearon W. Henderson/Getty Images
As part of the new Collective Bargaining Agreement, NBA players now have a hotline to call to complain about the work of NBA refs. They can complain about calls, give their side of controversial plays, and generally critique the officials - like Yelp for 6'8" dudes with sweet jumpers. But what happens afterward? We've written some replies in response to these likely hotline calls. We know when that hotline blings, that can only mean one thing: an NBA player is complaining.
Re: Draymond Green vs. Marquese Chriss
Dear Mr. Green,

Thank you for your many, many passionate voice mails. However, we must take issue with a few of your points.

1. "Restless leg syndrome" is not an officially recognized medical condition in the NBA.

2. According to our medical experts, restless leg syndrome does not cause a person to kick others in the crotch.

3. Restless leg syndrome is not caused by "disrespect," as you posited.

We'd also like to respectfully ask you to stop texting explicit photos to this number, however "accidental" that might be.
Regards,
NBA Referee Hotline
Re: Demarcus Cousins vs. Chair
To clarify, NBA players receive an automatic technical anytime they throw a punch, regardless. One further clarification, the "bench" has been made up of a row of chairs for decades. It's just a colloquialism, not an attempt to trick anyone.
In response to your other claims:
a) Hedo Turkoglu is a Turkish-American, not an Ottoman.
b) That's not what "stool sample" means.
c) We feel it would not be in the best image of the league or yourself to put out a video game titled 'DeMarcus Cousins' Punch-Out'.
Sincerely,
NBA Referee Hotline
Re: Russell Westbrook vs. The back of a referee's head
Dear Mr. Westbrook,

We've reviewed the tape of you throwing the ball off the referee's head. Though it appeared to be a miscommunication, we still must assess a technical foul. There will be no fine, as we understand that things sometimes get away from you even with your best efforts: basketballs, fashion choices, All-Star forward Kevin Durant, etc.

Please tell your GM that there's no way to trade a technical foul to Houston to save money, so don't even try.

Also, this will not count as an assist, so you are still one short of a triple-double.

Thunderously yours,
NBA Referee Hotline
Re: Andre Drummond vs. Timofey Mozgov

Dear Mr. Drummond,

We have reviewed the video of the game in your complaint. While there were a number of off-ball fouls committed against you by Timofey Mozgov, we find no evidence that this was an organized "Russian hacking conspiracy."

However, Sasha Kaun did indeed send your private emails to Wikileaks, and the NBA will sanction him accordingly.
до встречи,
NBA Referee Hotline
Re: Giannis Antetokounmpo vs. The New York Knicks
Dear Mr. Jackson,

Thank you for your comments regarding the Last Two Minute report on the Bucks-Lakers game. While Giannis Antetokounmpo should have been called for a five-second violation, we have no plans to change the outcome of the game. This call seems to have affected you emotionally, Mr. Jackson, based on the loud sobbing and sniffling. Perhaps this has to do with your personal life? Otherwise we are not sure how referee Ken Mauer "took out my heart and stomped on it, like 17 years don't mean anything at all."

Also, in regards to your Zen koan at the end of the call, we believe that if a referee called a foul in the forest with no one around to hear, it would indeed make a sound. Because of the whistle.
Zenfully yours,
NBA Referee Hotline
MORE FROM YARDBARKER
NBA News

Delivered to your inbox

You'll also receive Yardbarker's daily Top 10, featuring the best sports stories from around the web. Customize your newsletter to get articles on your favorite sports and teams. And the best part? It's free!