NBA Referee Hotline Bling: Kyrie Irving has unlimited range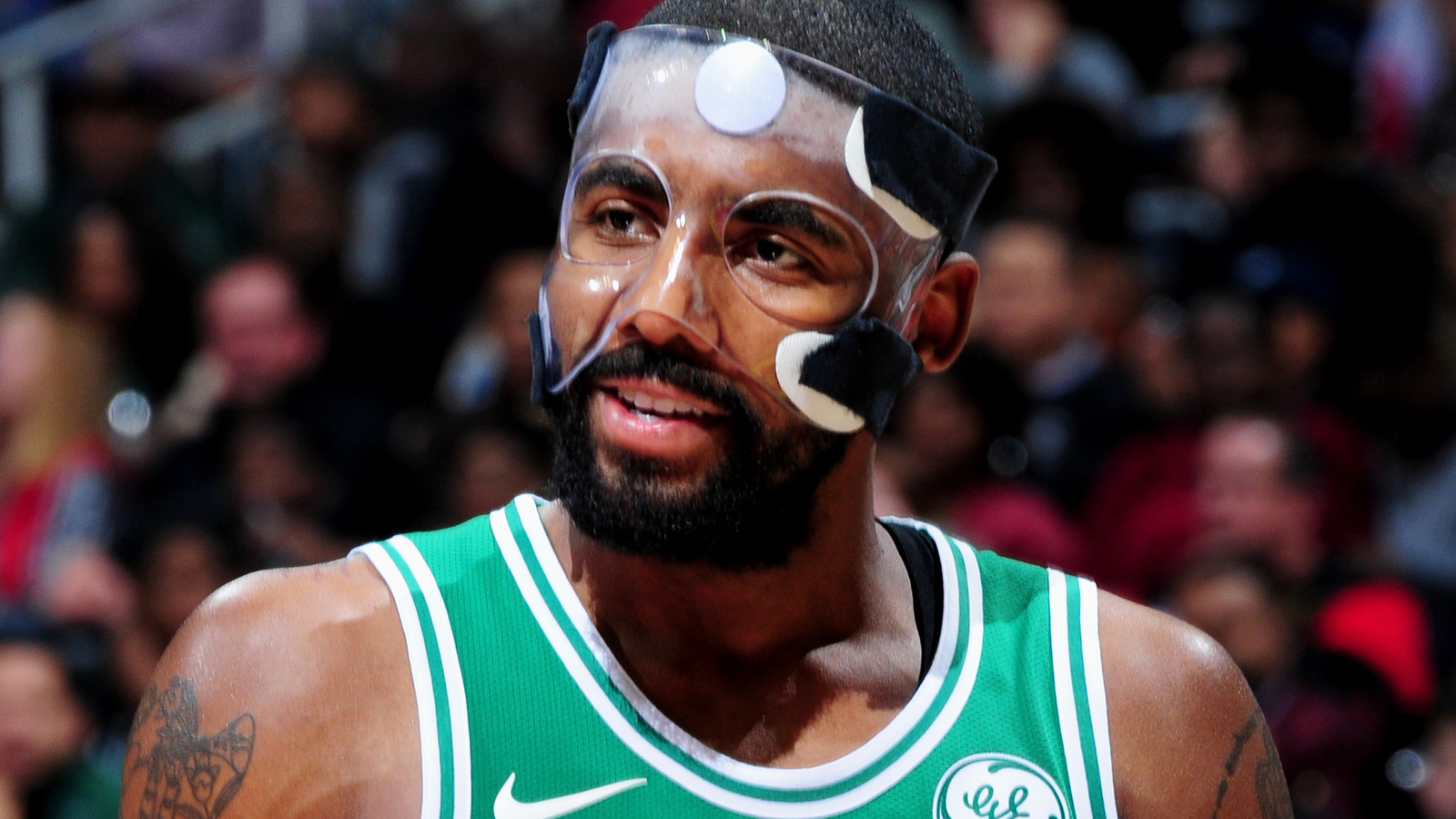 Scott Cunningham/Getty Images
The NBA has a new hotline where players can vent about the officials, get calls clarified and plead for better treatment. Think of it as a way to reach out and touch a ref, without the mandatory suspension for actually touching a ref. We've obtained access to the hotline and responses, which are about as authentic as a Derrick Rose standardized test. We know when that hotline blings, it can only mean one thing — an out-of-this-world player is going to phone home.
Kyrie Irving vs. Copernicus
Dear Kyrie Irving,
We've heard about your claims that the world is flat, your casting doubt on the moon landing and your general skepticism toward anything NASA-related. You even called to let us know that you only got a blocking foul because "gravity is an illusion." But after watching you this season, we are on to you. You only talk about astronomy this way to deflect attention — because you are an alien.
No human being is going to make crazy shots like that! The Uncle Drew ad campaign was a great move because playing a character who wears a fake face will distract everyone from the fake human face you already wear over your alien skull. Clearly the human mask needs a repair, because you're currently covering with a different "protective" mask — but we all know that's just camouflage.
Here's a reason you had to demand a trade from Cleveland: Too many team officials had seen you "eat" your pregame meal of ectoplasm and power cubes. Sure, you're pretending to be vegan, but eventually the media will catch on that not everything is tofu.
Look, we aren't saying you're necessarily being dishonest. The world probably does appear flat when you're seeing in nine dimensions at once. But we want to warm you that you may be pushing the alien telekinesis a little too far — some of the bounces defy physics. Well, Earth physics at least.
Cosmically yours, NBA Referee Hotline
DeMarcus Cousins vs. Russell Westbrook
Dear DeMarcus Cousins,
Oh, DeMarcus. You made it almost until December before drawing your first ejection, this one for elbowing Russell Westbrook in the head. While they reviewed the play right away, you still feel like you're being targeted unfairly. In fact, you said you didn't know what you could do differently — "send the refs a Christmas card — I don't know — the league, too. Send Christmas cards, stuff like that."
On behalf of the league and the referees, we'd like to say that would be nice. What about a photo of you and your dog Gotti? Gotti could even wear a Santa hat! Or what about en edible arrangement? You're always telling the refs to eat you! It would go along way. Or perhaps a handmade craft? Make it bright, since as you often remind us, these referees can't see for s---.
Honestly, what would be truly special is a gift for the referees' mothers, given what you've suggested about their behavior. And maybe some candles for the officials themselves, since there's a particular act that you've told every single NBA ref to do at some point. That would go along way, but you know what would be even better? Don't hit people in the head with your damn elbows.
Seasons greetings-ly yours, NBA Referee Hotline
Mike Malone vs. The Refs
Dear Mike Malone,
Thank you for your apology, but we must uphold your one-game suspension. Not only is making contact with an official unacceptable, but the manner in which you did it was a clear foul. Your feet aren't set, and you jumped right into the referee's path. It doesn't matter if you're outside the charge circle with a reckless block like that. Next time, you need to establish clear arguing position — shoulders square, hands on hips, fundamentally sound finger wagging.
While we agree that Nikola Jokic should have received a technical foul and not an ejection, the amount of anger displayed by the Denver Nuggets is surprising! Usually the Nuggets are much more mellow! They don't yell at the referees; they talk about music, sandwich places, their favorite episodes of "Black Mirror" and chem trails. We wonder if it has to do with leaving Denver and its easy access to certain recreational products?
We slowed down the video, and it appears that Jokic said he was fouled but then unleashed a string of expletives about how it was "bullshit" you can't vape inside the Staples Center. Clearly, he's going through withdrawal. So if you want to help your team's anger, anxiety and nondescript back pain, there's roughly 200 dispensaries within walking distance of LA Live. I'm sure Darrell Arthur can give you a recommendation.
Relaxedly yours, NBA Referee Hotline
Jason Kidd vs. The Refs
Dear Jason Kidd,
You've been an NBA head coach long enough that you know publicly criticizing the officials is not OK. It's an automatic fine every time! And it's especially a fine when, afterward, you dump out an entire urn of tea on the floor and then run away.
First, that's not an effective distraction — everyone saw you! Also, we think you might have misunderstood some popular slang. "Spill the tea" just means sharing gossip — like how Tony Snell stole John Henson's headband or how Matthew Dellavedova picks his nose. Those are some aggressive, dirty picks, too. You don't literally pour beverages all over the floor.
This has happened before. Remember when Giannis Antetokounmpo took a hard foul, and you poured a Jamba Juice on him while he was on the ground? And when you threw two cups of chai at a ref, hoping to get thrown out of a game so you could go to the Wynn Casino? Jason, two technicals means an ejection, not two teas! And when you convinced the Bucks to sign O.J. Mayo because you thought he was an orange juice vendor?
We would advise you not to mess with beverages at all, and for the remainder of the season, we would like you to use a sippy cup.
Thirstily yours, NBA Referee Hotline
NBA News

Delivered to your inbox

You'll also receive Yardbarker's daily Top 10, featuring the best sports stories from around the web. Customize your newsletter to get articles on your favorite sports and teams. And the best part? It's free!
MORE FROM YARDBARKER:
MORE FROM YARDBARKER
NBA News

Delivered to your inbox

You'll also receive Yardbarker's daily Top 10, featuring the best sports stories from around the web. Customize your newsletter to get articles on your favorite sports and teams. And the best part? It's free!