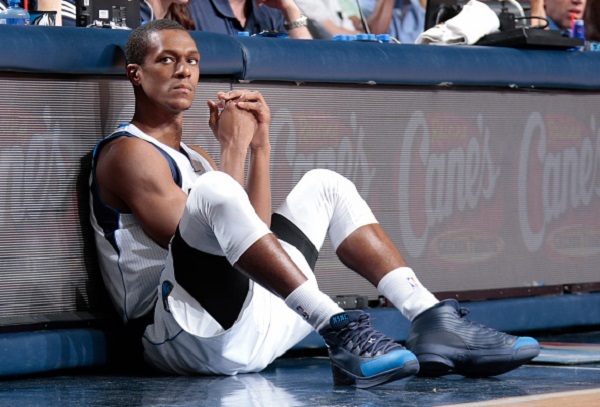 The Mavericks did not give Rajon Rondo a playoff share.
Danny Bollinger/National Basketball Association
By Larry Brown
There is little question that the Rajon Rondo trade was a failure for the Dallas Mavericks, and the latest report confirms how bad things got between the point guard and the team.
Dallas Morning News Mavericks reporter Eddie Sefko says Rondo did not receive a playoff share from the team.
Teams that made the playoffs but lost in the first round received $208,940 to split in any way they chose. If you break that up 14 ways, each player takes home around $15,000. That's not a ton of money by NBA standards, but it's still something. And it's even more telling that the players, who determine how the money will be split, excluded Rondo from the pot.
Rondo played poorly in Game 2 of the Mavs' series with the Houston Rockets, skipped out on the media, and was later said to have a back injury that would keep him out indefinitely. What really happened was Rondo was benched for his poor play and effort, and he and the team mutually decided it would be best for him not to play the rest of the series.
The Mavs also did not give Lamar Odom a playoff share in 2012, but he was a total headcase and disaster with them, and was even reportedly on drugs while playing for the team. Being in the same category as Odom is not a good sign for Rondo.
MORE FROM YARDBARKER
Mavericks News

Delivered to your inbox

You'll also receive Yardbarker's daily Top 10, featuring the best sports stories from around the web. Customize your newsletter to get articles on your favorite sports and teams. And the best part? It's free!