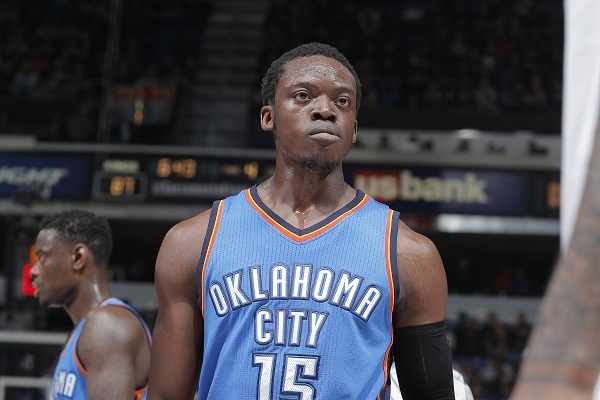 Reports of Reggie Jackson's discontent with his old team paint a vivid picture of his and his teammates' dissatisfaction with one another.
Rocky Widner/Getty Images
By Larry Brown
Reggie Jackson finally got his wish and was traded by the Thunder Thursday before the deadline, giving him a chance to start on a new team. We knew Jackson was unhappy with his role in Oklahoma City, but now we're learning just what a malcontent he was.
Longtime Thunder insider Royce Young reported the following for ESPNabout the time Jackson refused to play in a game earlier in the season:
Two days before the Thunder's season opener in Portland, Jackson sprained his ankle and missed the team's first two games. In their third game, the Nov. 1 home opener against the Nuggets, Jackson was cleared to play, but according to a source, refused to because of disappointment that he wasn't traded before the Oct. 31 extension deadline for first-round picks entering their fourth season, like Harden before him. Jackson spoke at shootaround that morning, coyly saying he probably wouldn't play that night. Immediately after finishing his session, he grabbed a ball and threw down an impressive drop-step windmill dunk — in front of reporters and his teammates. Remember: This was when the Thunder were piecing together a roster without Durant and Westbrook, and only had eight active players available.
What's interesting is that Jackson made his season debut for the Thunder's next game, which is the contest when his teammates reportedly froze him out.
Young also had some other great nuggets about selfish Jackson had become. He cited stats that show Jackson stopped attacking the basket and started hoisting more mid-range jumpers. He says teammates were frustrated that Jackson wouldn't shoot the ball at the end of quarters and instead held onto it, perhaps to keep his field goal percentage higher. Jackson grew even more frustrated after Dion Waiters was acquired, meaning he had to split even more time.
How happy was Jackson to learn that he had been traded? He says he was crying tears of joy after being sent to Detroit.
The Thunder don't seem to miss him, either.
"We felt like everybody wanted to be here except for one guy," Kevin Durant said Thursday via Young. "He got what he wanted … He got what he wanted."
This trade was a long time coming.
MORE FROM YARDBARKER
Thunder News

Delivered to your inbox

You'll also receive Yardbarker's daily Top 10, featuring the best sports stories from around the web. Customize your newsletter to get articles on your favorite sports and teams. And the best part? It's free!