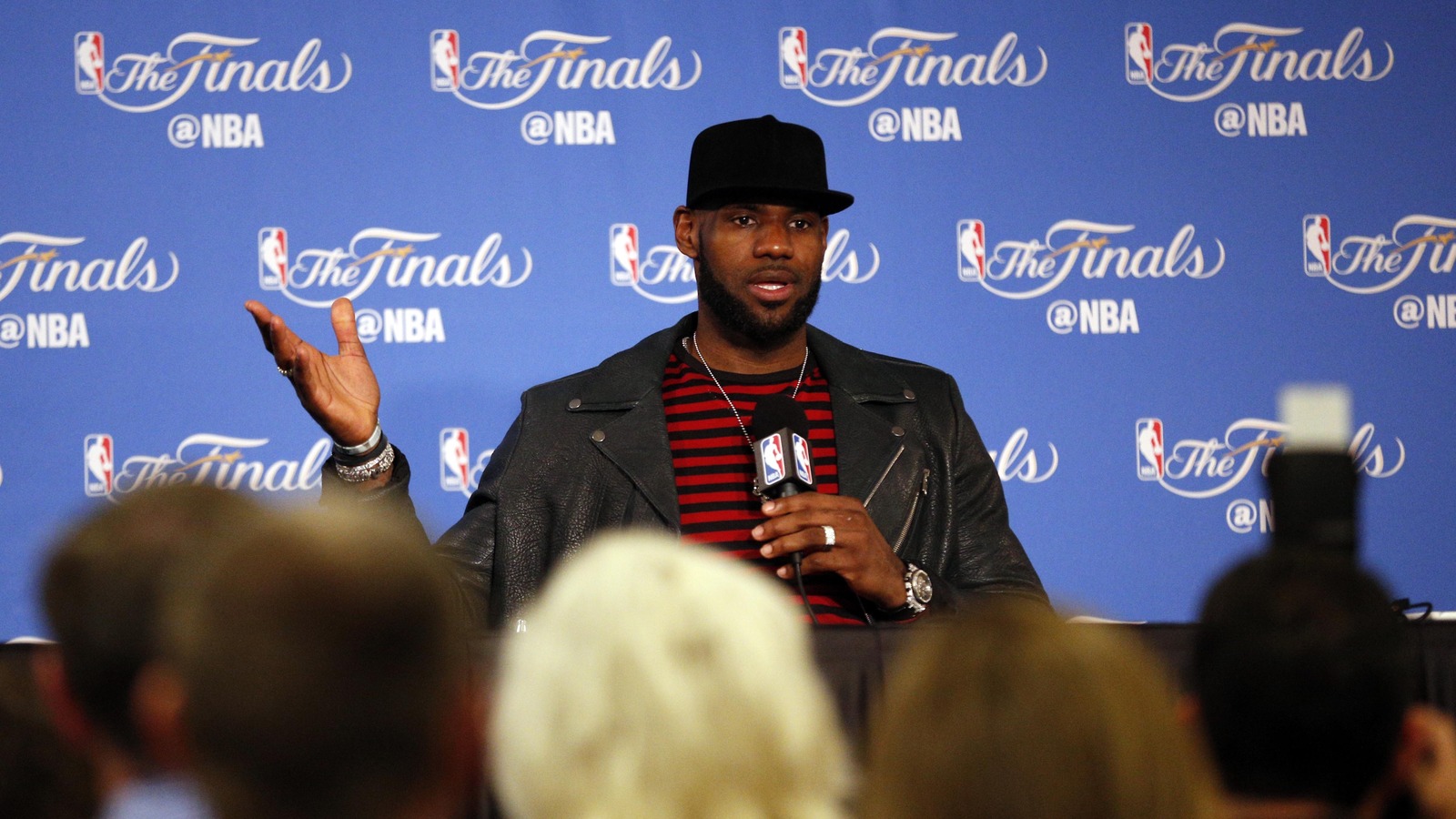 Jun 12, 2017; Oakland, CA, USA; Cleveland Cavaliers forward LeBron James at a press conference after game five of the 2017 NBA Finals against the Golden State Warriors at Oracle Arena.
Cary Edmondson-USA TODAY Sports
Could LeBron James leave Cleveland once again in search of greener pastures? According to what Adrian Wojnarowski said on his podcast Wednesday, not only might James leave, but teams around the Association apparently think it's going to happen.
"Not only is there no guarantee he's coming back, I'm not sure there's an expectation he's re-signing there," Wojnarowski said (h/t Dan Feldman of Pro Basketball Talk). I think they feel, I think within Cleveland and around the league, they feel that he's very much in play to leave again and likely head out West to one of the two L.A. teams. The Lakers could very well be a target."
It might seem sacrilegious to loyal Cavaliers fans, who've already dealt with one case of abandonment from James. But this isn't the first whisper we've heard about this.
Both the Los Angeles Lakers and Los Angeles Clippers will look quite a bit different in 2018 than they do now, especially if Paul George joins the Lakers in free agency after the next season.
James also made it clear he's not opposed to superteams like the one the Golden State Warriors assembled when Kevin Durant joined them this past offseason. In fact, he said it's "great" for the NBA. Also, he assembled a superteam of his own in Miami, and pretty much did the same thing bringing Kevin Love on board in Cleveland.
Now, neither of those teams can compare to what the Warriors have. But there is a precedent for James not only leaving his hometown but that he'll jump at the chance to assemble a new superteam of his own.
It's going to be fascinating to see what happens after the 2017-18 season concludes.
MORE FROM YARDBARKER
NBA News

Delivered to your inbox

You'll also receive Yardbarker's daily Top 10, featuring the best sports stories from around the web. Customize your newsletter to get articles on your favorite sports and teams. And the best part? It's free!