The 'It don't mean a thing if you ain't got that ring' quiz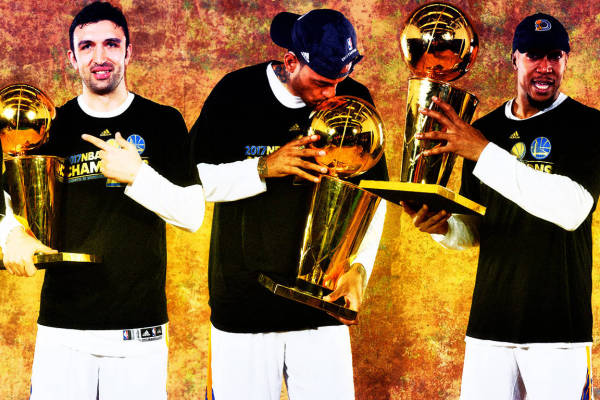 Yardbarker Illustration/Getty Images
For the second time in three years, the Golden State Warriors are the NBA champions. While most of the media's attention has been focused on the Warriors' big four — particularly Finals MVP Kevin Durant — there are a few other well-traveled vets on the Dubs' roster who are also taking home ring number one. 
Matt Barnes is in his second go-round with Golden State, having been part of the 'We Believe' team that upset then No. 1 seed Dallas during the 2007 playoffs. And as documented by the folks over at SBNation, it took a few twists of fate for Barnes to end up back in Oakland. Now he has a ring, and a storybook ending to his career, if he wants it. Hard to not be happy for Barnes. Ok, maybe not everyone is happy for him, but you get my point.
David West really wanted that ring, even if he had to lay an accidental smooch on his Finals opponent to get one. West made no bones about overtly chasing a championship either, even invoking the ancient Egyptians as justification for doing so. 
Prior to the Finals, Zaza Pachulia was known mainly for two things: for giving the greatest Game 7 pep talk of all-time and for injuring Kawhi Leonard in the Western Conference Finals. But now he's also an NBA champ and reminded everyone shortly after about the harrowing journey that some players have to take just to get a chance at playing in the NBA.
And, of course, there's JaVale McGee. McGee went from fodder for Shaqtin' A Fool segments to key contributor to quite possibly the greatest team of all-time in the span of a few months. Sure, he's still capable of doing occasional 'JaVale things', but he's now also the charter member of an exclusive fraternity. 
And that brings us to today's quiz of the day. Before the Warriors defeated the Cavaliers for the second time in three years, the trio of Barnes, West and Zaza were some of the oldest players in the league who had yet to win a ring. How many of the remaining ringless NBA elder statesmen can you name in six minutes?
Good luck!
CLUE: AGE / CURRENT TEAM
QUIZ: Name the oldest active NBA players who have not won a championship
MORE FROM YARDBARKER
Quiz of the Day Newsletter

Delivered to your inbox

Get the Quiz of the Day, Yardbarker's daily newsletter featuring one carefully curated quiz inspired by today's headlines. Compete with your friends and the community. Emailed every weekday. Always free!