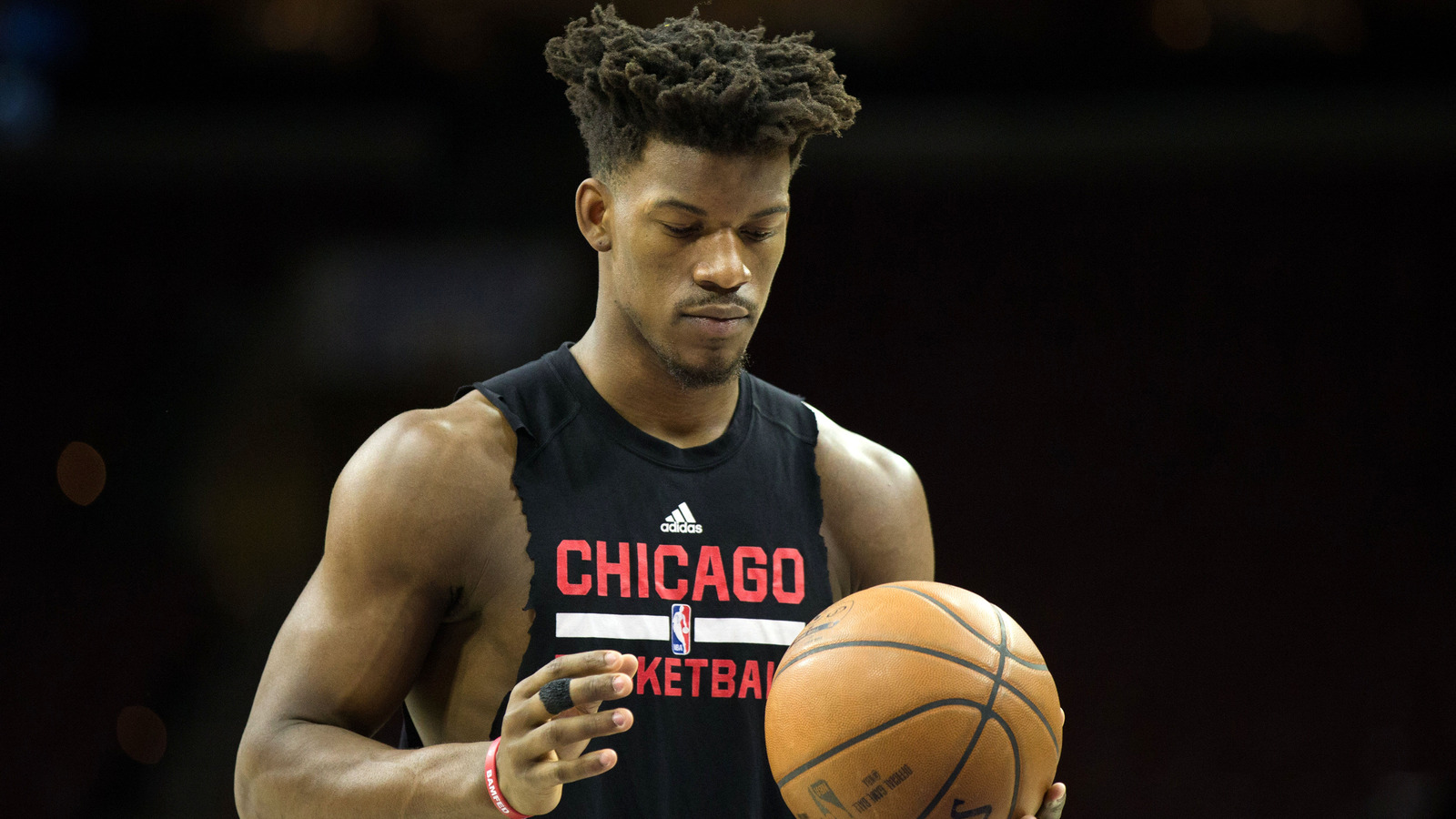 Is new Timberwolves forward Jimmy Butler among the top 15 players in the NBA?
Bill Streicher-USA TODAY Sports
Throughout the offseason, we'll be counting down the Top 50 players in the NBA from 50 to 1. Who will just miss the cut? Which names do you expect to see? Regardless, you'll be able to find them all right here.
Why He's Great: Jimmy Butler has added something to his game every single year. Here's a breakdown:
2011-12: Rookie year, does nothing.
2012-13: Forces his way onto the floor through sheer energy.
2013-14: Becomes a lockdown defender, secures a starting role.
2014-15: Becomes a 20-point scorer and guarantees himself All-Star status.
2015-16: Becomes one of the league's best passing forwards, giving himself the option to essentially play point guard.
2016-17: Turns himself into an above-average three-point shooter in a league that demands it.
Do not discount anything in regards to Jimmy Butler. He improves every single year. Maybe Minnesota ignored shooting in the offseason because they believe Butler will become a 40 percent threat from long range in the near future. Maybe they felt comfortable trading Ricky Rubio because they know Butler is going to command a huge chunk of the playmaking duties. Plenty of star players rest on their laurels. Butler was a four-year college player who had to earn his keep in the NBA. He has never forgotten that, and he will never stop improving because of it.
Why He's Below No. 12 (Karl-Anthony Towns): Similar to the debate between Klay Thompson and DeMarcus Cousins, there is the matter of raw talent. Jimmy Butler is a scrapper, someone who has turned himself into a remarkable player through sheer force of will. That kind of player has value that extends beyond the court, but it also caps him. Butler may have the capacity to improve nearly anywhere. But, he's just never going to be an MVP-caliber player. He's not talented enough.
But Karl-Anthony Towns is a comet. He is the kind of player that passes through the league once in a generation. When you have a chance to get that player, you get him. Teams would like to have Jimmy Butler. They'd kill each other to get Karl-Anthony Towns.
There are also the immediate realities of Butler's skill-set. He may have the capacity for improvement, but wings who take only three three-pointers per game are quickly falling out of favor. He has improved as a shooter and will continue to get better, of course. But at that volume, he will struggle to generate space for teammates. The player he is right now isn't a good enough shooter. Accepting him as he is acknowledges the risk that he never gets to the level you'd hope for him.
MORE FROM YARDBARKER
Timberwolves News

Delivered to your inbox

You'll also receive Yardbarker's daily Top 10, featuring the best sports stories from around the web. Customize your newsletter to get articles on your favorite sports and teams. And the best part? It's free!