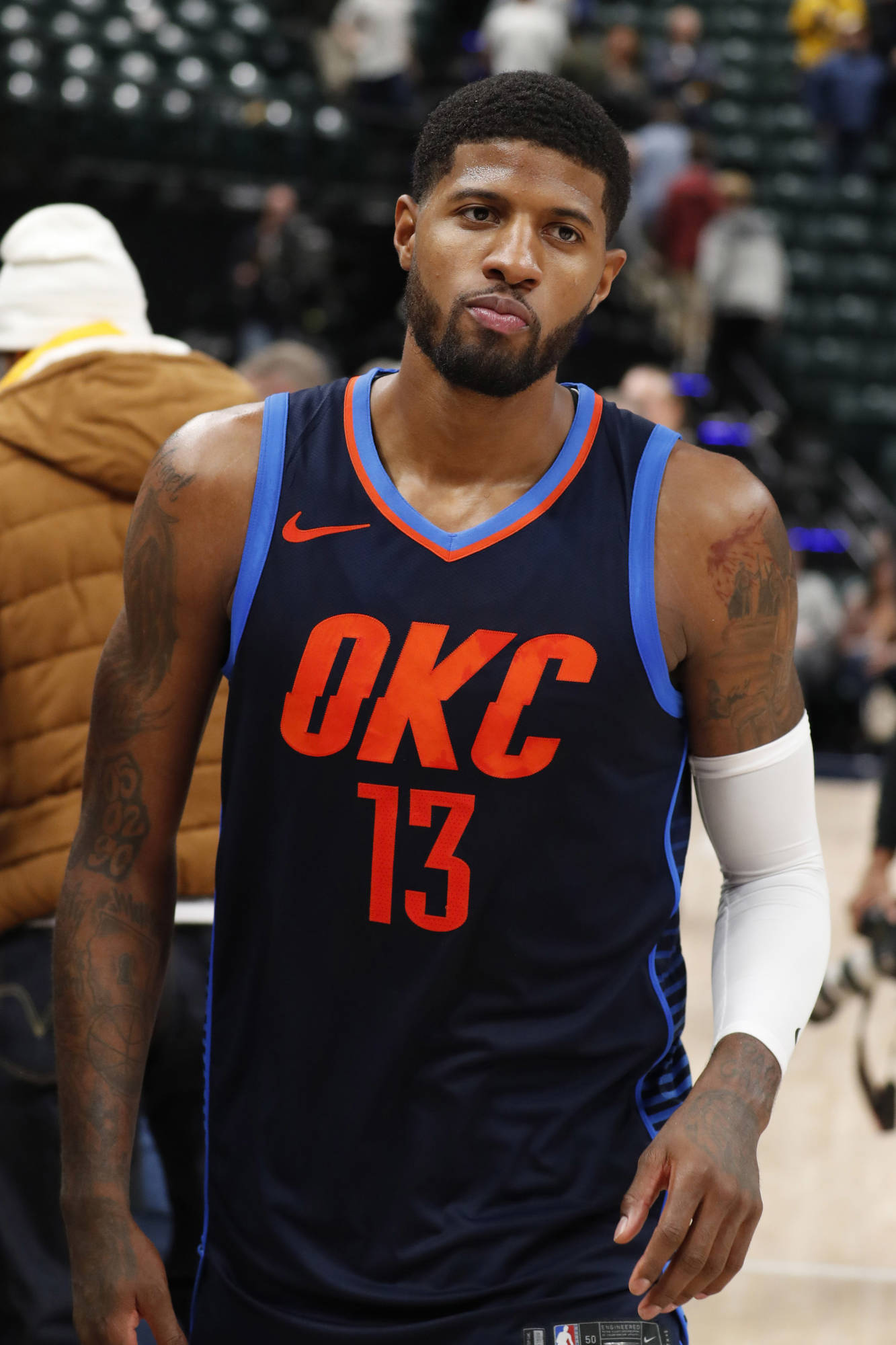 Dec 13, 2017; Indianapolis, IN, USA; Oklahoma City Thunder forward Paul George (13) walks off the court after the game against the Indiana Pacers at Bankers Life Fieldhouse. 
Brian Spurlock-USA TODAY Sports
Paul George and the Oklahoma City Thunder took a trip to take on his former Indiana Pacers squad Wednesday night. It's George's first game back in Indianapolis since he forced his way from the team this past summer.
Needless to say, fans in Indiana were not necessarily warm to George upon his return.
And in what also can't be considered too much of a shock, Twitterverse had its fun with George, as well.
This has to burn.
The Pacers just showed a long video going through all the greats in their history — Wayman Tisdale, Chuck Person, Dale Davis, Jeff Foster, Jalen Rose, Reggie Miller, etc. Paul George was not included.

— Royce Young (@royceyoung) December 14, 2017
Did we mention George didn't have a great game in the five-point Thunder win?
At the very least, some people were supportive of PG13.
Paul George – who didn't have a choice in being drafted there – gave IND some of the best years in their history, had the decency to let them know he was gonna bounce so they could get something for him…& is getting booed.

I don't blame players for looking out for themselves

— Laker Film Room (@LakerFilmRoom) December 14, 2017
Here are the best of the rest from Twitter.
So After tonight I don't want to talk about Paul George again. That shush is everything PG is in a nutshell. From now on, I'm focused on Oladipo and Myles and Sabonis and Thad and all the guys. Love this team, even if they let me down on my birthday https://t.co/RVmSAR6Oqo

— Ryan (@ColtsfanRyan) December 14, 2017
Yes Myles need to be better and he will, yes the @pacers are still 16-12 and will be just fine but dammit I'm bitter…. so screw you refs for sucking and screw you Paul George. You still suck so have fun getting booed in OKC next year after you screw them too.

— Zach Grinslade (@ZGrinslade) December 14, 2017
Paul George, Melo and Westbrook combined to go 10-45 from the field. Hard to believe they are under .500.

— Brian Patterson (@Coachbpp23Brian) December 14, 2017
Despite the win, George and the Thunder remain under .500 on the season. It's led to speculation that the impending free agent might in fact be dealt prior to February's trade deadline (more on that here).
Just don't expect it to be back to Indiana.
MORE FROM YARDBARKER
NBA News

Delivered to your inbox

You'll also receive Yardbarker's daily Top 10, featuring the best sports stories from around the web. Customize your newsletter to get articles on your favorite sports and teams. And the best part? It's free!