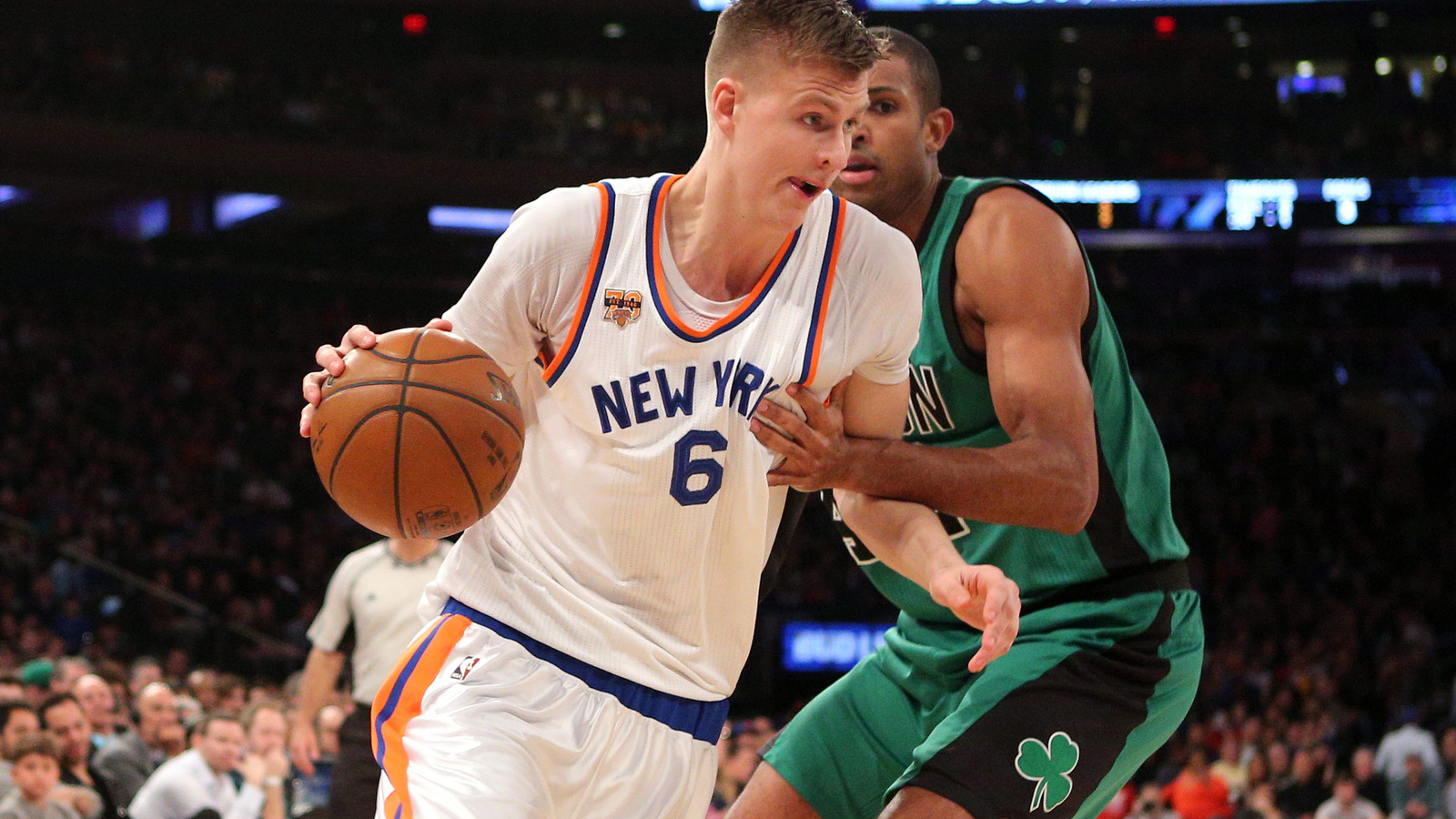 Is Knicks forward Kristaps Porzingis among the top 50 players in the NBA?
Brad Penner-USA TODAY Sports
Throughout the offseason, we'll be counting down the Top 50 players in the NBA from 50 to 1. Who will just miss the cut? Which names do you expect to see? Regardless, you'll be able to find them all right here.
Why He's Great: We did this last year, in the exact same spot, so sure, let's break this gimmick out again:
On Dec. 11, 2016, Kristaps Porziņģis blocked seven shots, grabbed 13 rebounds, and made three three-pointers. He was the first player in NBA history ever to do that in a single game.
Let's broaden our scope a bit. Take out the rebounds and lower the threshold for blocks to six. How many times has that been done in NBA history? Five. A healthy 40 percent of them belong to Porziņģis.
Still too specific for your liking? Fine. I'll lower the blocks threshold to five. Only nine times in NBA history has a player blocked five shots and made three shots from long range. Three of those games belong to Kristaps Porziņģis.
To be clear, Kristaps Porziņģis has played 138 NBA games. In that time, he has posted multiple stat lines that are totally unique to him. The more we broaden the scope of those stat lines to help other players, the more times Porziņģis appears on these lists. There have probably been something like 50,000 games played in NBA history. If a player has done something three times out of 138 that has only been done six times out of 50,000 by literally everyone else who has ever played in the league, that guy is probably pretty special.
Why He's Below No. 39 (Devin Booker): Because Devin Booker's accomplishments can't be boiled down to a few unique stat lines. Moreover, we know who he is as a player right now. That's the thing about Porziņģis. His potential is so utterly insane that in our heads we turn him into whatever player we want him to be. That's simply more fun than evaluating the player he already is.
Right now, Kristaps Porziņģis is a stretch-5 who moves better defensively than he should, but not well by any means. He's a bad rebounder who's still learning how to pass at the NBA level. He's inconsistent on a game-to-game basis. And he's 7-foot-3, so he comes with major injury concerns.
Ask me which of these players I'd take for the next 15 years and I'm picking Porziņģis, no question. There's a chance he's the best player on a championship team some day. But ask me who's going to be better next year, and I hesitate, because Booker more or less already is the player he's going to be at his peak. Porziņģis isn't close to what he'll one day become.
MORE FROM YARDBARKER
Knicks News

Delivered to your inbox

You'll also receive Yardbarker's daily Top 10, featuring the best sports stories from around the web. Customize your newsletter to get articles on your favorite sports and teams. And the best part? It's free!