We've updated our Privacy Policy.
By continuing to use this site, you are agreeing to the new Privacy Policy.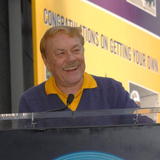 A woman is claiming to be an omitted child of late Lakers owner Jerry Buss and says she is entitled to her share of the family fortune, according to a report. TMZ says the new woman has come forward and filed legal documents in LA County Superior Court claiming that she was an "omitted" child of Buss. "Omitted" by a legal definition would mean Buss did not know about her. Jeanie...
Jerry Buss had a reputation for being a ladies' man, and a few items in his will seem to confirm that. According to TMZ, which obtained a copy of the late Lakers owner's will, Buss left a 2009 Bentley and condo in Honolulu, Hawaii, to his young girlfriend, Delia Cortez. Cortez reportedly is in her late 20s and was studying to be a vet. She and Buss reportedly had an "intimate relationship...
The Los Angeles Lakers honored former team owner Jerry Buss Wednesday before the team's first game since Buss died. Buss, who was 80 years old when he died on Monday, bought the Lakers in 1979. The team won 10 NBA championships during his 34 years of ownership. Buss was honored with a tribute video, speech from Kobe Bryant, and moment of silence before the team's game against the...
MORE STORIES >>
NBA News

Delivered to your inbox

You'll also receive Yardbarker's daily Top 10, featuring the best sports stories from around the web. Customize your newsletter to get articles on your favorite sports and teams. And the best part? It's free!