We've updated our Privacy Policy.
By continuing to use this site, you are agreeing to the new Privacy Policy.
Watch how Kevin Garnett reacted to Marcus Morrias' game-winner as he watched it live in Area 21's studio with Kyrie Irving's godfather -- Rod Strickland. Funny thing is, KG seems to still bleed green talking about the Celtics and watching current Boston's team playing in a close game! Follow Tomasz at @Timi_093 and subsrcibe his YT channel!Click here for more recent Celtics videos
Kevin Garnett might not know Marcus Morris's first name, but he knew the Celtics forward was going to knock down his game-winning three. Jayson Tatum drove into the lane and found Morris on the wing with the Celtics trailing by two late in Tuesday night's game against Oklahoma City. Morris pump faked, waited till the […]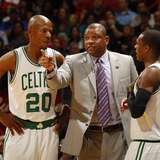 Ray Allen's new autobiography included some unflattering anecdotes about Rajon Rondo, and the point guard is firing back.In his upcoming book "From The Outside: My Journey Through Life and the Game I Love," Allen alleged that the Boston Celtics were ready to trade Rondo to the New Orleans Hornets for Chris Paul, but that coach Doc Rivers didn't want to foist Rondo on his close friend...
LIKE WHAT YOU SEE?
GET THE DAILY NEWSLETTER: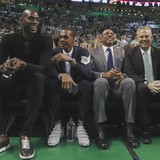 Paul Pierce thinks he knows who the next retired number of the Boston Celtics will belong to.Pierce said that Kevin Garnett will "without a doubt" see his No. 5 raised to the rafters now that Pierce has had the honor."Without a doubt, KG's number will be [the next one] retired in Boston," Pierce said, via Chris Forsberg of ESPN. "It's going to happen."Celtics president Danny Ainge...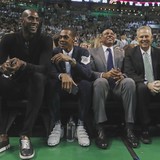 Kevin Garnett spent 20 years in the NBA. And his 14 would come as a member of the Minnesota Timberwolves. But that's not the team who he wants to retire his jersey. Instead, that distinction belongs to the team he won a title with: the Boston Celtics. If you are to take 'The Truth' Paul Pierce at his word, that is. But let's let him tell you:"(Garnett would) rather have his jersey...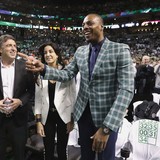 Whether he was invited or not, Ray Allen found something else to do on Paul Pierce's jersey retirement day.Allen shared a photo on Instagram Sunday that showed him golfing with friends, including comedian George Lopez. Another member of Allen's golfing foursome indicated on Instagram that they were playing on a course in Los Angeles, across the country from where Pierce's retirement...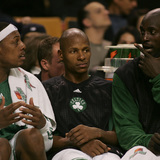 Paul Pierce's jersey retirement ceremony does not look like it will serve as a reunion for the Boston Celtics' Big 3.ESPN's Marc J. Spears reported on Saturday that Kevin Garnett and Ray Allen are not expected to attend Pierce's jersey retirement ceremony on Sunday. Rajon Rondo, who was the other star player on the Celtics' championship team in 2008, will not be there either as his...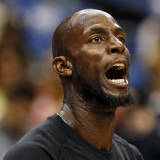 Kevin Garnett may work for the media now, as an analyst for TNT, but he still bleeds green.Garnett, who played for the Celtics for seven seasons, played a major role in helping the team win a title. That's probably why he still roots for the team, even though he spent the majority of his career in Minnesota.So when the Celtics fought back from a 26-point deficit against the Rockets...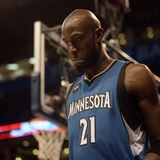 10 years ago Kevin Garnett was traded to the Celtics and a new era of excitement and prominence lasts to this day. Bobby and Keith look back at that day, draw parallels to Marcus Smart, preview Daniel Theis' impact on the Celtics and have a discussion on if KG's Boston trade ushered in the era of super-teams. Intro 0:00-3:00 Kevin Garnett 3:00-17:35 Marcus Smart 17:35...
MORE STORIES >>
Celtics News

Delivered to your inbox

You'll also receive Yardbarker's daily Top 10, featuring the best sports stories from around the web. Customize your newsletter to get articles on your favorite sports and teams. And the best part? It's free!