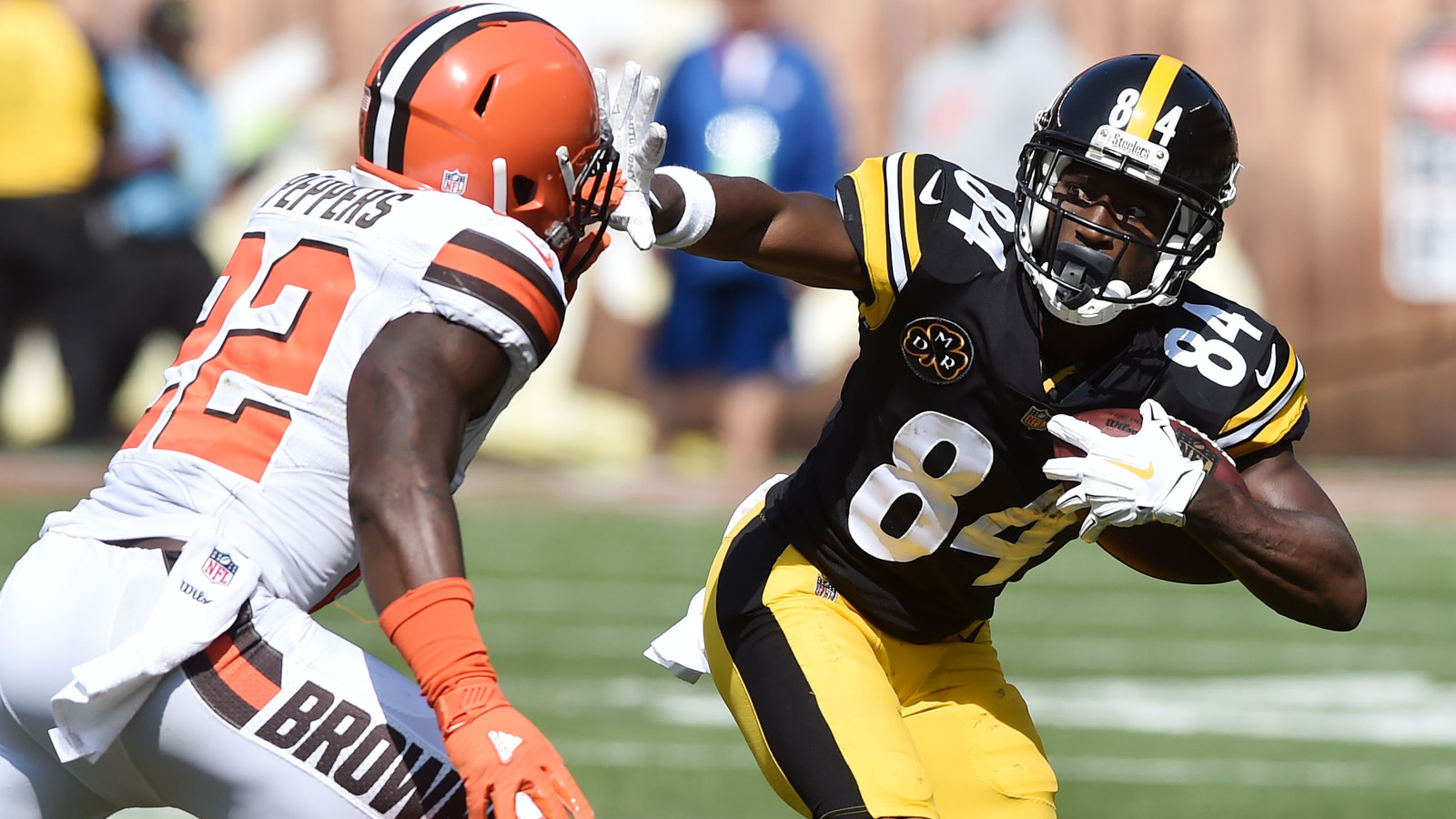 Pittsburgh Steelers wide receiver Antonio Brown (84) runs with the ball after a catch as Cleveland Browns linebacker Jabrill Peppers (22) defends during the second half at FirstEnergy Stadium on Sept. 10, 2017.
Ken Blaze-USA TODAY Sports
Many players had standout performance in Week 1 of the NFL season. Things kicked off on Thursday night with the Kansas City Chiefs surprising many with a spectacular game against the Patriots, thanks largely to explosive performances from many players who find themselves on this list. A few teams that disappointed last season had great games on Sunday, and their top performers have made this list. So did quite a few youngsters making their NFL debut. Here's a look at 15 standout performers from Week 1.
Antonio Brown, Steelers
After an offseason of rumors and drama, Brown opened the season by reminding us that he is simply one of the NFL's elite wide receivers. On a day when Le'Veon Bell and Martavis Bryant offered very little, Brown simply took over. He didn't catch any touchdowns, but he didn't need to. He had 11 receptions for 182 yards (on 11 targets), including a crucial late grab over Jason McCourty that gave the Steelers a much-needed first down to enable them to run out the clock on the Cleveland Browns. There is a reason that he may well be the NFL's premier wide receiver.
Calais Campbell, Jaguars
There are lots of fun ways to look at Campbell's performance. There is the obvious one — his 3.5 sacks had shattered the Jaguars' franchise single-game record by halftime, and he added another half a sack in the second half to make it an even four. Another way? Campbell's career high in sacks is nine, set in 2013 with the Arizona Cardinals, meaning that after just one week of action with Jacksonville, he is over a third of the way to matching his career high — and halfway to matching the eight he collected last season. That's dominance. The Jaguars owned Houston up front all game, but Campbell was definitely the star of a unit that now refers to itself as "Sacksonville."
Derek Carr, Raiders
Steady as it goes, Carr was his usual reliable self as the Raiders beat the Tennessee Titans. While there was nothing mindblowing about his showing, his numbers were quite gaudy: 22-32, 262 yards, two touchdowns, and a 114.3 QBR. This was his first meaningful action since breaking his leg at the tail end of last season. He didn't look like he'd missed a beat, putting in a strong, confident performance that will have the Raiders thinking he'll be every bit as good as he was in 2016, when he was a legitimate MVP candidate.
Tarik Cohen, Bears
Cohen is a 5'6″ rookie drafted in the fourth round out of North Carolina A&T, a school not quite known as a factory of NFL talent. He also only had five carries on Sunday, making him, on the surface, a bit-part player in Chicago's loss to Atlanta. Those who saw Cohen sat up and took notice, though, as he collected 66 yards on those five carries, including a touchdown and another 46-yard run that involved the shifty speedster stopping, turning, reversing, and throwing Atlanta's Brooks Reed into a tailspin. He doesn't have to be an every-down back to make an impact. hH's one of the more exciting players you've probably never heard of.
Mike Daniels, Packers
The Packer defense on the whole dominated the Seattle Seahawks, but Daniels had a big day and was right in the middle of arguably the biggest play. Daniels ended up with 1.5 sacks, but the big moment was his forced fumble on Seahawks quarterback Russell Wilson. Green Bay recovered, setting up a go-ahead touchdown, and never looked back after that. Wilson had a rough day, and as Daniels was the one breathing down his neck for much of the contest. He deserves a lot of credit for the part he played.
Jared Goff, Rams
Can Goff still justify his No. 1 overall selection and becomes the Rams' franchise quarterback despite his poor rookie season? Based on Sunday's evidence, the answer is yes. He was comfortable and reliable, completing 21 of his 29 pass attempts for 306 yards and a touchdown — and importantly, no interceptions. Even though he was facing a depleted Colts team, there can be no denying that this was a hugely encouraging performance for the second-year pro. New coach Sean McVay has to be feeling good about what he can do with his young quarterback.
Kareem Hunt, Chiefs
Hunt's NFL career got off to an inauspicious start when he fumbled his very first NFL snap. It's safe to say he ended up making up for that mistake. He was a threat both on the ground and through the air, with 98 yards and two receiving touchdowns to go along with 148 yards rushing and another score on the ground. Alex Smith will have no shortage of weapons if Hunt and Tyreek Hill can continue to play like they did against New England.
Tyreek Hill, Chiefs
Kansas City is a better team when Hill is making a big impact on offense, and he did that against the New England Patriots. His 75-yard touchdown reception — and the ensuing peace sign — was arguably the play of the game as the Chiefs put 42 points up against the New England defense. He ended up catching seven passes and racking up 133 yards. The Patriots really struggled to deal with him — his showing was more than enough to overcome his one fumble.
Marshawn Lynch, Raiders
This wasn't the best game Lynch has ever had, but for a guy who spent the entirety of 2016 enjoying retirement, he has to be graded on a bit of a curve. With that in mind, his 18-carry, 76-yard performance was really quite impressive, and he ran the ball well, showing that he could still be the running back he was in Seattle. He even had a message for the Tennessee Titans. Welcome back, Marshawn. The NFL missed you.
Demarcus Lawrence, Cowboys
The Cowboys entered the season with questions about their defensive line. Damontre Moore, Randy Gregory and David Irving all earned suspensions in 2017. That left Lawrence as one of the leaders of the unit. He responded in the team's opener. Coming off a season where he was limited by a four-game suspension and back injury, Lawrence delivered for the Cowboys. He had five tackles, including three for a loss (two sacks). The Cowboys needed to get some pressure on Eli Manning, and Lawrence provided it. He's on his way to surpassing his previous career-high for sacks in a season, which is the eight he had in 2015.
Alex Smith, Chiefs
Smith pretty much picked the Patriots apart, and that's saying something for a quarterback who has had to face more than his share of critics over the course of his NFL career. He went 28-of-35 against the reigning Super Bowl champions, throwing for 368 yards and four touchdowns while steering clear of any interceptions. Smith will probably never be mentioned as an elite quarterback, but at least in Week 1, he put together an elite performance that will give Chiefs fans a lot of confidence that maybe he really can lead the Chiefs on a postseason run.
Matthew Stafford, Lions
On his first drive as the NFL's highest-paid quarterback, Stafford threw a pick-six from deep in Arizona territory, and the jeers and second-guessing came out. The first half didn't get much better, either, with the Lions able to muster just nine points in the first two quarters. As happened many times in 2016, though, Stafford turned it on after the interval, leading Detroit to another comeback victory. The final numbers were impressive — 29-41, 292 yards, and four total touchdowns. Only time will tell if Stafford's big deal is looked at as a mistake or a great piece of business, but at least for today, it trends toward the latter.
Giorgio Tavecchio, Raiders
Never before in the NFL had a rookie kicker made two fifty-yard field goals in his debut — at least until the Italian-born Tavecchio came along. Just one day after Sebastian Janikowski, a Raider staple for the last decade and a half, landed on injured reserve, the 27-year-old pickup demonstrated that he could fill those shoes. Tavecchio knocked down four field goals — from 20, 52, 52, and 43 yards — in Oakland's win over Tennessee, becoming the first kicker in NFL history to hit from beyond 50 twice on his debut. Kickers don't get a ton of respect in the NFL, but not just anybody could've walked in, replaced a legend, and had the day Tavecchio had.
T.J. Watt, Steelers
T.J. definitely had a better day than his older brother did. Watt was an all-purpose playmaker for Pittsburgh in his first-ever NFL game, twice sacking fellow rookie DeShone Kizer and picking him off once as well. The interception is a difficult feat in any game, but a particularly notable one for a rookie playing in his first NFL game. There's a reason he walked in and won James Harrison's job in preseason. The younger Watt looks prepared to make a name for himself.
Carson Wentz, Eagles
Sunday probably didn't go how Wentz hoped it would. He threw a pick-six and was under constant pressure from the Washington defense, but it's a testament to the skills of the second-year quarterback that he still managed to have the game he did. Facing difficult opposition in a divisional road game, Wentz went 26-for-39 for 307 yards and two touchdowns. He had to create opportunities for himself with his legs frequently and did so with an impressive amount of composure. The Eagles would do well to avoid putting him under that much pressure going forward, but he showed poise under fire on Sunday.
NFL News

Delivered to your inbox

You'll also receive Yardbarker's daily Top 10, featuring the best sports stories from around the web. Customize your newsletter to get articles on your favorite sports and teams. And the best part? It's free!
PLAYERS:
Tarik Cohen
,
Mike Daniels
,
Marshawn Lynch
,
Damontre Moore
,
Eli Manning
,
Sebastian Janikowski
,
Antonio Brown
TEAMS:
Chicago Bears
,
Green Bay Packers
,
Oakland Raiders
,
Dallas Cowboys
,
New York Giants
,
Cleveland Browns
,
Arizona Cardinals
,
Jacksonville Jaguars
,
Tennessee Titans
,
Seattle Seahawks
,
Kansas City Chiefs
,
New England Patriots
,
Pittsburgh Steelers
MORE FROM YARDBARKER:
MORE FROM YARDBARKER
NFL News

Delivered to your inbox

You'll also receive Yardbarker's daily Top 10, featuring the best sports stories from around the web. Customize your newsletter to get articles on your favorite sports and teams. And the best part? It's free!