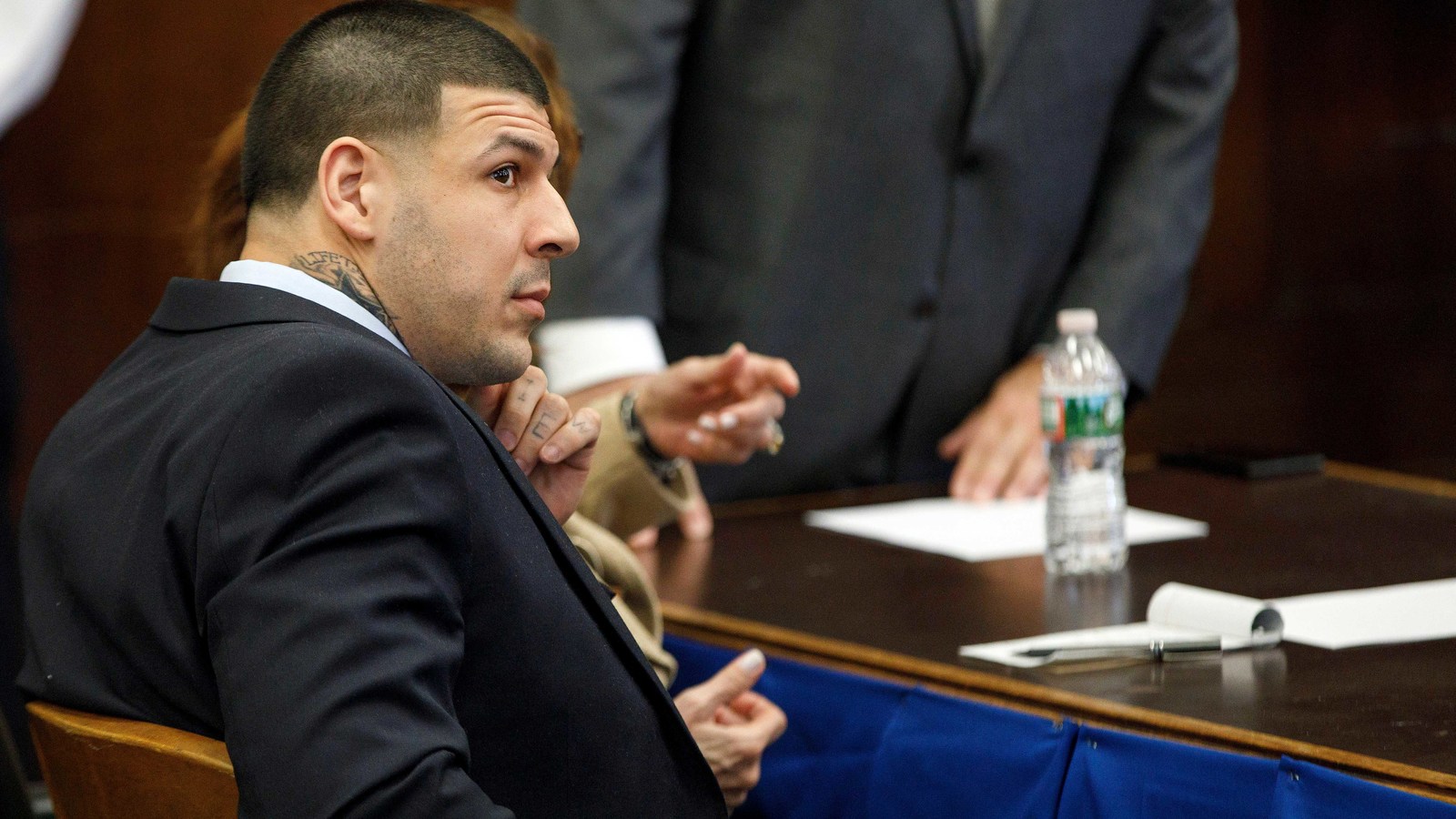 Apr 12, 2017; Boston, MA, USA; Former New England Patriots tight end Aaron Hernandez sits at the defense table during jury deliberations in his double murder trial of at Suffolk Superior Court . Hernandez is charged in the July 2012 killings of Daniel de Abreu and Safiro Furtado who he encountered in a Boston nightclub. The former NFL football player already is serving a life sentence in the 2013 killing of semi-professional football player Odin Lloyd. Mandatory Credit:
Pool photo by Keith Bedford/The Boston Globe
The family of the late Aaron Hernandez is suing the New England Patriots, claiming the former tight end had severe CTE and the team failed to protect him from it.
Boston University's School of Medicine examined Hernandez's brain, and one of the professors, Dr. Ann McKee, concluded that Hernandez had Stage 3 CTE, which is one step below the most severe form — Stage 4. They also determined "Hernandez had early brain atrophy and large perforations in the septum pellucidum, a central membrane."
According to the Boston Globe, Dr. McKee's research shows "CTE is associated with aggressiveness, explosiveness, impulsivity, depression, memory loss and other cognitive changes."
Hernandez committed suicide in his prison cell in April even though he had recently been found not guilty in a double-homicide case. He was in prison because he had been found guilty in a previous murder case.
TMZ Sports reports that Hernandez's fiancee is suing the Patriots saying they failed to adequately warn and protect Hernandez from the brain disease. The suit says the NFL and Patriots "were fully aware of the damage that could be inflicted from repetitive impact injuries and failed to disclose, treat or protect him from the dangers of such damage."
The two are seeking compensation for being deprived of Hernandez's presence.
MORE FROM YARDBARKER
Patriots News

Delivered to your inbox

You'll also receive Yardbarker's daily Top 10, featuring the best sports stories from around the web. Customize your newsletter to get articles on your favorite sports and teams. And the best part? It's free!