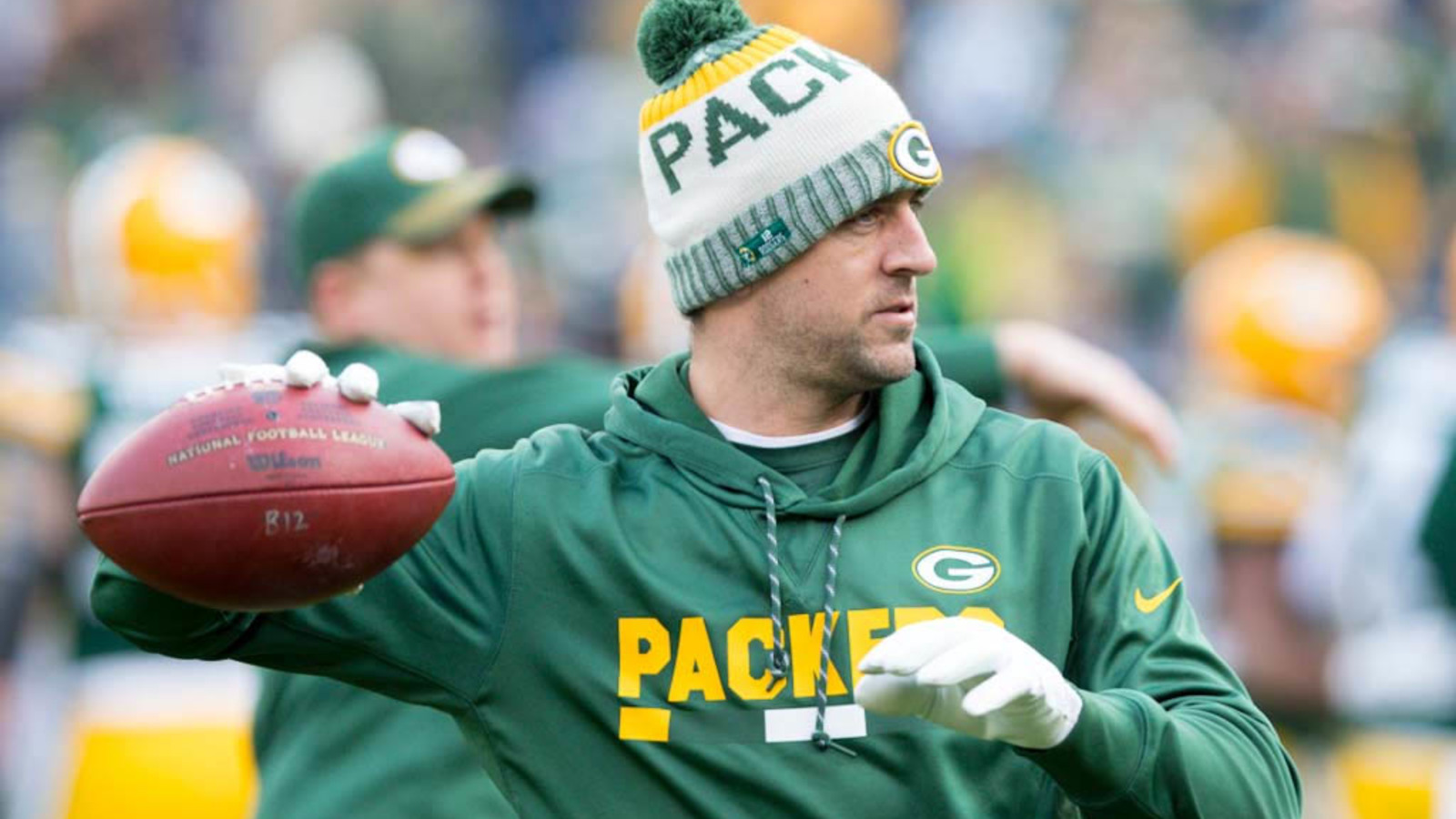 Jeff Hanisch-USA TODAY Sports
Packers quarterback Aaron Rodgers is on track to return to the football field on Sunday for the first time since breaking his collarbone in the Oct. 15 matchup with the Vikings.
Rodgers took to Instagram on Tuesday to announce that he's been medically cleared by doctors, and head coach Mike McCarthy confirmed on Wednesday that he's expected to start in Sunday's game against the Panthers.
The Packers are in playoff contention, but will likely need to win their final three games in order to clinch a berth. It puts a lot of pressure on the team, which lost four of seven games with Brett Hundley starting under center. Rodgers, however, has made it very clear that he's not coming back to "save" the team, which he indicated on Wednesday.
"Hopefully, it gives a lift to some of the guys, but I'm not coming back to save this team," Rodgers said, via Rob Demovsky of ESPN. "I'm coming back to play quarterback the way I know how to play it. Hopefully, we all raise the level of our play collectively and find a way to win these three games."
Rodgers was then asked about whether he had to lobby team physician Dr. Pat McKenzie to clear him to play, and while he didn't directly address the question, he did have this to say:
"I wouldn't be standing here ready to play if I wasn't confident I could go out there and play the way that I've always played," Rodgers said. "There's just no point in doing that. It's a risky game; it's a dangerous game. There's risks every time you step on the field."
He may not be returning to save the team per se, but Rodgers' teammates will certainly get a big lift with the two-time MVP back under center during Sunday's game. It will be interesting to see how the team addresses its protection issues, though, as the Panthers field a stout defensive front and have wreaked havoc on opposing quarterbacks this season.
MORE FROM YARDBARKER:
QUIZ: Name every prominent quarterback in the history of the Green Bay Packers
While there are certainly obscure quarterbacks who threw passes for the Green Bay Packers, the QBs featured in this quiz (including some all-time greats) were the 'top passer' for the team that year, according to the number of yards passing. We have identified 20 (with some repeats), how many of them can you name?
Clue: Years active
MORE FROM YARDBARKER
Packers News

Delivered to your inbox

You'll also receive Yardbarker's daily Top 10, featuring the best sports stories from around the web. Customize your newsletter to get articles on your favorite sports and teams. And the best part? It's free!