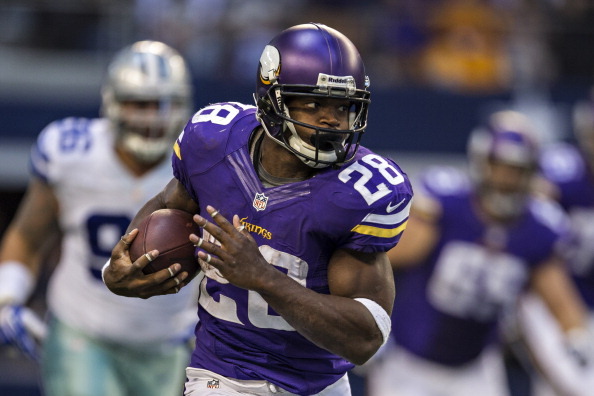 Adrian Peterson's father believes that the Vikings are trying to drive up the trade value of his son.
Wesley Hitt/Getty Images
By Larry Brown
The Minnesota Vikings have been saying for the past several weeks that they are intent on keeping Adrian Peterson, but the running back's father believes that may just be rhetoric.
Nelson Peterson, who has been speaking publicly an awful lot lately, told the St. Paul Pioneer Press' Chris Tomasson that he thinks the Vikings are making those statements to increase the back's trade value.
"They can increase his worth by saying, 'Hey, we want him back,''' Nelson Peterson told the Pioneer Press. "That's part of negotiations. Even if you don't want a player, you're telling the public, you're going to tell everybody else that you want him back because therefore you can increase his value in case you try to trade him or whatever. You can get more for him in that way. You never know what's going to happen now.''
Nelson Peterson also said his son does have some doubts about the sincerity of the Vikings, though he would never say so publicly. That likely stems from the way the team failed to back the star as he went through his child abuse case last season.
This all explains why Peterson said he still as "concerns" even after meeting with Vikings coach Mike Zimmer and GM Rick Spielman during the week. I'm guessing the Vikings really do want Peterson back. Would they fly to Houston to meet with him if they didn't? Publicly saying so helps in two ways: It reassures Peterson that they want him, and it tells interested teams that the price for a trade is high.
MORE FROM YARDBARKER
Vikings News

Delivered to your inbox

You'll also receive Yardbarker's daily Top 10, featuring the best sports stories from around the web. Customize your newsletter to get articles on your favorite sports and teams. And the best part? It's free!