Originally posted on
Sportsnaut
| Last updated 1/7/15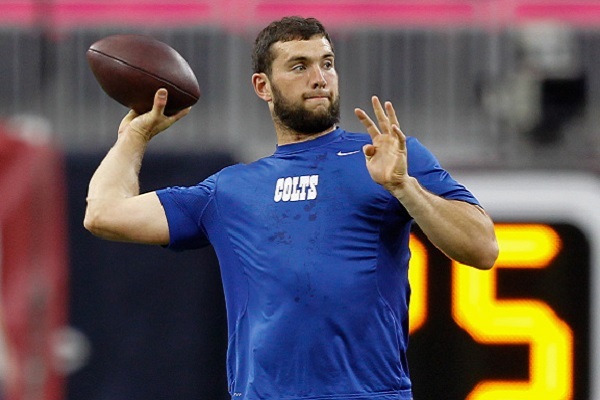 Will Andrew Luck go down as the best QB ever?
Bob Levey/Getty Images Sport
By Rachel Wold
Indianapolis Colts quarterback Andrew Luck is not only impressing his own team, but also former New York Giants coach Jim Fassel.
Fassel had some pretty amazing things to say about Luck while he hosted "The Coaches Show".
Here are Fassel's comments via NFL.com:
He'll go down as the greatest quarterback of all time. The numbers he has already put up as a young quarterback, far superior to anybody else that came in the league in their first four, five or six years the numbers he's put up. If he keeps at that pace … Whoa!
Even going as far as saying that over time Luck might surpass the legendary Peyton Manning, Fassel seems to believe in Luck's abilities.
Fassel is not the only one to sing such high praises of Luck. Back in 2013, current Seattle Seahawks receiver and former Stanford teammate Doug Baldwin said Luck "can be the greatest quarterback who ever played the game of football." And just recently, NFL Media's Charley Casserly said that Luck is the "best young quarterback he has ever seen."
While Luck has had his share of interceptions, his performance that led the Colts to a victory in the wild-card game against the Cincinnati Bengals was his most powerful of the season. Luck certainly has stepped up as Manning's successor. And with so many years left in his young career, it's not impossible to envision Manning-like numbers when all is said and done.
MORE FROM YARDBARKER
Colts News

Delivered to your inbox

You'll also receive Yardbarker's daily Top 10, featuring the best sports stories from around the web. Customize your newsletter to get articles on your favorite sports and teams. And the best part? It's free!