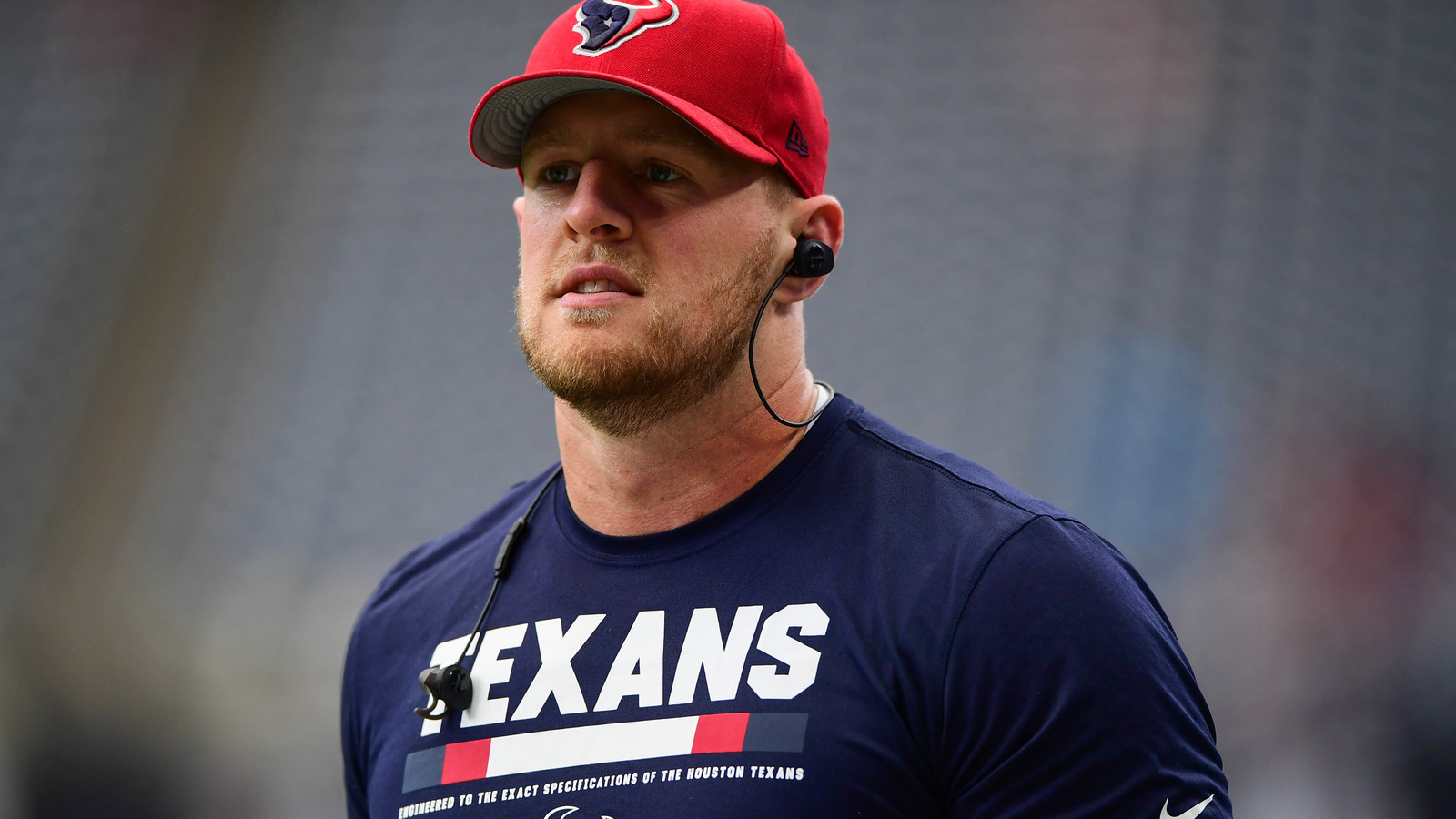 Bill Belichick has high praise for Houston Texans defensive end J.J. Watt.
Shanna Lockwood-USA TODAY Sports
When Bill Belichick watches tape of J.J. Watt, he cannot help but see a lot of Lawrence Taylor in the standout Houston Texans superstar. And with that, the New England Patriots head coach may have paid Watt the highest compliment he could possibly make.
Taylor was one the most dominant defensive players in NFL history with the way in which he terrorized opposing offenses. Bill Belichick obviously knows a thing or two about LT, having either been his linebackers coach or defensive coordinator during Taylor's first 10 seasons with the New York Giants.
With the Patriots (1-1) hosting Watt's Texans (1-1) at Gillette Stadium Sunday, Belichick — as he has done in the past — likened Watt's impact upon a game to how Taylor went about his business.
"Motor, effort, strength, quickness, instincts [and] the ability to make game-changing plays at critical times in the game," Belichick said of Watt, via the Houston Chronicle. "Knowing when the big play – critical third-down or fourth-quarter play or red-area play – knowing those critical plays in the game. As good as Taylor would play all game, that was the time when he would play at his best."
Belichick went on to describe Watt's play in terms that certainly sound Taylor-esque.
"Everything with him is kind of at the top of the chart – powerful, strong, very instinctive," Belichick said. "He's a smart player, he's got great quickness for his size (and) a lot of people miss him trying to block him.
"He wins with his quickness in the pass rush, He's long, hard to throw over, hard to block in the running game because of his length, strength and technique."
As noted, this isn't the first time Belichick has compared Watt to Taylor. The Patriots head coach said this of Watt back in 2015:
"There have been very few players I would put in the same conversation with [Lawrence] Taylor, but I would put Watt there,'' Belichick said.
And that, as mentioned, could be the most flattering compliment Belichick could make about a modern defensive player.
MORE FROM YARDBARKER:
QUIZ: Name every head coach in the history of the New England Patriots
Heading into the 2016 NFL playoffs, the New England Patriots find themselves in familiar territory with the longest tenured coach in the league. As the franchise leader in wins and only the 14th in team history, he stands to join two other New England coaches in the Hall of Fame (one as a player, one as a coach). How many of these leaders of the Patriots can you name?
Clue: Years Active
MORE FROM YARDBARKER
NFL News

Delivered to your inbox

You'll also receive Yardbarker's daily Top 10, featuring the best sports stories from around the web. Customize your newsletter to get articles on your favorite sports and teams. And the best part? It's free!