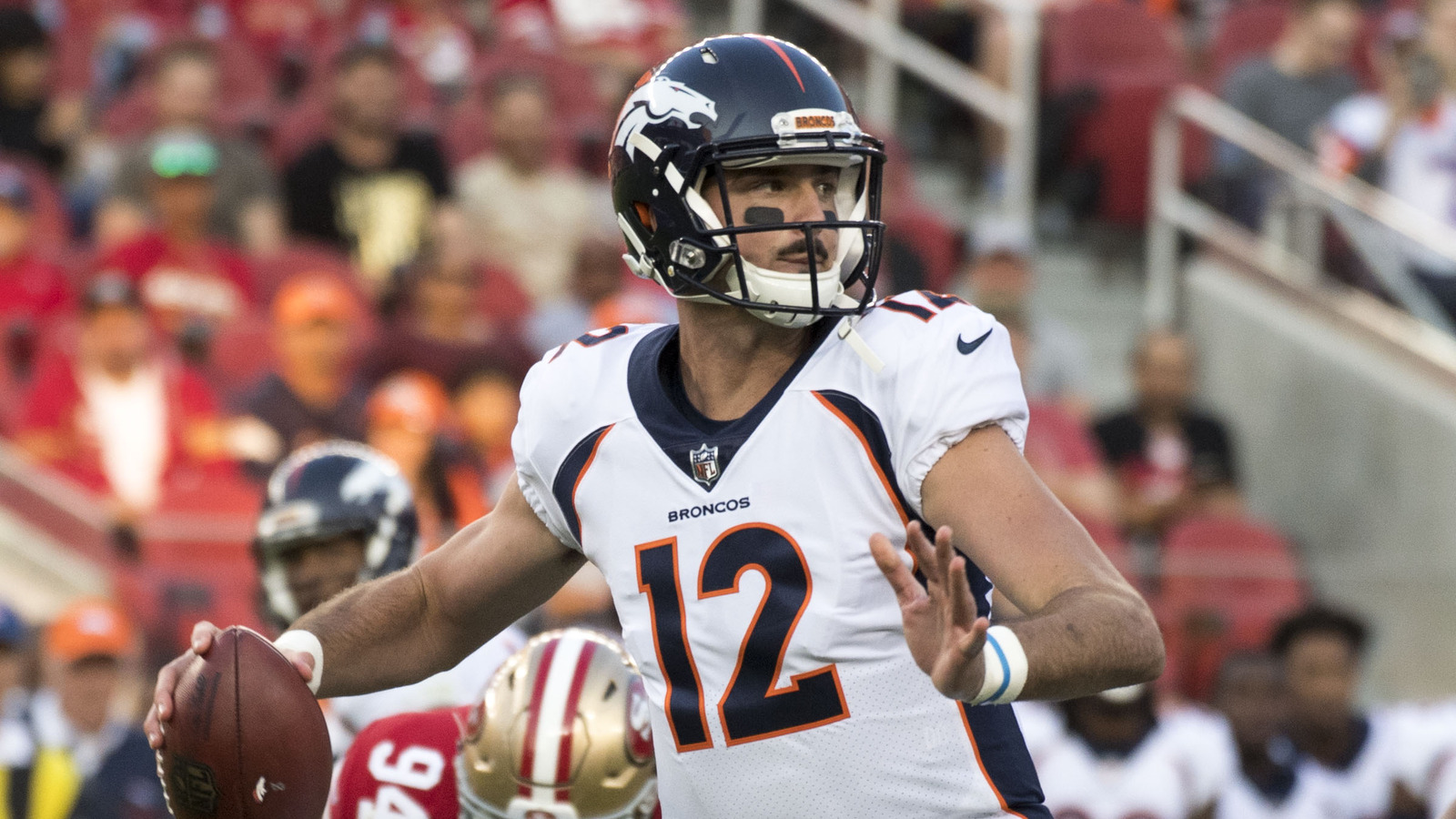 Paxton Lynch has not seized the opportunity to win a starting job.
Kyle Terada-USA TODAY Sports
At some point, John Elway's hand-picked quarterback of the future, Paxton Lynch, might be ready to become the face of the Denver Broncos. But that time is not now. Trevor Siemian is clearly the quarterback who gives Denver the best chance to win games in 2017.
Going back to last season and looking at this year's offseason, training camp and now the preseaon, Siemian has been superior in every way to last year's first-round pick out of Memphis.
Whether we're talking about work ethic (Lynch's has been openly questioned on multiple occasions), leadership (Siemian has been described as the better leader), play in practice this summer and performances during the preseason, Lynch has fallen short.
Siemian was the better quarterback in the team's first preseason game. In addition to the fact he had better stats, he has full command of the offense and was much more confident in the pocket compared to his teammate.
However, this past week, it seemed as if Lynch had "turned the corner" in joint practices with the San Francisco 49ers, according to one Broncos beat writer. It was the first definitively positive sign that perhaps he was going to make a real case in Week 2 to be the team's starter.
Then Lynch came out with the first-team offense Saturday night and proved he's still not ready to lead Denver's offense. While he did compete a high percentage of his passes (9-of-13) and showed off his athletic ability with some nifty escapes from pressure, Lynch managed just 39 passing yards.
He also missed some golden opportunities to make big plays.
Here's one example. On the first offensive possession of the game for the Broncos, on 3rd-and-6, Lynch had Demaryius Thomas wide open on a drag route underneath coverage. It was as easy a read as it gets in the NFL. All he had to do was flip it to his guy to keep the drive alive.
Instead, Lynch didn't even see the open receiver and ended up throwing the ball deep down the left side into double coverage.
Lynch is lucky this pass wasn't picked off.
Fast forward a bit to the end of the first quarter. Already in 49ers territory at the 43-yard line, Lynch took a deep shot to Thomas, who broke open down the left sideline. It was the right read, but he had no touch on the ball and Thomas had no chance to reach the overthrown pass.
Thomas was visibly upset, having seen two golden opportunities pass him by.
What stands out just as much as Lynch's inability to make the correct read on third down or connect with a wide-open receiver downfield is that once Siemian entered the game late in the second quarter, suddenly Denver's offense took off. On his first drive, Siemian was decisive, made the correct reads and marched his offense 53 yards in seven plays for a touchdown. He went 4-of-5 for 49 yards, capping off the drive with a 19-yard touchdown strike to Jordan Taylor.
All it took was two minutes and 39 seconds of game time for Siemian to definitively prove he's the quarterback Denver needs right now. He finished with 93 passing yard, completing 8-of-11 attempts, generating 10 points on three drives before being replaced by Kyle Sloter.
To start Lynch at this point would be to court disaster, both on the field and in the locker room.
There is no way that Vance Joseph can look his team in the eyes and name Paxton Lynch the starter. Game over Trevor Siemian is your starter

— mark schlereth (@markschlereth) August 20, 2017
The Broncos have a playoff-caliber roster. They will need every edge they can get competing in the tough AFC West. Lynch isn't ready to take on that responsibility. It's now the responsibility of Vance Joseph, John Elway and Co. to go with Siemian, who isn't spectacular but is clearly the best man for the job right now.
MORE FROM YARDBARKER
Broncos News

Delivered to your inbox

You'll also receive Yardbarker's daily Top 10, featuring the best sports stories from around the web. Customize your newsletter to get articles on your favorite sports and teams. And the best part? It's free!