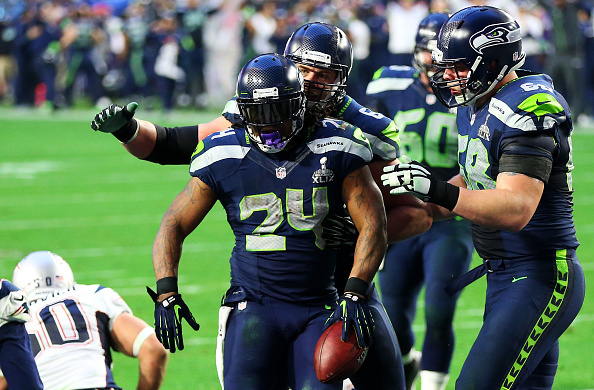 Marshawn Lynch celebrates after scoring against the Patriots in Super Bowl XLIX.
Ronald Martinez/Getty Images
By Larry Brown
Did Marshawn Lynch do his crotch grab after scoring a touchdown in the Super Bowl? That's what many want to know.
Lynch has made a habit of doing his "hold my [crotch]" pose after scoring touchdowns on impressive plays, or even when his teammates score. It's just his way of celebrating. But the NFL doesn't like what he's doing and reportedly threatened him with a huge fine if he did it again.
Even though the NFL was threatening a fine for Lynch, he picked up a sponsor that would pay him to do it in the Super Bowl. So when Lynch scored on a 3-yard touchdown run in the second quarter to tie Super Bowl XLIX at 7, all eyes were on him. From the TV angles it was difficult to tell whether Lynch grabbed his nuts after the score, but some suspect he did it.
ESPN's Adam Schefter reported on Twitter:
Didn't show it on TV, but those in attendance believe they saw Marshawn Lynch complete an act that will be findable.
MORE FROM YARDBARKER
Seahawks News

Delivered to your inbox

You'll also receive Yardbarker's daily Top 10, featuring the best sports stories from around the web. Customize your newsletter to get articles on your favorite sports and teams. And the best part? It's free!