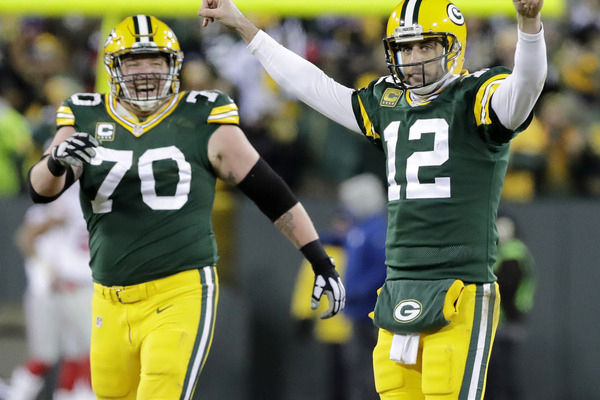 Jan 8, 2017; Green Bay, WI, USA; Green Bay Packers quarterback Aaron Rodgers (12) celebrates after throwing a touchdown pass on a hail mary to end the 2nd quarter against the New York Giants in the NFC Wild Card playoff football game at Lambeau Field.
Adam Wesley/Green Bay Press Gazette via USA TODAY Sports
The NFL's divisional playoffs are set. Here's what we have too look forward to next weekend:
Seawhawks at Falcons (Saturday, 4:35 p.m. ET, FOX): Atlanta had the league's highest-scoring offense this season, but watch out for NFL sack leader Vic Beasley against a Seattle team that has struggled to protect quarterback Russell Wilson. Even without Earl Thomas in Seattle, this is an unstoppable force vs. an immovable object game, because the Seahawks pack a hell of a punch up front on D. Seattle isn't the same outside of the Pacific Northwest, but the Falcons were "only" 5-3 at home this season, and Atlanta quarterback Matt Ryan has just one win in five career playoff starts.
Texans at Patriots (Saturday, 8:15 p.m. ET, CBS): Houston is a big underdog on the road against a New England team coming off a wild-card bye, which makes sense because the Texans aren't very good. They got past a Raiders team that had practically given up in the wild-card round, but can Brock Osweiler actually put together a second consecutive strong performance? Against a defense that is very familiar with him, probably not. And the Texans don't have J.J. Watt to save them on defense. Houston only 2-6 on the road this season, while the Pats are 15-3 in home playoff games under Bill Belichick.
Steelers at Chiefs (Sunday, 1:05 p.m. ET, NBC): A lot of folks think we're destined to see Steelers-Patriots in the AFC championship game, but if you include the three times he had a first-round bye when coaching the Eagles, Chiefs head coach Andy Reid has an 18-2 record coming off bye weeks in his coaching career. The Steelers are rolling with seven straight wins, but Arrowhead is always a challenge. The Chiefs were 6-2 there this season. They led the league with 33 takeaways this season, six of which came in their last two home games.
Packers at Cowboys (Sunday, 4:40 p.m. ET, FOX): Dallas beat Green Bay 30-16 back in Week 6, but that was a very different Green Bay team. This one has won seven in a row, and quarterback Aaron Rodgers has a 22-to-0 touchdown-to-interception ratio in his last eight games. The defense is also better, and healthier, than it was then. And the Packers have playoff pedigree, which the young Cowboys lack. Regardless, this is television gold.
MORE FROM YARDBARKER
NFL News

Delivered to your inbox

You'll also receive Yardbarker's daily Top 10, featuring the best sports stories from around the web. Customize your newsletter to get articles on your favorite sports and teams. And the best part? It's free!