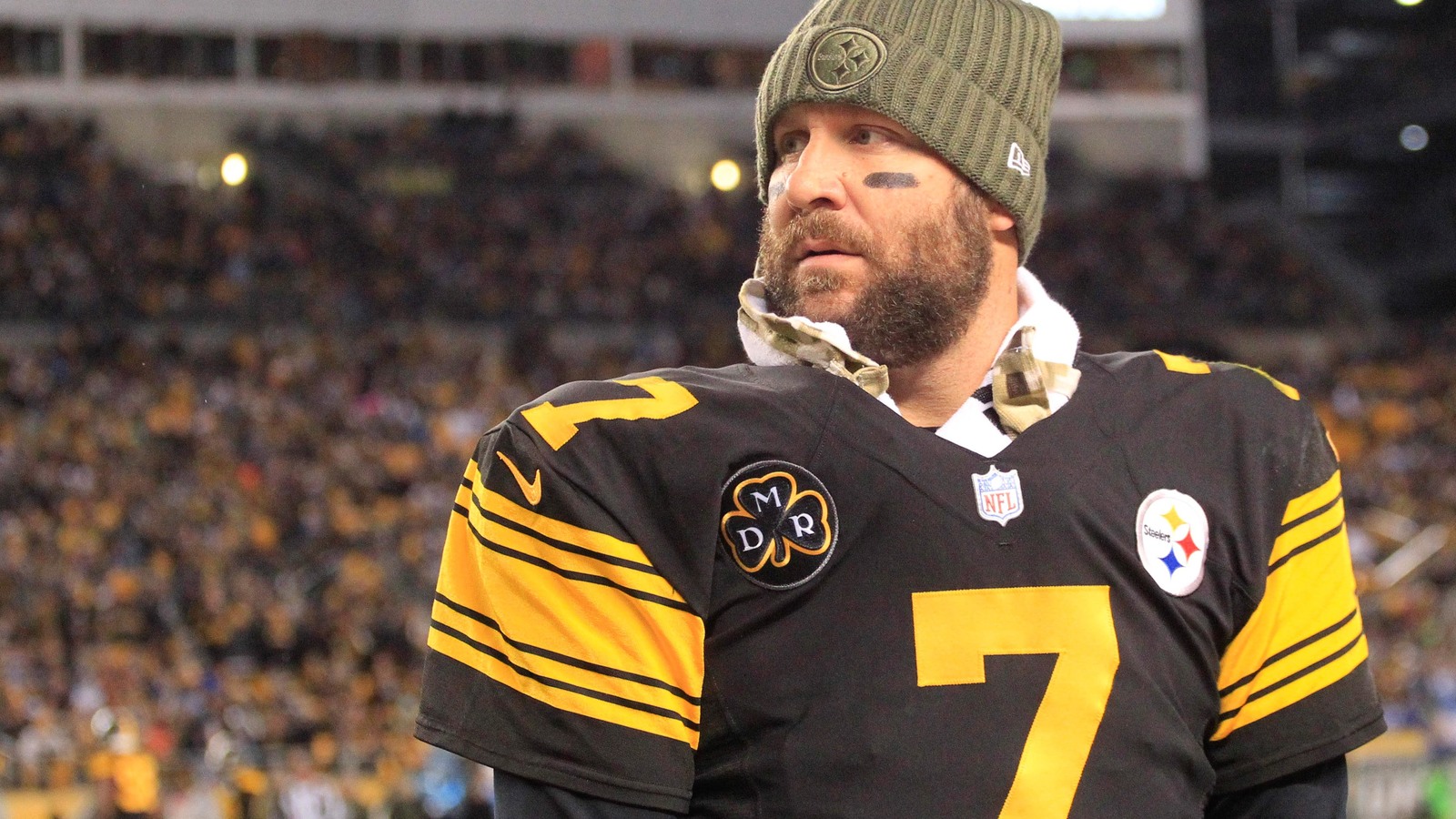 Nov 16, 2017; Pittsburgh, PA, USA; Steelers quarterback Ben Roethlisberger (7) looks on against the Tennessee Titans during the first quarter at Heinz Field. 
Charles LeClaire-USA TODAY Sports
Having played last Thursday, the Pittsburgh Steelers are getting the next best thing to a bye week. That is, not having to play until this Sunday night when they take on the Green Bay Packers.
The layoff will be nearly a full 10 days by the time the game begins Sunday night. For Green Bay, meanwhile, is reeling—having lost four of their last five after a 4-1 start with Aaron Rodgers at quarterback. But since his shoulder injury and Brett Hundley taking over, they have fallen to 5-5.
The Pittsburgh Steelers, however, could not be happier after the first 10 games. Realistically, the Black and Gold could be 9-1 instead of 8-2 if they had not dropped that game in Chicago. Still, you can't argue with an 8-2 start with six games to go. There is no doubt in anyone's mind that the Steelers will be in the playoffs.
What remains to be seen is what seeding they earn. As of today, they are the No. 1 seed. As of today, they are just ahead of the New England Patriots.
Chances are, the Steelers will head to the postseason as either the No. 1 or No. 2 seed—which means they will at least have one home game. As it stands, the Jaguars and Chiefs look like potential division winners. That means two more teams will vie for a wild card entry.
That could be any number of them at this point, with many sides sharing 5-5 and 4-6 records. Regardless, the only two teams that have stood out are those Steelers and Patriots.
If these two teams keep on winning, we are headed for yet another AFC title showdown between them. There have been five playoff games between Pittsburgh and New England throughout history, and the Pats have won all but one. Three of those five have been for the AFC championship. New England would claim all three of them . That includes last year's 36-17 drubbing.
All three conference championships have Ben Roethlisberger as the losing quarterback as well. This includes his rookie season—when the final was 41-27.
The championship loss at Heinz Field on January 27, 2002 included a punt return for a touchdown by Troy Brown of New England. This, of course, after Troy Edwards had run out of bounds and then came back into play—thus forcing a re-kick that resulted in Brown's touchdown. If not for that first score, the halftime might have been 7-3 instead of 14-3.
But in the end, that punt return would prove to be the difference. It didn't help that Kordell Stewart threw three interceptions. It also didn't help that the Steelers—by injuring Drew Bledsoe—kick-started Tom Brady's long and illustrious career.
So if we are headed for another Patriots/Steelers title game, fans in Steelers Nation should be a bit leery of what might be to come. The Patriots simply own the Steelers in the postseason. That is, despite Pittsburgh trying hard in the offseason to find the difference maker that will propel them past New England. To ultimately land them in their ninth Super Bowl ever—and hopefully win that elusive "Stairway to Seven" Lombardi Trophy.
Regardless of how the season turns out for Pittsburgh, this campaign will be considered a success. But it will be a huge disappointment if they fail to win the grandest prize for another season. Still, this year has seen the emergence of two rookies in JuJu Smith-Schuster and T.J. Watt. Both have arrows pointing straight up and have shown the potential to be stars for years to come.
But for the first time in a while, the Steelers have gone this far without any real major injuries. Le'Veon Bell is healthy and his absence from training camp is now a distant memory. While Big Ben Roethlisberger is not having a banner season, his numbers are still pretty good. He is approaching 3,000 yards passing with 16 touchdowns. And while his rating may not be among league leaders, it's a respectable 87.8. The finer number is how often he's been sacked—just 14 times in 10 games.
Take away that five-interception day against Jacksonville, and he's thrown just five others in the other nine games.
Meanwhile, Antonio Brown is having just another typical season. He's already over 1,000 yards receiving with six scores. Other players that have made a notable impact are James Conner and Jesse James. Plus, Chris Boswell has been kicking accurately again while Jordan Berry holds his own on punting.
Ryan Shazier is having an outstanding season as well, with Vince Williams filling in at linebacker solidly and quietly. Cameron Heyward is healthy again and disrupting opposing offenses.
Yet perhaps the biggest acquisition on defense has been the signings of Joe Haden but—even more impactful, the addition of Mike Hilton. These changes could be the ticket to overtaking New England and getting to the promised land once more. Before the season began, I had predicted a Super Bowl rematch between the Steelers and the Seattle Seahawks. But now, an "all-Pennsylvania" matchup is not out of the realm of possibility with the way the Eagles are playing.
As the Steelers hold that No. 1 seed at the time of this writing, are there any losses on the horizon? Their only really difficult game is against the Patriots. The remaining teams in order of schedule with their current records are: Green Bay (5-5) at Heinz Field; at Cincinnati (4-6); home for Baltimore (5-5); the Patriots at Heinz (8-2); a road game in Houston (4-6); and the finale at home with the Browns (0-10).
As for the Patriots trying to earn the best record in the AFC, here's who remains on their schedule: home for Miami (4-6); tthen at Buffalo (5-5); at Miami; at Pittsburgh; home for the Bills; and close with the Jets (4-6).
So, it's quite possible that both Pittsburgh and New England could finish the season 14-2—meaning the Steelers would get home-field advantage throughout the playoffs.
The biggest question, however, once the dust settles and the Steelers have either made it to the big show—or if they fail to get to Minnesota—is that Ben Roethlisberger will have to decide if he is going to hang up his cleats. Or, tease fans with another maybe I'm retiring, maybe I'm coming back one more time.
My guess is he is going to retire—Super Bowl or not. BUT, if the Steelers win their seventh Lombardi, I'll put money down that says he is done.
Steelers News

Delivered to your inbox

You'll also receive Yardbarker's daily Top 10, featuring the best sports stories from around the web. Customize your newsletter to get articles on your favorite sports and teams. And the best part? It's free!
MORE FROM YARDBARKER
Steelers News

Delivered to your inbox

You'll also receive Yardbarker's daily Top 10, featuring the best sports stories from around the web. Customize your newsletter to get articles on your favorite sports and teams. And the best part? It's free!