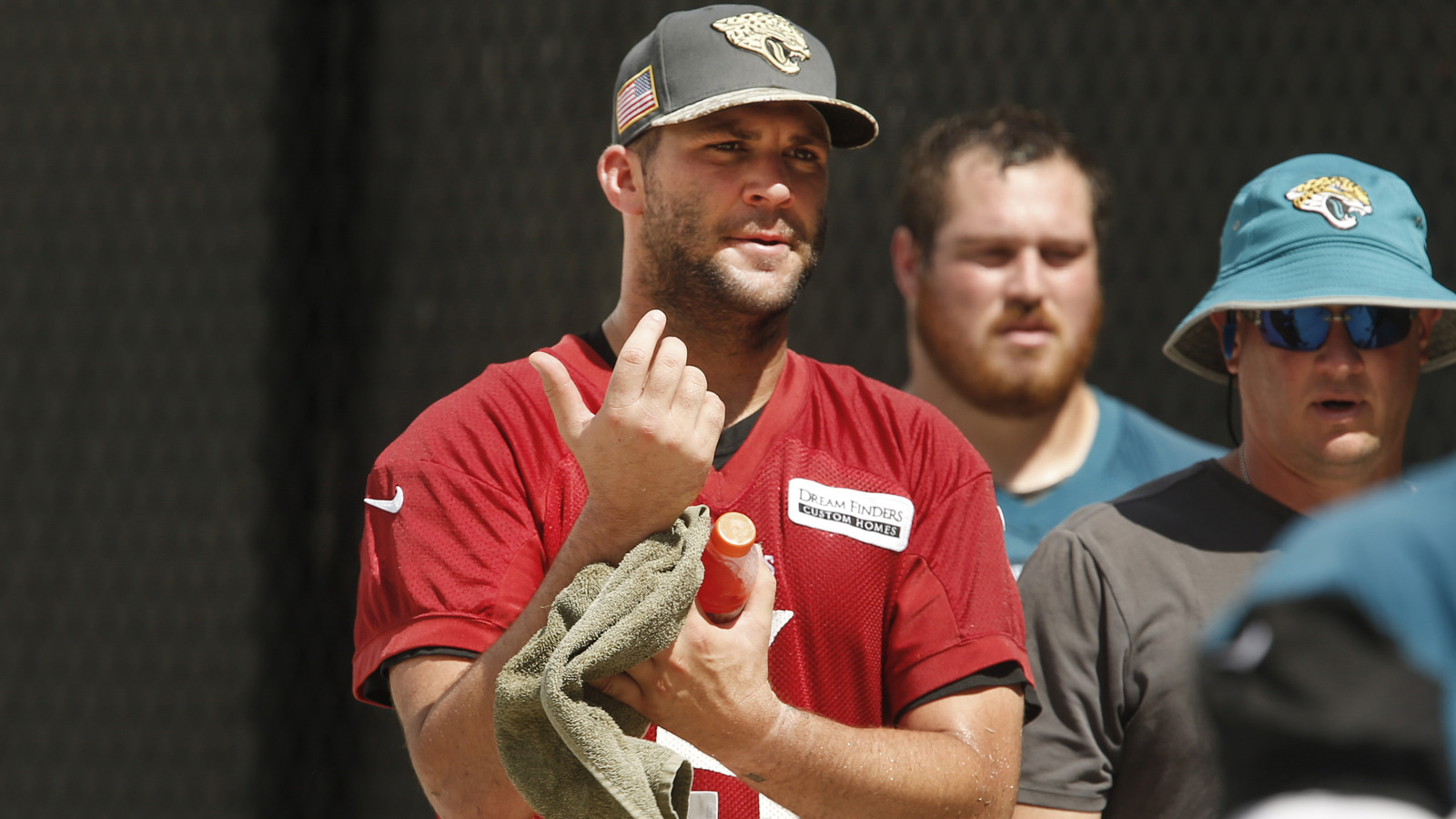 Jaguars head coach Doug Marrone says Blake Bortles may have a tired arm.
Reinhold Matay-USA TODAY Sports
This isn't necessarily going too swimmingly for Blake Bortles as he enters a career-defining season. The Jacksonville Jaguars ran out veteran Chad Henne with the first-team offense this past weekend.
There are some that drew short-sighted conclusion that this had to do with Jacksonville potentially looking to replace Bortles under center.
At least right now, that doesn't seem to be in the cards. Though, Jaguars head coach Doug Marrone did indicate Monday that Bortles is already dealing with what can be described as a tired arm.
"I just saw that his arm looked tired," Marrone said, via the Associated Press. "So rather than push him knowing he was going to get all the reps that we needed for these next couple of days, I just said, 'Hey, it's my decision.' He said, 'Hey, I'm good. I can go.' I said, 'Look, let's just be smart.'"
This most definitely isn't good news for Bortles and the Jaguars. If he's already dealing with a tired arm during the summer, how will Bortles himself hold up over the course of a 16-game regular season slate?
More to the point, the Jaguars have already put the former top-three pick on notice. Cut down on the turnovers or prepare to be benched (more on that here).
Over the course of his first three NFL seasons, Bortles has thrown a whopping 51 interceptions in 45 starts en route to leading the Jaguars to a disastrous 11-34 mark.
On the other hand, Henne is that calm veteran arm the Jaguars might be willing to turn to should Bortles continue to struggle with picks. In the team's preseason opener against the Patriots, Henne completed 5-of-6 passes for 139 yards, including this long touchdown strike to Keelan Cole.
MORE FROM YARDBARKER
Jaguars News

Delivered to your inbox

You'll also receive Yardbarker's daily Top 10, featuring the best sports stories from around the web. Customize your newsletter to get articles on your favorite sports and teams. And the best part? It's free!