Originally posted on
Sportsnaut
| Last updated 4/5/15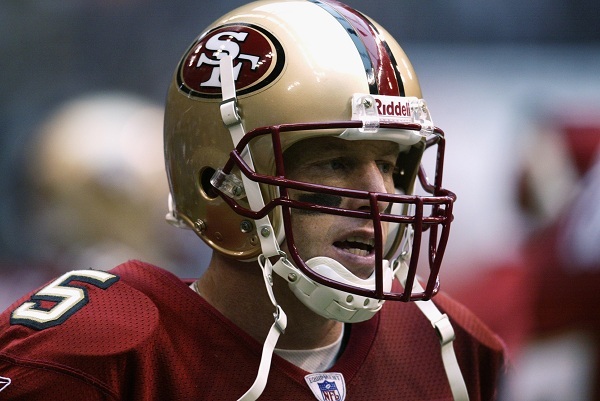 The former 49ers signal caller was heavily critical of the team's management, but was it due to their snub of his desire for a job?
Brian Bahr/Getty Images
By Vincent Frank
Former San Francisco 49ers quarterback Jeff Garcia took some shots at the team's front office in a recent interview with the Times-Standard in Northern California.
Speaking up on everyone from general manager Trent Baalke to embattled CEO Jed York, Garcia had these scathing comments to share.
As a fan you have to really look at the management of the organization and the decisions that they've made for that team," the 11-year NFL vet said. "Sometimes what I see … is you have a lot of personnel that are in positions of power that don't have real football backgrounds. I'm not saying that's Trent Baalke, but I'd like to see what his background is, and what gives him the true power to make those sort of decisions…We know that Jed York never played football."
Most assume that Baalke's relationship with former head coach Jim Harbaugh played a major role in the divorce, but it's really York and Harbaugh who butted heads the most. In any event, Baalke has proven himself to be more than capable in the general manager role. Heck, he's one of the primary reasons San Francisco turned it around under Harbaugh.
But that won't stop Garcia from continuing a narrative that has seemingly become mainstream during what has been a disastrous offseason for the 49ers.
These comments are interesting for a number of reasons. Garcia recently campaigned for San Francisco's quarterbacks coach job—a job that was given to former East Carolina head coach Steve Logan. He also wanted to work with Colin Kaepernick, who has spent the past 10 weeks being trained by Kurt Warner in Arizona.
We have to wonder whether the 49ers snubbing of Garcia played a role in these comments.
A lot of what has happened in San Francisco this offseason has absolutely nothing to do with the front office. The retirements of Patrick Willis and Chris Borland were individual circumstances unrelated to the organization. More than that, the players who have left in free agency were likely going to depart no matter who the team's head coach was. It's been San Francisco's MO not to overpay for internal free agents once they hit the open market.
This doesn't mean that criticism shouldn't be thrown York's way. Once considered one of the top young executives in the professional sports world, the 34-year-old CEO has alienated the team's fan base. He's seen as being the source of in-season leaks regarding Harbaugh's contract status, and has put his foot in his mouth multiple times since the end of an underwhelming 8-8 campaign.
However, Garcia's attempt to link Baalke to the issues York has had this offseason is ridiculous. It's a surface-based argument that anyone who knows about the situation should be able to look past.
MORE FROM YARDBARKER
49ers News

Delivered to your inbox

You'll also receive Yardbarker's daily Top 10, featuring the best sports stories from around the web. Customize your newsletter to get articles on your favorite sports and teams. And the best part? It's free!