Originally posted on
Sportsnaut
| Last updated 2/15/15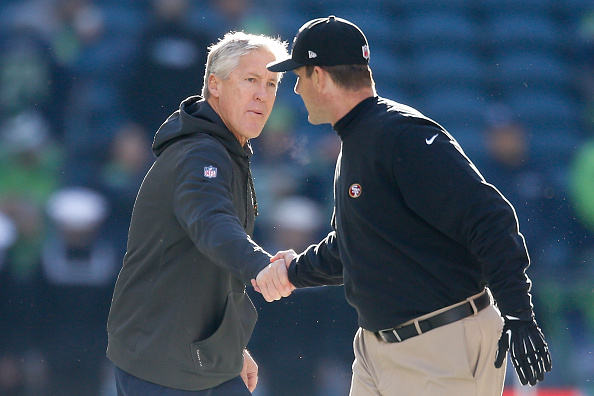 Jim Harbaugh agrees with the infamous play call the Seahawks made in the Super Bowl.
Otto Greule Jr/Getty Images
By Rachel Wold
Former San Francisco 49ers coach Jim Harbaugh can relate to the Seattle Seahawks' woes when it comes making a play call in the Super Bowl that doesn't work out.
It wasn't that long ago that Harbaugh took heat in the Super Bowl when the 49ers threw three passes within five yards of the goal line and never gave the ball to running back Frank Gore. A touchdown on that final drive would have been enough to beat the Baltimore Ravens. Instead, San Francisco ended up losing, 34-31.
Defending his former rival team, Harbaugh - the current University of Michigan coach - had this to say on the Tim Kawakami Show regarding Seattle's play call.
"I really thought they had a good play call," he said. "That was an insightful play against the goal-line defense. A really neat combination that they had, was an inside pick play.
"It really was open and that young man from the New England Patriots made a play, that is a play the stars of the game don't make, and he made a play that was - at best that ball gets knocked down and incomplete, but to make an interception on that play was, what a phenomenal play. That was a play of a lifetime and all credit to him for making it."
Obviously, the Seahawks didn't get the opportunity to exercise their final two downs.
"They still had two downs to give the ball to Marshawn Lynch," he said. "In that situation, I said that before, after it's over, yeah you would love to go back and try a running play, giving it to Marshawn Lynch and see how that would have worked out after you know how the other worked out but that's football, that's the game. My opinion was it was a good play call and an incredible play by the New England Patriots."
Harbaugh joins the very few on the planet who believe the Seahawks made a "good call." The only people who can legitimately agree with Harbaugh and the Seahawks coaches are the ones currently possessing the Lombardi Trophy.
MORE FROM YARDBARKER
Seahawks News

Delivered to your inbox

You'll also receive Yardbarker's daily Top 10, featuring the best sports stories from around the web. Customize your newsletter to get articles on your favorite sports and teams. And the best part? It's free!