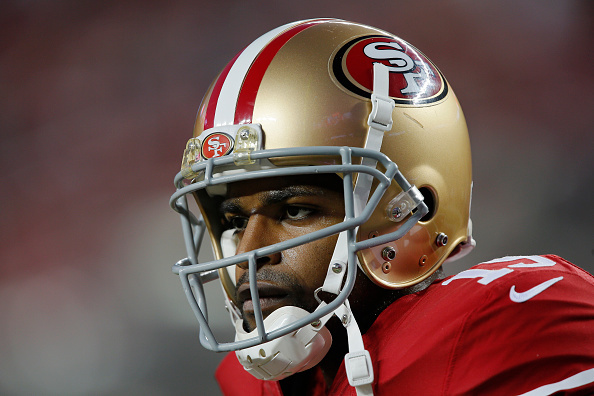 Michael Crabtree reportedly turned down a contract from the Dolphins.
Brian Bahr/Getty Images
By Larry Brown
Why is Michael Crabtree still available on the free agent market? Because no contract offer to his liking has been presented to him yet.
The Miami Herald reports that Crabtree visited the Dolphins and that they offered him close to $3 million. Crabtree turned down the offer and is now turning his attention to the Oakland Raiders, whom he will visit next week. The Raiders have $23.1 million salary cap space and have room to sign him. However, Crabtree is picky and reportedly will wait as long as it takes to get what he wants.
Crabtree has never lived up to the hype after the 49ers drafted him in the first round in 2009. He has had multiple foot/leg injuries during his career and has only surpassed 1,000 receiving yards once. Part of his lack of production is due to playing with Alex Smith, who does not target wide receivers. His numbers saw an uptick in productivity with Colin Kaepernick at quarterback, but that was just in 2012.
We expect him to be a nice bargain for the team that signs him.
MORE FROM YARDBARKER
NFL News

Delivered to your inbox

You'll also receive Yardbarker's daily Top 10, featuring the best sports stories from around the web. Customize your newsletter to get articles on your favorite sports and teams. And the best part? It's free!