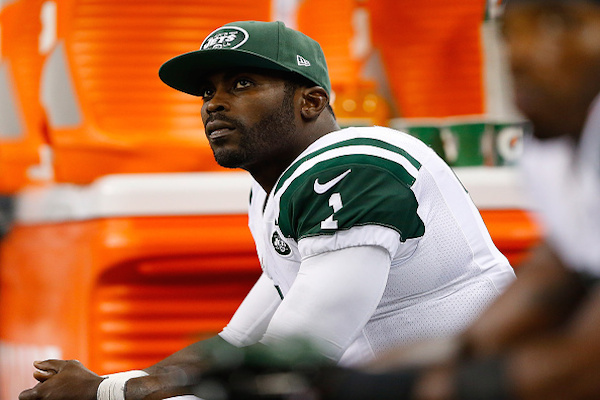 Michael Vick has worked amazingly hard to pay off the incredible amount of debt he once owed to various entities.
Leon Halip/Getty Images
New York Jets quarterback Michael Vick has almost crawled his way completely out of financial trouble — something that seemed nearly impossible when he filed for bankruptcy in 2008.
According to ESPN's Darren Rovell, Vick is "weeks away" from getting out from under what was once an $18 million debt. At one point, Vick owed $6.5 million to the Falcons for bonus money he had to give back, $5 million to his former agent and several million in real estate loans. He earned more than $45 million from 2010 through 2014 and agreed to a restrictive budget during that span.
Joseph Luzinski, Vick's liquidating trustee, said the Jets quarterback has paid off more than $15 million (84.7 percent) of the $17.8 million he owed. And Vick wasn't necessarily obligated to pay it all back.
"What Michael did was the exception, not the rule," Luzinski said. "He didn't have to do this. The law allows you to skate by and pay your creditors 10 or 20 cents on the dollar, but he thought this was the right thing to do."
If Vick had filed for Chapter 7 bankruptcy, most of his debts would have been forgiven. He instead filed for Chapter 11 bankruptcy protection.
"I didn't want to stiff people who never stiffed me," Vick explained. "I feel blessed because I came out and found myself in a position where I had a lot of people that really believed in me, people who gave me an opportunity. At the time, it wasn't about trying to fulfill all the bankruptcy needs. I was trying to fulfill all the needs that I had in my life because I had nothing."
More than 50 percent of Vick's income has gone to taxes and legal fees in recent years. And even when his debt is paid off by the new year, Vick says he's not going to stop appreciating the value of a dollar.
"But I'm still a car guy," he said. "So I'll still buy cars."
Two years ago, a report made it seem like Vick was spending money like a fool despite getting a second lease on life. That wasn't the case. In reality, he was paying back money that he owed. It sounds like he has done a respectable job of that.
MORE FROM YARDBARKER
Jets News

Delivered to your inbox

You'll also receive Yardbarker's daily Top 10, featuring the best sports stories from around the web. Customize your newsletter to get articles on your favorite sports and teams. And the best part? It's free!