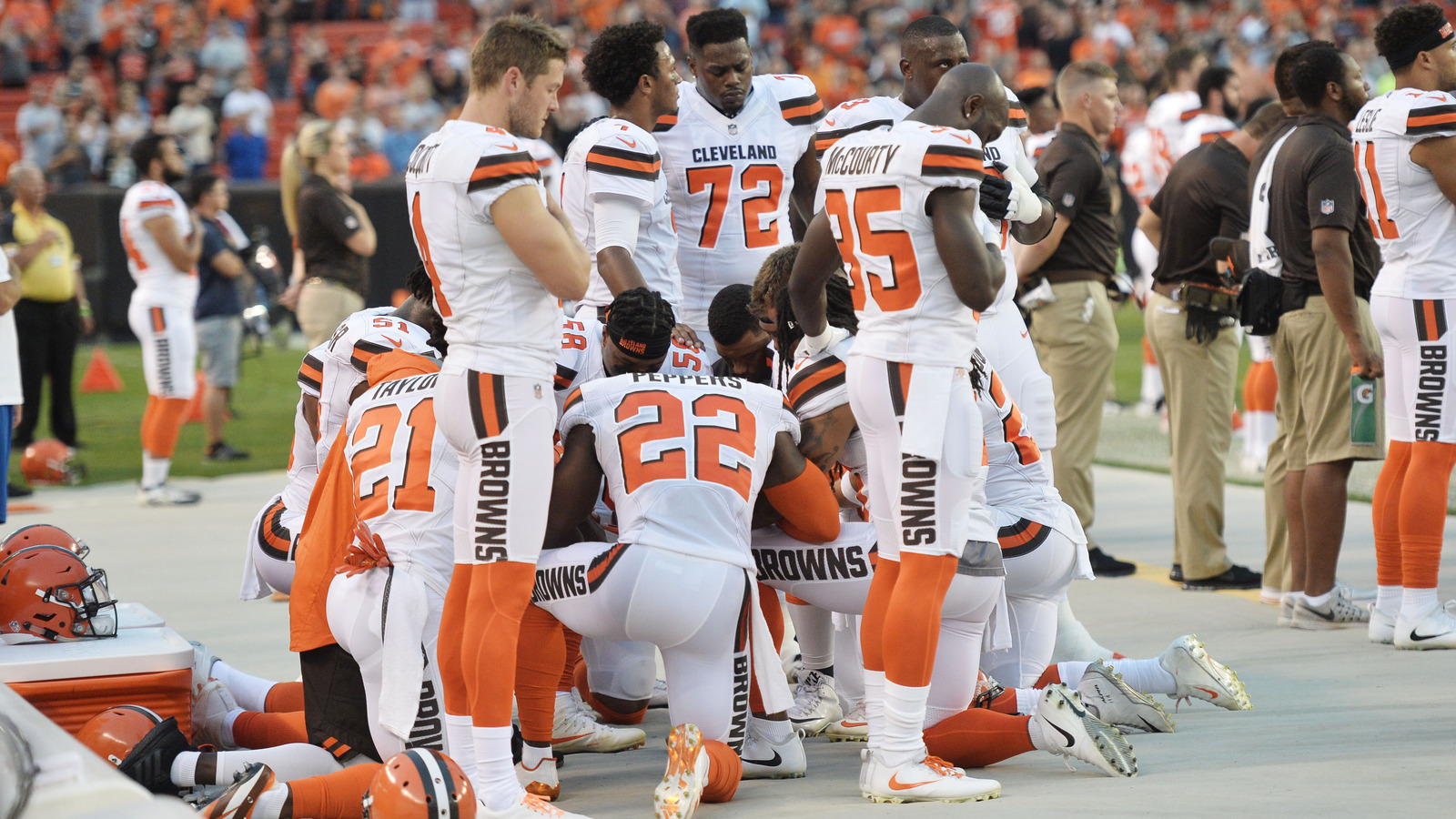 Members of the Cleveland Browns kneel during the national anthem before a game against the New York Giants.
Ken Blaze-USA TODAY Sports
It's going to be difficult to single out a player for kneeling during the national anthem when multiple players do it at the same time. That's what happened in Cleveland on Monday night.
About 10 Browns players were seen kneeling in a circle during the national anthem prior to Monday's preseason game between Cleveland and the New York Giants. They were surrounded by about four more who showed support with a hand on the shoulder.
According to the Akron Beacon Journal's Nate Ulrich, here are some of the players who were kneeling:
Several #Browns players knelt during national anthem. Jamie Collins, Seth DeValve, Duke Johnson, Kenny Britt and Ricardo Louis among them.

— Nate Ulrich (@NateUlrichABJ) August 22, 2017
Britt being a part of the group's action is no surprise given what he did in the past with the Rams. The entire group joins the growing movement of athletes making a statement about current politics. Things began last year when Colin Kaepernick knelt during the national anthem as a sign of protest to bring awareness to social issues such as police brutality towards black people. Kaepernick received attention, accolades, and hatred for his actions. He remains a free agent as teams are afraid to sign him for image purposes.
MORE FROM YARDBARKER
NFL News

Delivered to your inbox

You'll also receive Yardbarker's daily Top 10, featuring the best sports stories from around the web. Customize your newsletter to get articles on your favorite sports and teams. And the best part? It's free!