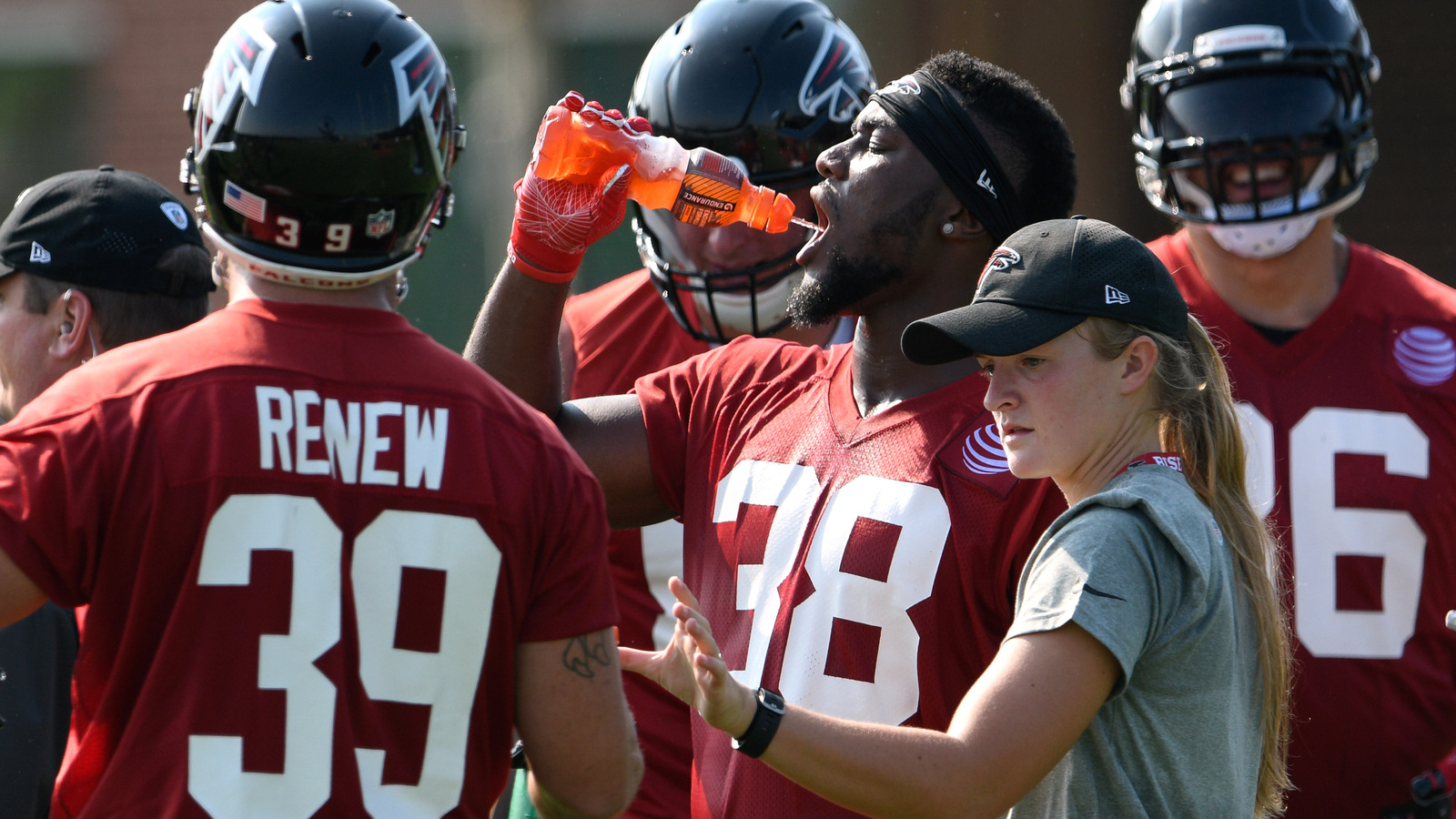 Jul 27, 2017; Flowery Branch, GA, USA; Atlanta Falcons running back Brian Hill (38) gets a drink during training camp at the Falcons Training Complex. 
Dale Zanine-USA TODAY Sports
The only thing better than the gumbo in New Orleans is the trolling.
According to a report by the New Orleans Advocate on Friday, New Orleans T-shirt company Dirty Coast Press is raising money to put up a 28-3 billboard outside of the Atlanta Falcons' new stadium, a reference to their infamous blown lead to the New England Patriots in Super Bowl LI last February.
The company website says that their target goal is $2,000, which would be enough for one billboard in Atlanta as well as one billboard in New Orleans. Any amount raised beyond that will be donated to local children's charities.
The Falcons were mercilessly (and rightfully) roasted for the epic collapse at the time, and it's clear that no one, especially not fans of the division rival New Orleans Saints, will be letting them live it down any time soon.
QUIZ: Name the losing starting quarterback from every Super Bowl
The Big Game can begin with a snap hiked far over your head resulting in a safety which starts the long march of a frustrating game on the national stage. Other times, in the heat of the moment and the exhilaration of winning the overtime coin toss, you enthusiastically shout, "we want the ball and we're gonna score," dooming your team to a loss. Whatever the case may be, you are remembered for being on the wrong side of history.
Can you name the starting quarterback of each Super Bowl's losing team?
MORE FROM YARDBARKER
NFL News

Delivered to your inbox

You'll also receive Yardbarker's daily Top 10, featuring the best sports stories from around the web. Customize your newsletter to get articles on your favorite sports and teams. And the best part? It's free!