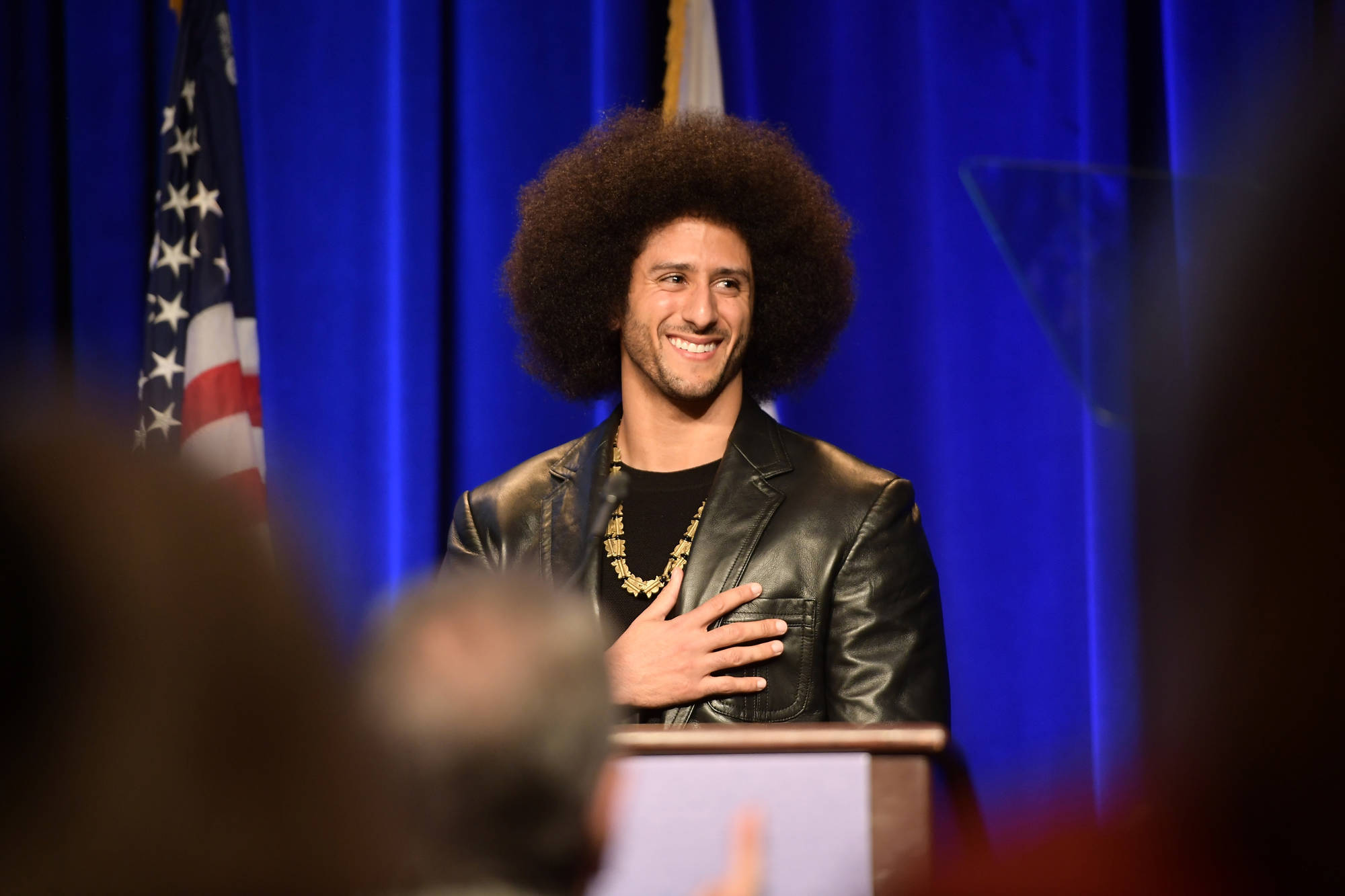 Matt Winkelmeyer/Getty Images
The cover of the Jan. 8 issue of the The New Yorker features the image of free agent quarterback Colin Kaepernick and Seattle Seahawks defensive end Micheal Bennett kneeling alongside Martin Luther King Jr.
The two outspoken NFL superstars, among the most high-profile players on the forefront of the national anthem protest movement, are depicted linking arms with Dr. King.
The artist behind the provocative image, Mark Ulriksen, says the inspiration for the cover was motivated by asking himself, "What would King be doing if he were around today?"
The cover's title, "In Creative Battle," draws as its inspiration from Dr. King's 1964 Nobel Peace Price acceptance speech, in which the civil-rights leader preached about a "creative battle to end the long night of racial injustice."
Ulriksen, based in San Francisco, saw up close Kaepernick spawn the anthem protest movement last season.
"This is 49er country, and my mom and I have been going back and forth—she's upset that players have brought politics into sports, but I say, How would you feel if you had to show up at work every day and salute a country that treats black people like second-class citizens? I'm glad that Colin Kaepernick and Michael Bennett are making it political," Ulriksen said. "I'm sure that if King were around today, he'd be disappointed at the slow pace of progress: two steps forward, twenty steps back. Or ten yards back, as the metaphor may be."
Kaepernick has filed a lawsuit against the NFL, accusing the league's owner of blackballing him, which not surprisingly has generated considerable discussion within the NFL world, with the likes of Tom Brady, Philadelphia Eagles owner Jeffrey Lurie, Tony Romo, Michael Bennett, among countless others to weigh in on the polarizing issue.
NFL commissioner Roger Goodell has since stated that Kaepernick is not being blackballed by the league and its owners.
MORE FROM YARDBARKER
Seahawks News

Delivered to your inbox

You'll also receive Yardbarker's daily Top 10, featuring the best sports stories from around the web. Customize your newsletter to get articles on your favorite sports and teams. And the best part? It's free!