Originally posted on
Sportsnaut
| Last updated 4/3/15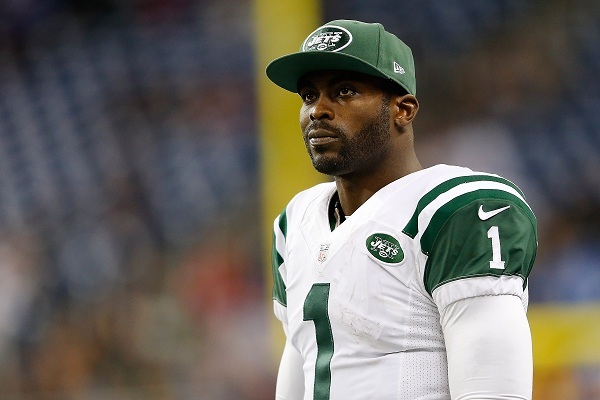 The free agent QB class this offseason is something of wasteland.
Leon Halip/Getty Images
By Vincent Frank
The quarterback class was pretty much a dumpster fire before free agency even started. When a team signs Tyrod Taylor to compete for a starting gig, we know full well there aren't many options out there.
Now that we are practically into the third wave of free agency, there really isn't much remaining in terms of quarterbacks who can even contribute on Sundays.
Here's a look at the top free-agent quarterbacks remaining.
5. Ryan Lindley, Arizona Cardinals
When Lindley entered the NFL as a sixth-round pick in the 2012 draft, the major knock on him was accuracy. Three years later, it's obvious that the San Diego State product has not improved in that category. In 10 career NFL games (six starts), the 25-year-old signal caller has thrown two touchdowns compared to 11 interceptions and is completing just over 50 percent of his passes.
Thrown into action last season in Arizona with injuries to Carson Palmer and Drew Stanton, Lindley "led" the Cardinals to a playoff appearance. Said appearance was an absolute joke. He completed 16-of-28 passes for 82 yards with a touchdown and two interceptions in a 27-16 loss to the Carolina Panthers. Now a free agent, he's unlikely to get play as much more than training camp fodder.
4. Matt Flynn, Green Bay Packers
Want to hear something funny? Flynn has earned $17.5 million over the course of his career. That's $2.4 million per start, $1 million per touchdown and $47,619 per pass attempt. If you're looking for an agent, hit his guy up.
Now that the Packers have seemingly moved on from Flynn with Scott Tolzien being the primary backup to Aaron Rodgers, it's hard to say whether this former LSU standout will get any play leading up to training camp. Teams will likely check in on him if they are unable to find depth in a weak draft class at the quarterback position.
3. Michael Vick, New York Jets
Could it be the end of the line for Vick? We are looking at an aging quarterback that has in the past relied a great deal on what was otherworldly athleticism. Now that this has diminished, the former Pro Bowler doesn't bring much to the table. He's always struggled with accuracy and reading defenses—two things that define how a pocket quarterback plays. In Vick's last 40 appearances (32 starts) dating back to 2011, he's tallied as many touchdowns (42) as turnovers (42). That's just not going to get it done. With all that said, there does seem to be a couple decent fits for Vick as a backup. The San Francisco 49ers and Seattle Seahawks could make sense here.
2. Jason Campbell, Cincinnati Bengals
One of the most underrated backup quarterbacks over the years, Campbell would be a solid find for a team in need of a veteran presence. In his last regular action, this Auburn product put up 11 touchdowns compared to eight interceptions in eight starts for the Cleveland Browns in 2013. While the 33-year-old signal caller has only been a regular starter in five of his nine NFL seasons, he's more than capable of coming in for a one or two game stretch and keeping a team above water. That's all most squads are asking for in a backup right now. Expect Campbell to sign shortly after the draft when everything is sorted.
1. Tarvaris Jackson, Seattle Seahawks
There was a time when the Minnesota Vikings viewed Jackson as a franchise quarterback. But remember, this is a team that also drafted Christian Ponder in the first round. At this point, Jackson is nothing more than a solid backup option for a team that is looking for depth at that position. His ability to be a quick learn regarding the playbook might set him apart from the rest of the group here. Look for Jackson to either re-sign with Seattle or find a decent situation elsewhere in the not-so-distant future.
PLAYERS:
Ryan Lindley
,
Carson Palmer
,
Drew Stanton
,
Matt Flynn
,
Scott Tolzien
,
Aaron Rodgers
,
Michael Vick
,
Jason Campbell
,
Tarvaris Jackson
TEAMS:
Arizona Cardinals
,
Carolina Panthers
,
Green Bay Packers
,
Seattle Seahawks
,
Cincinnati Bengals
,
Cleveland Browns
,
Minnesota Vikings
,
New York Jets
,
San Diego State Aztecs
MORE FROM YARDBARKER
NFL News

Delivered to your inbox

You'll also receive Yardbarker's daily Top 10, featuring the best sports stories from around the web. Customize your newsletter to get articles on your favorite sports and teams. And the best part? It's free!