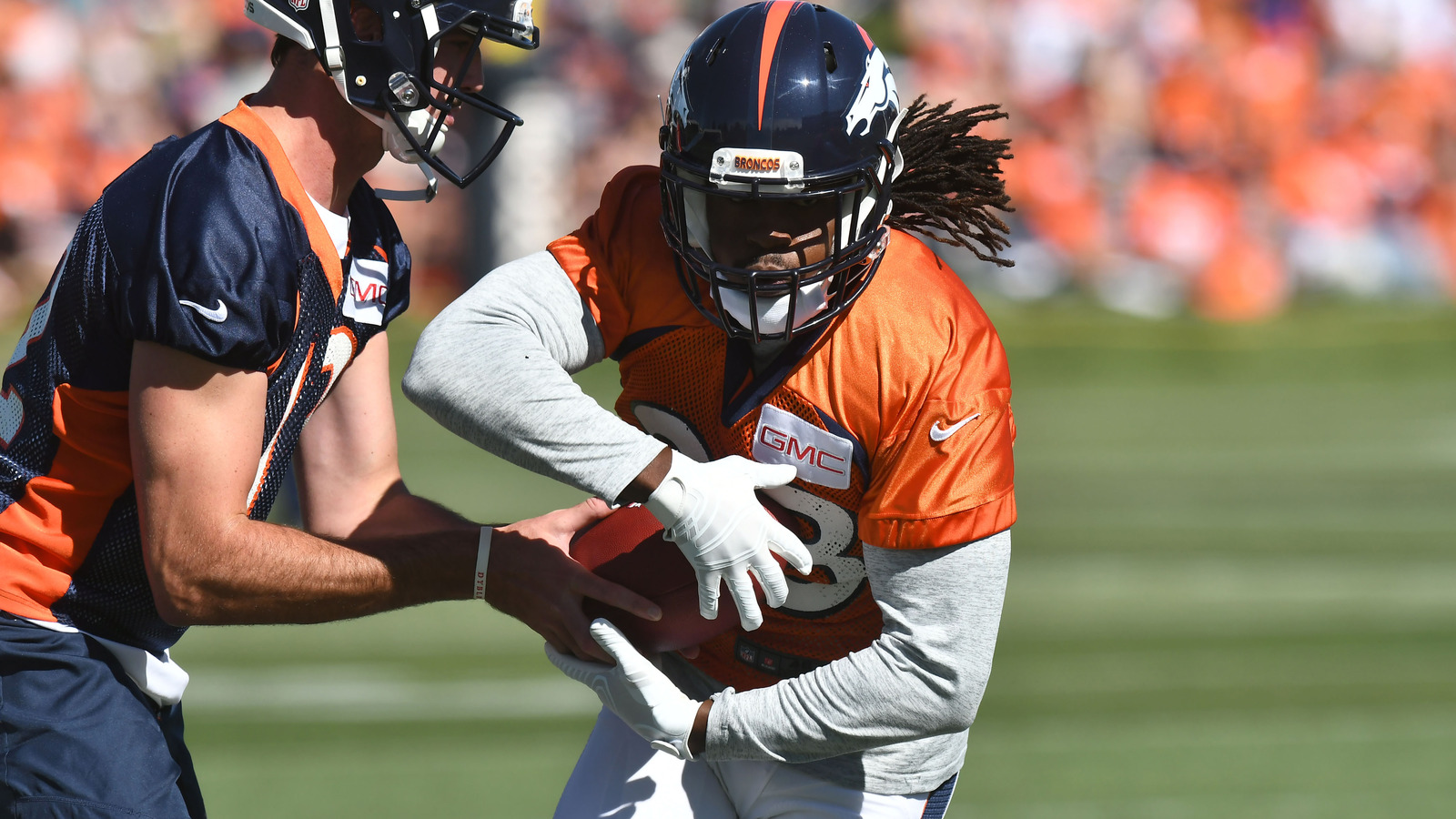 Jul 27, 2017; Englewood, CO, USA; Denver Broncos quarterback Paxton Lynch (12) hands off to running back Jamaal Charles (28) during training camp at the UCHealth Training Center. 
Ron Chenoy-USA TODAY Sports
All throughout the offseason and into training camp, Trevor Siemian has maintained a lead over Paxton Lynch in their quarterback competition.
However, according to Troy E. Renck of ABC 7 in Denver, the second-year quarterback is starting to come on strong.
"After falling behind in the competition in the days leading up to the preseason opener at Chicago, and failing to do much against the Bears, Lynch turned the corner this week," Renck wrote. "For the first time since the pads came on and the playbook expanded, Lynch looked comfortable."
The Broncos have been in Northern California this week for joint practices with the San Francisco 49ers. In those practices, Renck reports Lynch did very well, going 25-for-37 in 11-on-11 while going 7-on-7 and matchup drills. Even better, Lynch didn't turn the ball over in those practices.
Lynch talked about what is starting to click with him.
"Just my progressions and being comfortable in the offense I think is growing over time and day in and day out with these guys," Lynch said. "Knowing where they're going to be, knowing when to adjust plays and fix protections, and having the ability to change the plays. I know that coach McCoy is starting to have some trust in us and give us the ability to go up to the line of scrimmage and get us in the right look."
Last week when the Broncos played in Chicago against the Bears, Lynch put forth an uninspiring effort. He finished with 42 yards on 6-of-9 passing and didn't lead a single scoring drive. Siemian looked more in command of the offense, getting the start last week.
The Broncos will meet up with the same 49ers team they practiced with earlier in the week on Saturday evening for their Week 2 preseason game. This time around, it's Lynch who'll work with the starters, and it's expected he'll get a good chunk of the first half to show off his stuff.
MORE FROM YARDBARKER:
QUIZ: Name every Denver Broncos starting quarterback since John Elway
Since John Elway's retirement in 1998, the Denver Broncos have started 15 different quarterbacks under center. How many can you name?
Clue: Years active
MORE FROM YARDBARKER
Broncos News

Delivered to your inbox

You'll also receive Yardbarker's daily Top 10, featuring the best sports stories from around the web. Customize your newsletter to get articles on your favorite sports and teams. And the best part? It's free!