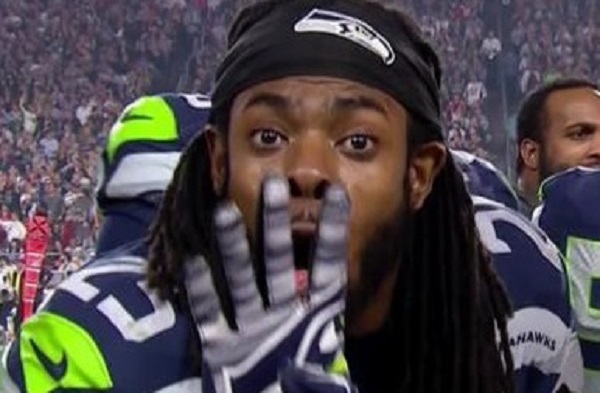 Seattle's Richard Sherman taunts New England's Derrelle Revis.
Screenshot: NBC
By Larry Brown.
Richard Sherman doesn't waste any opportunities to talk smack. He will pounce at any chance, and he got an opportunity to do so during Super Bowl XLIX on Sunday.
The Seahawks scored on a touchdown pass from Russell Wilson to a wide open Doug Baldwin to go up 24-14 in the third quarter. Baldwin got wide open despite being covered by Darrelle Revis, who is considered to be one of the best — if not the best — cornerback in the league.
Sherman was quick to point out that it was Revis who blew the coverage on the play. He pointed at the camera and did a two and four with his hands to represent Revis' No. 24 jersey. Recall that the two had beef all offseason in 2013 before finally squashing things last year.
Or was he just showing us how many points the Seahawks scored?
We have to give it to Sherman — we haven't seen him get beat for touchdowns in big games like that.
MORE FROM YARDBARKER
Seahawks News

Delivered to your inbox

You'll also receive Yardbarker's daily Top 10, featuring the best sports stories from around the web. Customize your newsletter to get articles on your favorite sports and teams. And the best part? It's free!