Originally posted on
Sportsnaut
| Last updated 4/8/15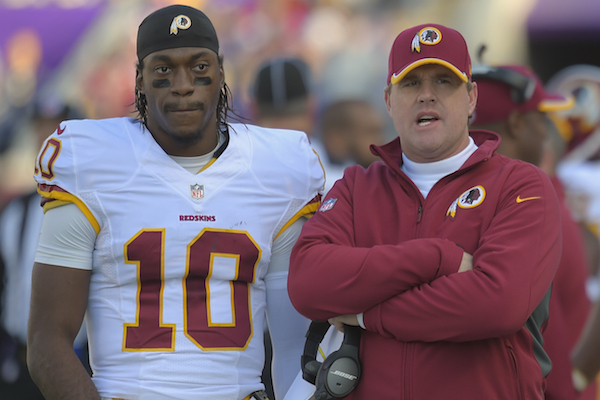 Robert Griffin III did not give his head coach, Jay Gruden, a ringing endorsement when discussing their relationship.
The Washington Post/Getty Images
By Vincent Frank
It's not a secret that the Washington Redskins were a hot mess under then-first-year head coach Jay Gruden last season.
Finishing the year with just four wins and losing seven of its last eight, Washington has nowhere to look but up.
One of the lingering issues from last season remains the relationship between Gruden and starting quarterback Robert Griffin III. Not necessarily acting the part of a quarterback-friendly mentor, Gruden took to the press to criticize his struggling signal caller more than once. It was a situation that didn't exactly paint the head coach in the best of light.
Now months removed from the drama, RGIII spoke out about his relationship with Gruden and what the plans are moving forward. In doing so, the former top pick didn't give his head coach much of an endorsement.
"Jay came in here with the plan to help develop me as a quarterback, and help this team win," RG3 told Larry Michael on Redskins Nation, via CSN Washington. "He wants me to go out there and be the quarterback he knows I can be, and I will be. My job is not to characterize or judge him as a coach."
When asked specifically about his relationship with Gruden, the embattled quarterback simply said that they both want to win.
We sure hope so, Robert.
The issue here is that there hasn't been a lot of winning going on in D.C. since a surprising playoff run back in 2012. The Redskins have won a total of seven games over the past two seasons. And for his part, the former Heisman winner is 5-15 as a starter during that span.
Despite this, Gruden has already indicated RGIII is the team's starting quarterback for now.
Looking to move on from the 2014 season, the Redskins' quarterback showed some optimism.
"We're going to make sure we work together in a positive way to make sure this team is successful," he said. "We're going to win. That's all we can do."
Washington has done some good work on the defensive side of the ball this offseason. With solid draft later this month, the team might be more competitive in 2015.
It just remains to be seen whether RGIII or Gruden will be around when this thing finally turns around.
MORE FROM YARDBARKER
Redskins News

Delivered to your inbox

You'll also receive Yardbarker's daily Top 10, featuring the best sports stories from around the web. Customize your newsletter to get articles on your favorite sports and teams. And the best part? It's free!