The Patriots will be special and annoying as all get-out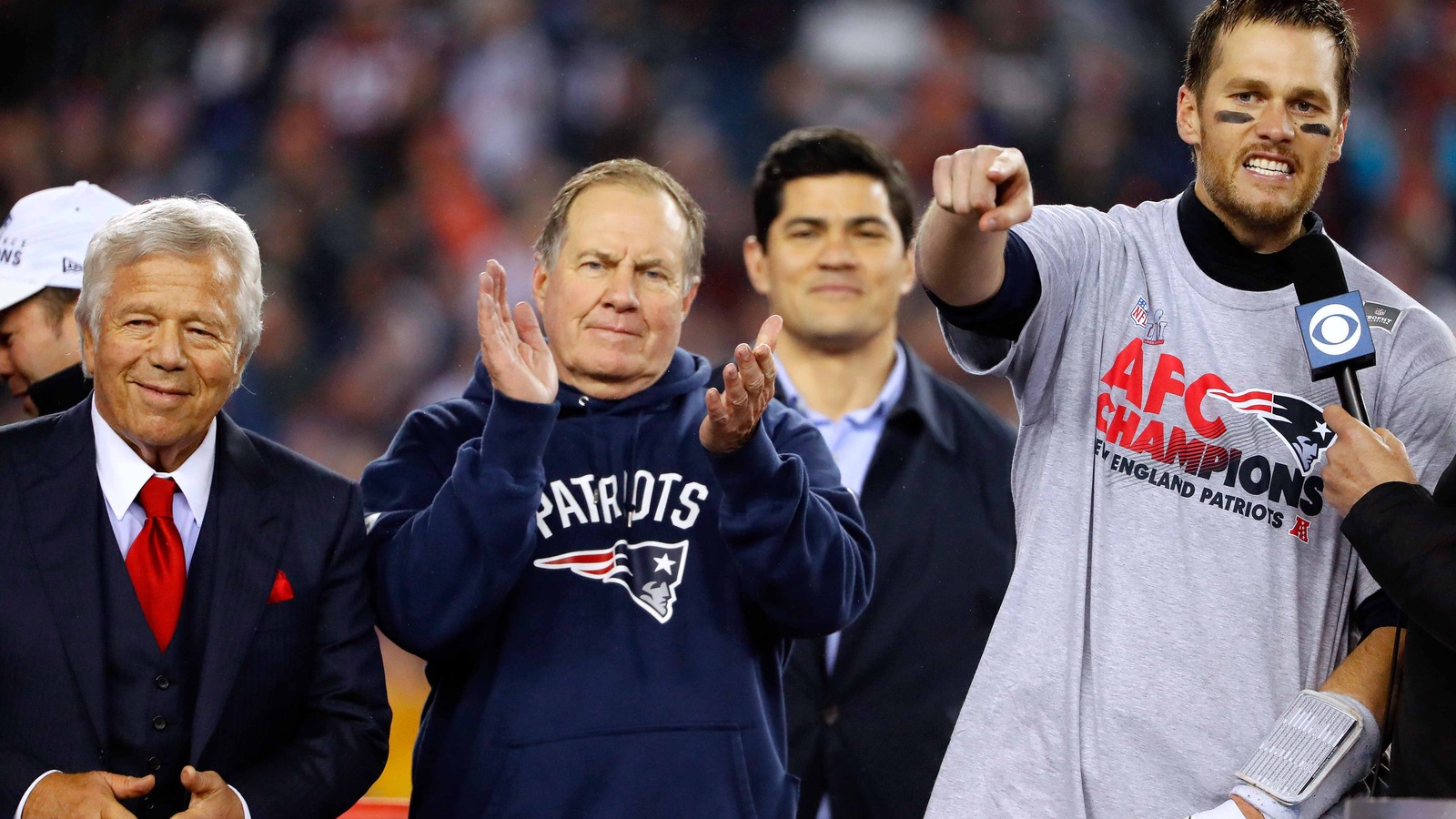 The NFL can't escape Robert Kraft, Bill Belichick, Tom Brady and the New England Patriots.
Winslow Townson/USA TODAY Sports
The Patriots are set to embark on a season where they are not only expected to repeat as champions, but possibly be undefeated. It's seldom been a great time lately to be tired of the Patriots, but 2017 seems like a worse time than most.
This week, the Pats were super irritating because they had to let everyone know that they needed to rig up a special new space for their fifth championship banner. You see, back when Gillette Stadium was built in 2000, it was inconceivable that this once lowly franchise would win so many titles so quickly. Sure, one might choose to interpret this as a sign that fates can change quickly. One could also see it as a reminder that the Patriots' continued reign is tiresome and ultimately bad for a league that could use new stars being pushed to prominence as others are leaving.

What's left for the Pats to achieve? Completing the perfect season they were denied in 2007? Equaling and possibly surpassing the Steelers for the most Super Bowl titles? Those are all understandable goals for the franchise. Nevertheless, even to someone who doesn't totally loathe the Patriots, the idea of the team that has dominated the last 16 years piling up any further hardware has to be exhausting.
Those holding out hope that, once Tom Brady exits, the team will cede the floor to one or several emergent contenders have had to wait as the quarterback has remained dominant until his 40th birthday and likely beyond. There are a handful of pro quarterbacks who have held on to play past the age of 40, but few showed more than the fading embers of once glorious careers. Brett Favre had an impressive year at age 40 that resulted in a conference championship appearance for the Vikings, only for his play to fall off a cliff in the next, his final season.

Barring an unlikely dramatic dip in production for Brady this season, we're going to hear propaganda about his weird diet and how all QBs should aspire to never eat a strawberry while downing pint after pint of avocado ice cream. Also, there's bound to be more public squabbling between Brady and Gisele about his ongoing career. On one hand, it's reasonable for her to want him to spend more time with his family, and it makes sense for her to have concern for his safety. At the same time, knowing what we do about CTE, Brady's long since been exposed to long-term issues by playing more than 15 years. It's hard to say what one, or two, or possibly more seasons would do to exacerbate that risk, but fair to say it can't get that much higher for him. Sure, it makes sense that she wants Brady home for the good years before issues may arise. But there's also no guarantee that they will, and Brady has a shot at more history, which is obviously important to him. In a way, both parties have a reasonable stance, and that's one of many reasons why it's a tedious argument to watch play out.
Worst of all are the imagined slights of disrespect that are yet to come. Anyone who remembers the 2007 season surely recalls how the Patriots constantly tried to whip themselves into a frenzy by claiming to be disrespected by any opponent who felt they had a chance to knock off the Pats. The most notorious example was little-known Steelers safety Anthony Smith, who after being pressed by reporters about Pittsburgh's chances of winning, issued a guarantee of victory. He was wrong, of course, but somehow his claim set off the Patriots enough that Brady was jawing at him in the end zone after a touchdown and nearly started a brawl.
This is contrasted by a worshipful local media in Boston that mistakes a reluctance to give useful press conference quotes for humility. Bill Belichick is well-versed in keeping his players on message, but the arrogance asserts itself in other ways. What's more, the Pats don't need to be boisterous to the media when pundits are happy to do the job for them and openly ridicule any player with the temerity to believe his team can win against them, especially when players are excoriated just as badly for not believing in themselves.
Then, of course, there's the inescapable political connections. Only Colin Kaepernick is now arguably a more politically divisive NFL figure than Brady, Belichick and Robert Kraft, who are all closely aligned with Donald Trump. A Patriots undefeated season is bound to be accompanied by tons of boasting by the president, which naturally leads to arguments that have nothing to do with football.
So the Pats are bound to annoy because, well, they're the Pats. Because they've been around forever. Because they're cocky even though they somehow get credit for being humble. And because any mention of them can touch off a political flame war. And, worst of all, we may very well have to endure a five-month pursuit of a perfect season that we may not be lucky enough to avoid this time around.
MORE FROM YARDBARKER:
QUIZ: Name the starting lineups of Super Bowl XLII - New York Giants vs. New England Patriots
The New England Patriots were looking at an undefeated season and the New York Giants were hoping to play spoilers in the final game of the 2007-2008 NFL season. A helmet catch and last minute heartbreak made for one of the most exciting games in Super Bowl history.
Can you name the starting lineups of Super Bowl XLII?
(New York Giants - 17, New England Patriots - 14)
Clue: Team-Position
MORE FROM YARDBARKER
Patriots News

Delivered to your inbox

You'll also receive Yardbarker's daily Top 10, featuring the best sports stories from around the web. Customize your newsletter to get articles on your favorite sports and teams. And the best part? It's free!