Originally posted on
Sportsnaut
| Last updated 1/8/15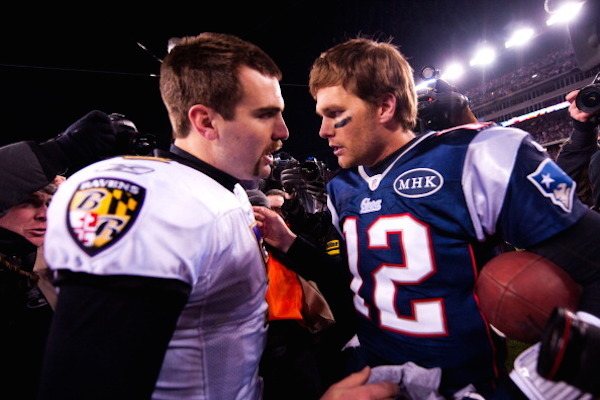 Joe Flacco and Tom Brady renew their playoff rivalry with a showdown at Gillette Stadium.
Rob Tringali/SportsChrome/Getty Images
By Vincent Frank
When the clock hits zero in Denver on Sunday night, only four teams will remain that have a chance to hoist the Lombardi Trophy next month. Each NFL Divisional Playoff matchup brings something different to the table.
Four teams that played last weekend will have to travel on the road to take on a rested opponent in a hostile environment. Of those four teams, the Baltimore Ravens are looking to continue what has been an amazing playoff run in recent seasons, while Cam Newton's Carolina Panthers are attempting to shock the football world in the Pacific Northwest.
For one of the final times this season, let's check in on the top storyline for each NFL Playoff matchup this upcoming weekend.
Baltimore Ravens at New England Patriots: Joe Flacco's Playoff Excellence Hits the Road
Joe Flacco has thrown 13 touchdowns compared to zero interceptions (116.3 rating) in his last five postseason starts (all wins). The interesting thing here is that four of those five wins have come away from home. He's now tasked going against a quarterback in Tom Brady that is 12-3 in his postseason career at home.
Some may conclude that Baltimore doesn't stand much of a chance against the Patriots at Gillette Stadium on Saturday, but that's more simple-minded than anything else. This is the third postseason matchup between the Ravens and Patriots in four years. The teams split their previous two meetings, both coming in New England. In those two games, Flacco completed 60 percent of his passes with five touchdowns and one interception.
If he performs at the level we have seen in January's of the past, Baltimore stands a good chance of going into New England and coming out on top. If not, Brady and company will once again find themselves hosting an AFC Championship game.
Carolina Panthers at Seattle Seahawks: Any Way the Carolina Hangs with the Defending Champs?
Seattle is currently 11-point favorites at home against a Panthers team that finished the regular season with a losing record. The defending champs have also lost a total of two home games since Christmas Eve of 2011. Needless to say, pretty much everything is working against Cam Newton and company in this one.
But how do the Panthers go into CenturyLink and make a game out of it? That's the million-dollar question right there.
It has to start with a running game that is averaging nearly 200 yards per game over the Panthers' last six outings. They will have to succeed against a Seahawks run defense that has yielded less than 65 yards in five of the past six games and has given up a total of 39 points during that span.
The key here is going to be to create third-and-manageable situations in order for the Panthers play-action pass to work against the Legion of Boom. If this happens, Carolina has a fighting chance to keep it close and pull off one of the biggest upsets in NFL Playoff history.
Dallas Cowboys at Green Bay Packers: Two Hottest Quarterbacks in the NFL
Over the course of his past 13 regular season home starts, Aaron Rodgers has thrown 36 touchdowns compared to zero interceptions. Yes, that's ZERO interceptions in 400-plus pass attempts.
On the other hand, Tony Romo and the Cowboys are playing some tremendous football. In the midst of a five-game winning streak that has seen Dallas outscore its opponents by a combined 90 points, this team isn't going to be an easy out here.
The Cowboys have also won nine consecutive road games dating back to Week 16 of the 2013 season, a streak that includes what has to be considered a surprising victory against the Seahawks in Seattle back in Week 6. Over the course of those nine games, Romo has thrown 24 touchdowns compared to three interceptions. In fact, the veteran signal caller has 38 touchdowns and six interceptions on the road since the start of the 2013 campaign.
It doesn't take a genius to realize what is going on here. Both Rodgers and Romo are playing some great football. And to be honest, the one who performs better on Sunday afternoon will likely advance to the NFC Championship game against either Carolina or Seattle.
Indianapolis Colts at Denver Broncos: Andrew Luck Versus Peyton Manning
Sunday night's playoff game will represent Manning's 24th career postseason outing. It will also represent Luck's fifth-career playoff game. In more ways than one, this is the old guard versus the new guard. Now add into account the fact that Manning will be going up against the team that he made 19 of those playoff starts for, and this takes on even more meaning.
Luck has an opportunity to earn his first trip to the AFC Championship Game. Not only that, he can prove to all the fans in Indianapolis that it's clearly time to move on from the successful Manning years to a new era of Colts football. For Manning, it's one of his last chances to earn a second Super Bowl ring. While the veteran has indicated he will play next season, his future after that is questionable.
MORE FROM YARDBARKER
NFL News

Delivered to your inbox

You'll also receive Yardbarker's daily Top 10, featuring the best sports stories from around the web. Customize your newsletter to get articles on your favorite sports and teams. And the best part? It's free!