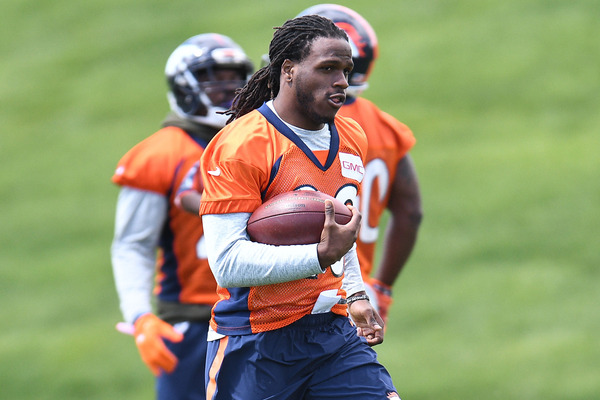 Jamaal Charles is trying to prove that age is just a number.
Ron Chenoy-USA TODAY Sports
Jamaal Charles is still working his way all the way back from knee injuries that plagued him the past two years, but he's starting to look awfully good.
Reporters spotted Charles running drills during Monday's OTAs, and while it's not full speed the burst that made Charles famous is starting to show up again.
Cecil Lammey of 104.3 The Fan noted Charles was "moving crisply through bag drills. Feet fast, some burst there too."
Charles also took some time to speak with reporters. He is very excited about being in Denver and made it clear that he not only wants to be the best he can be but also wants to help elevate the play of DeVontae Booker and C.J. Anderson.
If Charles can return to the form we grew to know and love before his knee injuries, then Denver will have quite the potent trio of running backs in 2017. The last "full" season Charles played in was 2014 when he appeared in 15 games. He totaled 1,324 yards and 14 touchdowns.
MORE FROM YARDBARKER
Broncos News

Delivered to your inbox

You'll also receive Yardbarker's daily Top 10, featuring the best sports stories from around the web. Customize your newsletter to get articles on your favorite sports and teams. And the best part? It's free!