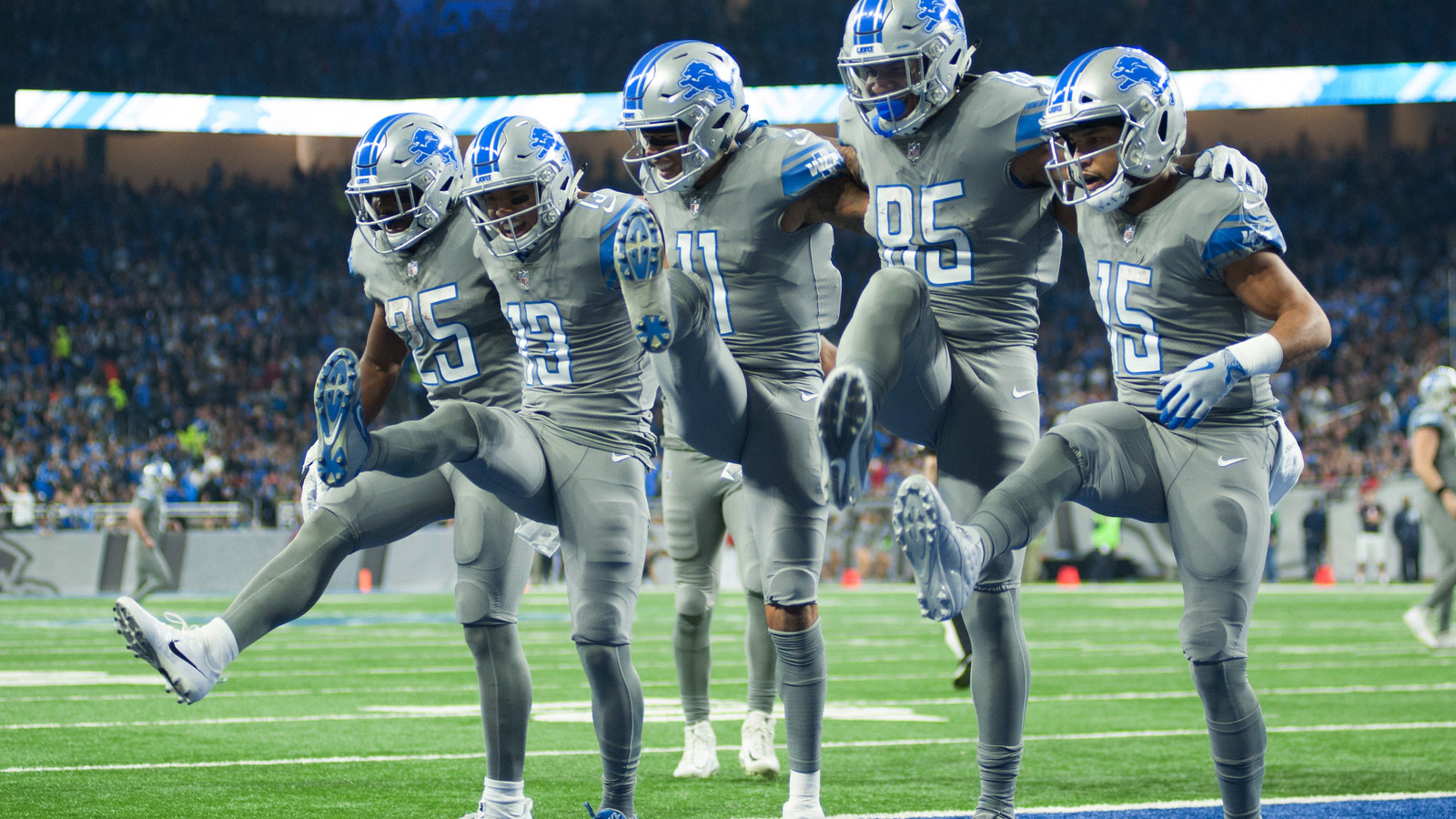 Dec 16, 2017; Detroit, MI, USA; Detroit Lions wide receiver T.J. Jones (13) celebrates his touchdown with running back Theo Riddick (25) wide receiver Marvin Jones (11) tight end Eric Ebron (85) and wide receiver Golden Tate (15) during the second quarter against the Chicago Bears at Ford Field. 
Tim Fuller-USA TODAY Sports
The Detroit Lions have really taken advantage of the NFL relaxing its rules on end-zone celebrations this season, as they've treated fans to some clever and funny sequences after scoring touchdowns.
Saturday's game against the Bears was no different, as the Lions players celebrated wide receiver T.J. Jones catching his first touchdown of the season in the best way possible.
Being that it's the holiday season, Jones was joined by some of his teammates — Eric Ebron, Marvin Jones, Golden Tate and Theo Riddick among them — in the end zone, and they lined up to perform the can-can dance like the Rockettes.
Apparently, Lions fan and comedian Keegan-Michael Key helped train them to do the dance, and it worked.
That was clearly one of the best celebrations of the season so far. It's safe to say no one expected the Lions players to deliver their best Rockettes impression — and nail it.
MORE FROM YARDBARKER:
QUIZ: Name every head coach in the history of the Detroit Lions
Dating back to their founding in 1930 as the Portsmouth Spartans before relocating in 1934, the Detroit Lions have had 26 coaches in NFL franchise history. This list includes two Hall of Fame coaches and one who returned for a second stint. Unfortunately, the team has never won the Super Bowl and has not won a playoff game since 1991. How many of the leaders of the Lions can you name?
Clue: Years Active
MORE FROM YARDBARKER
Lions News

Delivered to your inbox

You'll also receive Yardbarker's daily Top 10, featuring the best sports stories from around the web. Customize your newsletter to get articles on your favorite sports and teams. And the best part? It's free!