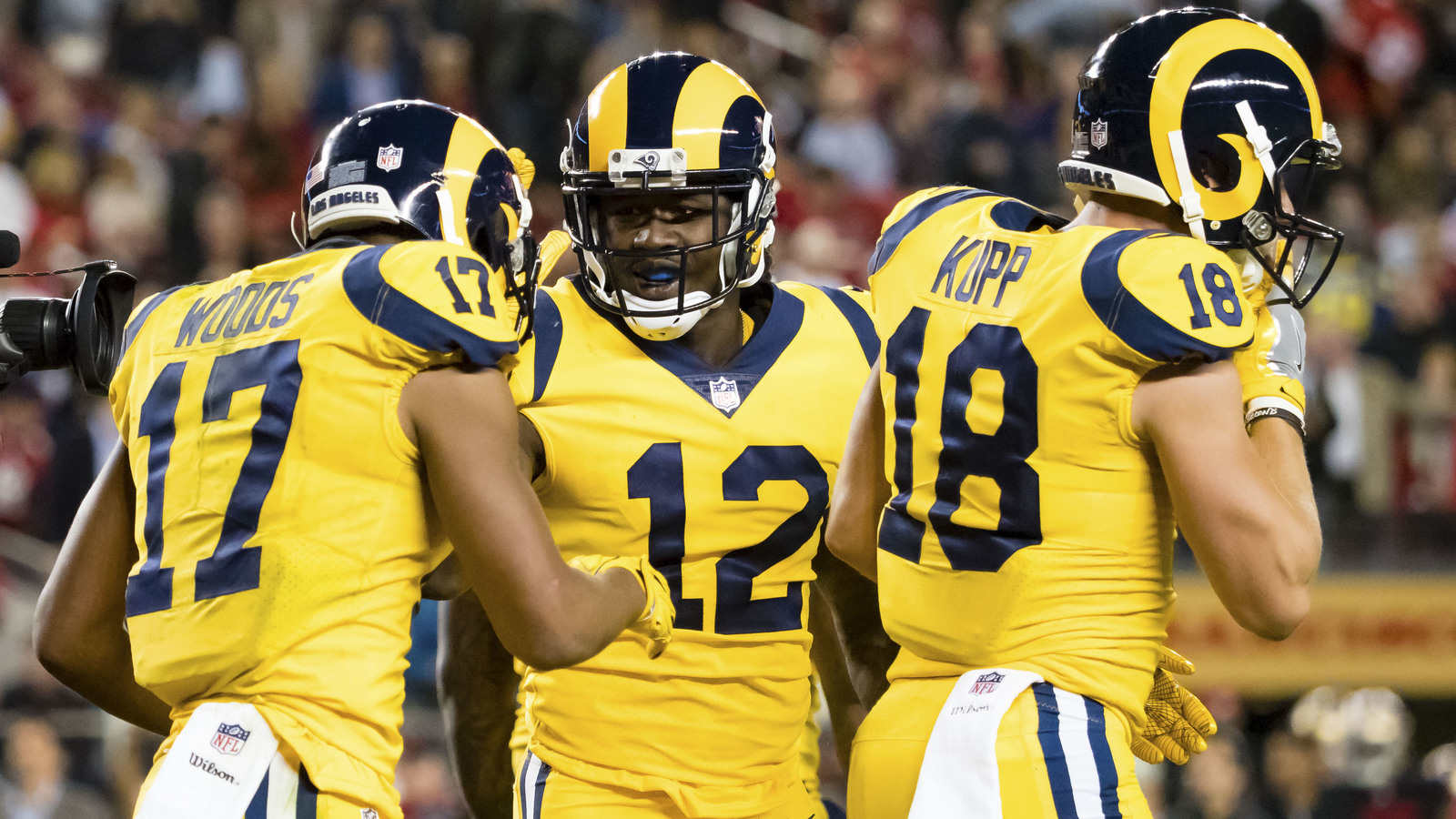 Sep 21, 2017; Santa Clara, CA, USA; Rams wide receiver Sammy Watkins celebrates with Robert Woods and Cooper Kupp after a touchdown against the 49ers.
Kelley L Cox-USA TODAY Sports
The Los Angeles Rams aren't going to set the National Football League ablaze this season. They're not going to lead the league in scoring. They're not suddenly reverting to "The Greatest Show on Turf" years. Jared Goff probably isn't going to receive Most Valuable Player consideration. Neither is Todd Gurley. All of these are essentially guarantees.
But they don't mean a thing.
I could spout off for paragraphs on end about how the Rams probably won't amount to much overall this season. Yet that wouldn't change the reality, and the reality is: this team is fun. It's one thing to be bad, it's another matter entirely to be both bad and boring. For the majority of the past 12 seasons, the Rams have been just that. Perhaps no longer.
Last season, the Rams scored 224 points en route to a 4-12 finish. Not only was that the lowest amount of points scored amongst the NFC West, it was the lowest amount of points scored league-wide. 224. That's an average of 14 points per week. The Rams have tallied 107 points—or, roughly 48 percent of last season's total—this season. They've played three games. In three weeks, they've scored 40-plus points twice. I'm sure we've all seen this stat, but it's worth repeating again and again: In five years under Jeff Fisher, the Rams put up 40 points on only two occasions. The last came back in 2014 when they dropped 52 on Oakland.
But wait, there's more!
Sean McVay's Rams are on pace to outscore the 1999 Super Bowl team. It's not going to happen, but did you think for even one second that we'd be talking about the Los Angeles Rams this way after three games in 2017? Of course you didn't One more? Okay fine—Todd Gurley already has six touchdowns. He had six touchdowns total in 2016.
Now you're probably thinking, "Well sure, they just played the 49ers; they're terrible! Who cares?"
Again, the Rams were winners of just four games in 2016. They lost to the Niners both times—including a 28-0 shutout in the season-opener. Good teams beat bad ones, and Los Angeles was far from good. That doesn't mean they're suddenly good now, but they've been good enough so far to beat bad teams (Colts, 49ers).
Todd Gurley looks revitalized under a competent coach. Jared Goff is looking like the playmaker that was so quickly written off as a bust several months ago. Their offensive line is competent. Sure, you can worry that the Rams allowed an atrocious 49ers offense to put up 39 points Thursday night. But not without recognizing that this team is already exceeding the very low expectations everyone had for them. The Rams and Niners gave us an entertaining Thursday night game; do you realize that?
And you know what? There's a chance they could make the next 4-5 weeks very interesting. Depending on which Dallas team shows up, a beatdown may await Los Angeles nine days from now. After that? The Seahawks are a mess—at least offensively—and the Rams already played them fairly tough under Jeff Fisher. Blake Bortles is good for a couple turnovers at the very least. Carson Palmer is resembling that of a corpse more and more with each passing week. The New York Football Giants have been abysmal.
Am I saying the Rams are going to win the NFC West? Of course not. Am I suggesting they could even finish with a winning record? Not really, though at this stage I wouldn't entirely rule it out. Just enjoy the ride. That's all.
One season ago, Jared Goff completed just 112 of 205 passes (54.6 percent) with five touchdowns. He tossed seven interceptions and fumbled six times over a brutal seven-game sample. Three weeks into 2017, he's completing passes at a clip of 70.4 percent (57/81) while averaging 10-plus yards per attempt (last year he averaged just over five yards per). He's already matched his touchdown total (5). He's taking better care of the football.
Everything else is just gravy.
Oh, having better targets (Robert Woods, Sammy Watkins) isn't hurting. But Goff is making plays while the rest of his offense follows suit. While Todd Gurley is only averaging 3.8 yards per carry, we've already addressed the touchdowns. What we haven't talked about is that with 241 yards rushing, he's already racked up 27 percent of the yards he ran for last season.
Week 1 against the Colts would prove to be a career game for Jared Goff. Thursday night, he outdid himself. There's no shying away from how bad 2016 was for everyone, but 2017 is here and the Rams have the makings of something special. Something watchable. Something fun.
When you're a team with no expectations, that's all fans can hope for.
Rams News

Delivered to your inbox

You'll also receive Yardbarker's daily Top 10, featuring the best sports stories from around the web. Customize your newsletter to get articles on your favorite sports and teams. And the best part? It's free!
MORE FROM YARDBARKER
Rams News

Delivered to your inbox

You'll also receive Yardbarker's daily Top 10, featuring the best sports stories from around the web. Customize your newsletter to get articles on your favorite sports and teams. And the best part? It's free!