We've updated our Privacy Policy.
By continuing to use this site, you are agreeing to the new Privacy Policy.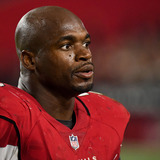 Adrian Peterson knows he could have a more difficult time finding a job this offseason than he did a year ago, and he may end up not finding one at all. If nothing else, the future Hall of Famer is going down swinging.Peterson will turn 33 later this month and has suffered multiple significant knee injuries. Beyond that, he has always be seen as more of a power runner who isn't as...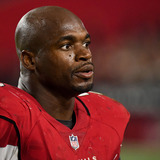 The Cardinals have released veteran running back Adrian Peterson, which officially makes him a free agent at this time.Peterson is a Palestine, Texas native, and it appears he now wants to return home and play for the Texans, judging by what he told TMZ Sports."Obviously, being back home would be awesome," Peterson said. "…Houston has always been a team I've thought about."He continued...
This is breaking news. Please refresh for updates.Adrian Peterson's brief tenure with the Cardinals has come to an end. The team cut the veteran running back today, reports Darren Urban of AZCardinals.com. We learned yesterday that the organization was planning to move on from Peterson. As our own Zach Links pointed out, the move allows the team to avoid a $750K bonus that was due...
LIKE WHAT YOU SEE?
GET THE DAILY NEWSLETTER:
Adrian Peterson will once again be looking for work this offseason after he was released by the Arizona Cardinals, and the veteran running back knows exactly which team he would sign with if he had his choice.The Houston Texans.Peterson grew up in Palestine, Texas, which is about a 2-3 hour drive from Houston. In an interview with TMZ this week, he hesitated when asked what his ...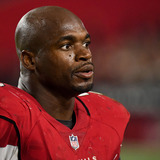 Adrian Peterson is a free agent, and he has an idea of where he wants to go. Peterson tells TMZ Sports that joining the texans would be his "dream scenario.""Obviously, being back home would be awesome," the Palestine, Texas native said … "Houston has always been a team I've thought about."At this time, it's not clear if the interest has been reciprocated or whether the Texans have...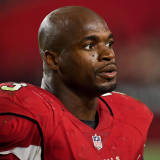 The Cardinals are expected to release running back Adrian Peterson today, a source tells Adam Schefter of ESPN.com (viaTwitter). By cutting Peterson now, the Cardinals will avoid paying a $750K bonus to the veteran, which was due on the third day of league year, Friday.  We first heard back in February that the Cardinals were planning to release Peterson. However, Schefter hears...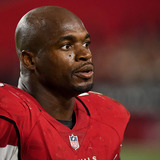 The Arizona Cardinals are expected to release Adrian Peterson this week, but the veteran running back could apparently end up returning to the team.According to ESPN's Adam Schefter, the Cardinals will release Peterson in order to avoid having to pay him the $750,000 bonus he is due on the third day of the league year. However, A.P. may sign a new deal with Arizona after that. Peterson...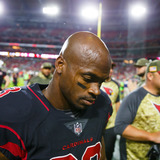 It looks like time is running out for running back Adrian Peterson. But here's the latest: the Cardinals expect to release him. As Schefter points out, Peterson could always return. But at this point, it would be for nothing other than depth. Last season, the 32-year-old would rack up 529 yards on just 3.7 yards per carry. Of course, the bulk of this would come with the Cardinals...
Adrian Peterson has said he wants to play in the NFL next season and beyond, but he will likely have even more trouble finding work this offseason than he did a year ago. The lukewarm endorsement he got from his soon-to-be former team's general manager probably won't help much.While speaking with reporters at the NFL Scouting Combine on Wednesday, Arizona Cardinals general manager...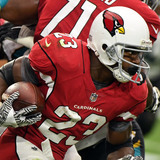 The Arizona Cardinals reportedly are going to release Adrian Peterson, who's going to be 33 when the 2018 season begins. But that's not stopping the running back from dreaming big about playing the game for another half-decade or so.Speaking about his future on Saturday, Peterson said he wants to play another four or five years. Peterson said he hasn't yet heard from the Cardinals...
MORE STORIES >>
Cardinals News

Delivered to your inbox

You'll also receive Yardbarker's daily Top 10, featuring the best sports stories from around the web. Customize your newsletter to get articles on your favorite sports and teams. And the best part? It's free!