The New England Patriots continue to purge themselves of depth at the cornerback position. After both Darrelle Revis and Brandon Browner departed the team in free agency, it became apparent that the defending champs were in trouble at this all-important position. Spending a late-round pick on a corner in the draft last week probably didn't calm many nerves. Releasing former seventh...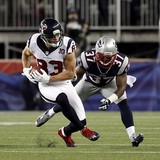 Alfonzo Dennard was released from a Nebraska jail this afternoon, but when he looks at the moves the Patriots have made in free agency he's going to wonder if he just came out of a time capsule.It's not as if the 3rd year cornerback didn't know what was going on with his employer while he was rubbing elbows with Bubba, but now he must confront the reality of life on the outside ...
After appearing in front of a judge earlier Thursday afternoon, Patriots CB Alfonzo Dennard received his sentencing for a probation violation Dennard received a one year extension to his probation, 100 hours of additional community service, a no-alcohol condition, and 30 added days to Dennard's jail sentence which is set to begin on March 1st. The Patriots cornerback was initially...
According to Jeff Howe of the Boston Herald, New England Patriots CB Alfonzo Dennard is not expected to play this week against the Broncos due to a knee injury. Dennard popped up on the injury report on Saturday, and wasn't active in last night's loss to the Panthers.
    Second year New England Patriots cornerback Alfonzo Dennard appeared in a Nebraska court today.  Alfonso admitted to violating his probation, when he drove under the influence of alcohol in July. The sentencing hearing is set for December fifth.     Dennard also must appear in court for in October for his DUI case.    In February, Dennard was found guilty of assaulting a police...
Patriots cornerback Alfonzo Dennard is being held out of training camp because of an unidentified injury, according to The Boston Herald. Dennard, who has been held out of team drills the past three sessions, has shown no signs of injury during camp. Some were wondering if he was being held out because the Patriots were bracing for his potential discipline stemming from his off...
Undated booking photo provided by the Lincoln Police Department OMAHA, Neb.—According to a report from Jay Withrow of the Omaha World-Herald, New England Patriots cornerback Alfonzo Dennard was arrested due to suspicion of drunk driving early Thursday morning in Lincoln. Per Lincoln police Capt. Jason Stille, officers spotted a westbound Honda "straddling the lane on Normal Boulevard...
Either New England Patriots cornerback Alfonzo Dennard messed up by driving drunk or Lincoln, Neb., or the police messed up by accusing him of doing so. That will be decided in court, but in either case this is probably not the best time to test the Patriots' patience, what with the Pats having cut their tight end because he got accused of murder. According to the Lincoln Journal...
New England Patriots defensive back Alfonzo Dennard, 24, was arrested on suspicion of drunken driving early Thursday in Lincoln, Neb. according to the Omaha World Herald. Lincoln police Capt. Jason Stille told the World Herald that officers spotted a westbound Honda straddling the lane line on Normal Blvd. in Lincoln between 50th and 56th Streets about 2 a.m. local time. According...
MORE STORIES >>
NFL News

Delivered to your inbox

You'll also receive Yardbarker's daily Top 10, featuring the best sports stories from around the web. Customize your newsletter to get articles on your favorite sports and teams. And the best part? It's free!