Indianapolis Colts quarterback Andrew Luck, in town Friday for the Riley Children's Health Sports Legends Experience at The Children's Museum of Indianapolis' "Game On Gala," talked about his ongoing rehab and getting a chance to catch up with new head coach Frank Reich.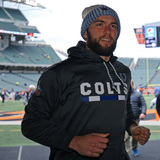 It's been a long road back for Andrew Luck, but the wait is almost over. The Indianapolis Colts have their quarterback again. And not only that, but he will be at their facility this week. Luck would miss the entire 2017 season recovering from a shoulder injury. Meanwhile, the Colts would suffer—finishing 4-12 and missing the playoffs for the third straight season. Fortunately for...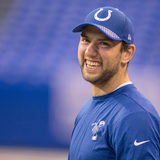 The health of Andrew Luck is a huge story this offseason as the Indianapolis Colts attempt to once again get competitive after a couple of failed campaigns. There's some good news to be heard, however, as Ian Rapoport of NFL Network reports Luck's rehab is still headed in the right direction ahead of his next check-in. Rapoport notes Luck is still throwing around weighted balls,...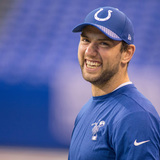 Indianapolis Colts quarterback Andrew Luck missed the entire 2017 season and the team went into the tank without him. Folks are probably leery about investing in season tickets for 2018.Not wanting this to be an issue in 2018, the Colts are reportedly using Luck to promote ticket sales. The organization held Town Hall on Feb. 20 when they video-cast a recording of Luck addressing...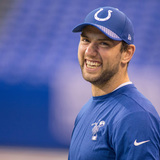 The news concerning the health of Indianapolis Colts quarterback Andrew Luck in the offseason has been mixed. But on Wednesday, some definite good news was revealed by Colts coach Frank Reich.Reich noted that Luck is progressing well. The coach expects to see his quarterback with the team when the offseason program begins in April. Previously, the news was that Luck was expected...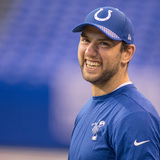 Andrew Luck has resumed throwing and appears to be on track to be ready for the start of the 2018 season, but the Indianapolis Colts quarterback is not slinging the pigskin around just yet.In an interview with Peter King on Tuesday, Luck said the "ship has sailed" on him needing a second surgery. He revealed that he has been working on his throwing mechanics with QB guru Tom House...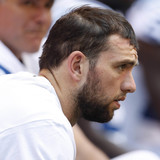 At this point, the Indianapolis Colts need Andrew Luck just to remain relevant. But last season, due to lingering shoulder issues, Luck wouldn't even suit up. But things appear to be on track for him to start the 2018 season. And when it comes to a potential second surgery on his shoulder, Luck isn't having it."That is not an option for me right now. I feel very, very good about...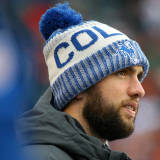 The state of the Colts hinges on quarterback Andrew Luck's health, something we haven't heard much at all about over the past few months. There have been a lot of whispers and rumors, but nothing concrete.Now, with the Colts having hired Frank Reich as head coach, coincidentally, Luck has come forward and revealed some details surrounding how his shoulder recovery has been progressing...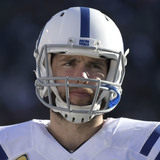 The health of Andrew Luck remains something of a mystery. But speaking about the health of his shoulder, the Indianapolis Colts' quarterback made it clear that he's not planning on going under the knife. This would seem to fall in line with recent reports.On Tuesday, coach Frank Reich expressed doubt that Luck will be ready for OTAs. But another recent report has suggested that he...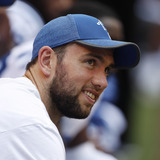 The Indianapolis Colts need a fresh start. But luckily for them, that comes in the form of new head coach Frank Reich. Meanwhile, franchise quarterback Andrew Luck is coming off his year-long absence. But he is looking forward to working under Reich."That sounds great."A simple observation, of course. But Luck doesn't stop there."I know all the best offenses that I've been a part...
MORE STORIES >>
Colts News

Delivered to your inbox

You'll also receive Yardbarker's daily Top 10, featuring the best sports stories from around the web. Customize your newsletter to get articles on your favorite sports and teams. And the best part? It's free!