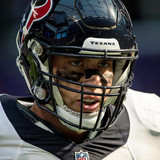 Free agent linebacker Brian Cushing will meet with the Seahawks on Wednesday, according to Ian Rapoport of NFL.com (on Twitter). This could be the start of a reunion for Cushing and Pete Carroll, who served as his head coach at USC. Cushing comes with question marks, including two career PED violations, the most recent of which cost him ten games in 2017. He has also struggled with...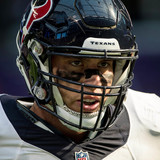 After being informed he would be released by the Houston Texans, linebacker Brian Cushing has announced his retirement from the NFL.The former NFL Defensive Rookie of the Year made the announcement on his Instagram account and included a lengthy, heartfelt caption. "For some reason you always think this day will never come. You wish you could play forever and never have to worry...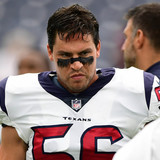 The Houston Texans are moving on. Finally.Coming off a disappointing 4-12 season, the Texans are shaking things up. And while things would've been better if not for Deshaun Watson and JJ Watt's season-ending injuries, there are many holes to fill -- especially on defense. Even without Watt, Houston boasts several playmakers on the defensive side of the ball. But somehow, the Texans...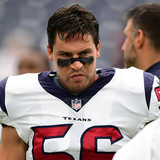 The Houston Texans have reportedly told linebacker Brian Cushing he will not be returning to the team in 2018, according to Mark Berman of Fox 26 in Houston.Cushing, who won the NFL Defensive Rookie of the Year award in 2009, was due to count $8.84 million against the cap in 2018, and the Texans can save $7.64 million by cutting him. With that in mind, Cushing is certainly a cap...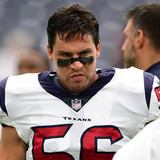 Houston Texans linebacker Brian Cushing did not mince words when talking after his team's blowout loss to the Pittsburgh Steelers on Christmas.The Texans were ripped by the Steelers 34-6 on Monday. They fell behind early, failed to convert from the goal line, and after that, it was all downhill save for a spectacular catch by DeAndre Hopkins.After the game, Cushing said the team...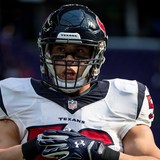 Brian Cushing has been suspended 10 games by the NFL for a PED violation, the Houston Texans announced on Wednesday. Cushing, a veteran linebacker, has been suspended for PEDs previously in his career, which is why he received 10 games this time. You may recall that he was suspended the first four games of the 2010 season due to a previous violation. That violation was announced...
Football players find themselves suiting up and playing through injuries most of us could scarcely imagine. The idea of walking around with broken bones in your back is bad enough. Now, think about the fact that Houston Texans linebacker Brian Cushing has been playing under these circumstances, and cringe-worthy comes to mind. Cushing indicated on Wednesday that he's played through...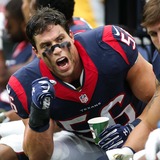 Houston Texans linebacker Brian Cushing just cannot catch a break when it comes to his knees. After leaving early Sunday with a knee injury against the Chicago Bears, it has been determined that he has a torn MCL, per Ian Rapoport of NFL Media. Thankfully, no surgery is required. The former USC star linebacker has struggled to stay healthy since being selected by Houston in the...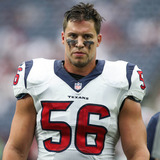 Megan Cushing, the wife of Houston Texans linebacker Brian Cushing, wasn't about to let a Houston sports talk radio host criticize her husband's teammates without at least some objection. Our friend Nick Wright, who hosts locally for 610 Sports in Houston and CBS Sports Radio nationally on the weekends, was critical of Texans tight end Garrett Graham while watching the team get...
The Houston Texans are coming off a year in which the lost a key player at almost every spot defensively. And even without players like Brian Cushing, Jonathan Joseph, Brooks Reed, and Daryl Sharpton they stI'll managed to put together a 12 win year, and had the NFL's DPOY. Coming into the 2013-14 season this defense needs to stay healthy to make the deep playoff run that's expected...
MORE STORIES >>
Texans News

Delivered to your inbox

You'll also receive Yardbarker's daily Top 10, featuring the best sports stories from around the web. Customize your newsletter to get articles on your favorite sports and teams. And the best part? It's free!