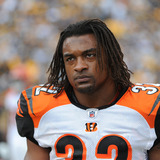 Former Texas Longhorns running back Cedric Benson was arrested for drunk driving Saturday morning, according to the Austin American Statesman.Benson was reportedly pulled over for speeding and making an "improper turn" and lane change without signaling while driving in Austin early in the morning. The Statesman says he refused a field sobriety test and balance test.These notes from...
Just when the Green Bay Packers looked like they were finally getting a solid running game going, the injury bug struck.Early reports indicate that the Packers newest running back, Cedric Benson, will be out six to eight weeks and possibly even longer. If you look at this situation from an optimist point of view, Benson will be back for week 12 against the Giants. But the reality...
There have been some happenings in Packers camp the past couple of days so I saw it as a chance to write up a summary of what is going on so people are aware. It seems the injury Desmond Bishop suffered during the Packers pre-season game against the Chargers was a bad one.  Bishop will be out for the season.  This is a big hit to the Packers defense that was already struggling as...
MORE STORIES >>
Packers News

Delivered to your inbox

You'll also receive Yardbarker's daily Top 10, featuring the best sports stories from around the web. Customize your newsletter to get articles on your favorite sports and teams. And the best part? It's free!