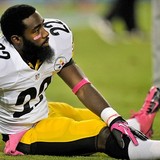 Former Pittsburgh Steelers running back Chris Rainey has yet to be signed by a team since he was released back in early January, but he told cornerback Curtis Brown on Twitter Wednesday night that he can't wait to play his former team, when and if he ever plays again. @iCU_Mr31 still waitin on this call, [...] You Mad Bro? Chris Rainey Says He Wants A Piece Of The Steelers is a post...
Tuesday was the Pro Day for the University of Florida and former Pittsburgh Steelers running back Chris Rainey was on hand to support a few of his former college teammates, and perhaps let NFL teams know that he is still looking for employment. Rainey was apparently asked about his quick release from the Steelers following his January arrest for simple battery and his reply was...
Florida Today is reporting Thursday that soon-to-be former Pittsburgh Steelers running back Chris Rainey pled no contest to disorderly conduct charges to settle his case from an early January arrest involving a dispute with his girlfriend. The report also states that Judge Walter Green withheld adjudication on Rainey, fined him $200 and imposed court costs of about $300. The...
LEGAL MATTERS
Former Pittsburgh Steelers running back Chris Rainey was in court on Friday to face the simple battery chargers that stemmed from a Thursday altercation with his girlfriend. Rainey was released from jail Friday after his first appearance before a judge on his own recognizance after it was deemed that he would not be a flight risk or a threat to society. His girlfriend, the alleged...
Chris Rainey made his NFL debut Sunday night and left much to be desired but I certainly don't blame him or anyone else for that matter. The Steelers gave him the ball on a traditional running play and another where misdirection was the key and resulted in a seven yard gain. His only reception was on a poorly developed screen where Rainey was simply swallowed up by the tall trees...
Yesterday, we talked about how rookie running back Chris Rainey is turning heads during the opening days of Pittsburgh Steelers training camp. For some, this is understandable, due to his shiftiness and speed.After some thought and a long discussion with some fans, one has to wonder it his potential vertical speed actually assisted the decision to extend wide receiver Antonio Brown...
MORE STORIES >>
NFL News

Delivered to your inbox

You'll also receive Yardbarker's daily Top 10, featuring the best sports stories from around the web. Customize your newsletter to get articles on your favorite sports and teams. And the best part? It's free!