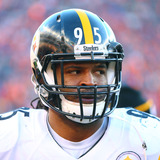 Jarvis Jones says that he is motivated by the Pittsburgh Steelers' decision not to pick up his contract option for 2017. Jones was a first-round pick by the Steelers in 2013 and is set to earn nearly $1.6 million this season. His salary for 2017 would have gone up to $8.4 million if the team picked up his 2017 option, which they chose not to do. That has him looking to produce more...
NFL Network reporter Aditi Kinkhabwala got a chance to catch up with Pittsburgh Steelers second-year outside linebacker Jarvis Jones following practice at OTAs yesterday, and the former first-round pick had plenty to say. Kinkhabwala relayed that general manager Kevin Colbert was expecting the real jump this season to come from the 2013 draft class, and […] Jarvis Jones Talks Youth...
After only registering one sack during his rookie season, Pittsburgh Steelers linebacker Jarvis Jones knew exactly what he needed to do during the offseason in order to change that moving forward into 2014. "Football is a game of inches so you want to be as big, as strong, and as fast as you can," said […] Steelers OLB Jarvis Jones Claims He's Accomplished His Goal Of Getting Stronger...
For the second straight year, the Pittsburgh Steelers drafted a linebacker with their first pick of the NFL Draft. This season they opted to take Ryan Shazier, out of Ohio State. [Shazier a shocker- grading the Steelers' first-rounder] While Shazier will hog plenty of the spotlight this offseason, let's swing the focus to last year's first rounder, outside linebacker Jarvis Jones...
Many observers, both fans and outsiders of the Pittsburgh Steelers, have raised questions about the speed—or the seeming lack of speed—of the team's 2013 first-round draft pick, outside linebacker Jarvis Jones. After all, he turned in a 40-time at his Pro Day of nearly five seconds, which would be a suitable time for an offensive […] Jarvis Jones Can Improve His Speed By Slowing...
Pittsburgh Steelers rookie linebacker Jarvis Jones didn't terrorize opposing quarterbacks like many hoped that he would during his first season in the NFL, but he gained valuable playing time that will hopefully help him progress to the next level in 2014. Following what was arguably his best game of the season Sunday in the win over the Cleveland Browns, Jones said he knows what...
MORE STORIES >>
Cardinals News

Delivered to your inbox

You'll also receive Yardbarker's daily Top 10, featuring the best sports stories from around the web. Customize your newsletter to get articles on your favorite sports and teams. And the best part? It's free!