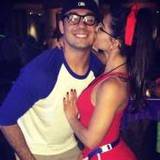 Detroit Lions tight end Joseph Fauria has addressed his bizarre tweet from early Monday morning, and you may be surprised to hear that he is not going with the "I was hacked" excuse. Hours after the Lions defeated the Tampa Bay Buccaneers, Fauria tweeted and deleted something about Russell Wilson stealing his girlfriend, WWE Diva...Read More
Detroit Lions tight end Joseph Fauria sent out an incredibly strange tweet after his team's win over the Tampa Bay Buccaneers. So weird, in fact, that one has to wonder if he was hacked. Shortly after midnight on Sunday, Fauria wrote something about Russell Wilson stealing his girlfriend. He quickly deleted the tweet, but not before @grade_eh_tweets was able to capture a screenshot...
Did Lions tight end Joseph Fauria's girlfriend have some sort of relationship with Seahawks quarterback Russell Wilson? It appears Fauria thinks so. He posted a tweet an hour ago which insinuates that's what may have happened. The tweet has since been deleted. But a Twitter user (@Grade_Eh_Tweets) was able to capture it before it was removed. @BrandonnnJ @BigJoeFauria pic.twitter...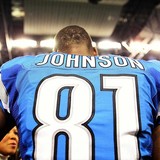 It seems as though the Eric Ebron era is upon us in Detroit, and I'm not sure the new regime has been accepted with open arms. If twitter and facebook are a barometer, I'd say that the decision the Detroit Lions made to draft Ebron with the tenth overall pick was cloudy with a chance of suicide. Now, all of my known associates are morons when it comes to sports, so there's no reason...
Ron Prince working the sidelines at Kansas State (Photo credit: AP) The Detroit Lions have hired another coach to their staff that has previous experience working with Jim Caldwell in Ron Prince. Prince is the first offensive coach to be hired and will serve as the assistant head coach/tight ends coach for the Lions. Bobby Johnson, former tight ends coach who was retained by Caldwell...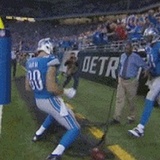 If you are going to bother catching a football there is no sense in catching 100 or so balls like Calvin Johnson and only scoring like 10 touchdowns. No, you might as well just catch 12 balls on the season and score seven touchdowns like Lions tight end Joseph Fauria!From Bleacher ReportWhen he does score fans can count on something else happening-- a few old school dance moves being...
The Detroit Lions win 31-17 over the Cleveland Browns in a tale of two halves as they capture their fourth win of the season. The game looked eerily similar to last week's loss to the Packers.  An anemic offense stunk up the field for the first half.  The Lions could barely move the ball with only 110 yards total; meanwhile, the Browns had 250 yards total and a 17-7 lead. But things...
The Lions' 31-17 win over the Browns on Sunday turned into a dance party for tight end Joseph Fauria. The undrafted free agent out of UCLA pulled down three catches, all of them for touchdowns. But it was the way he celebrated those scores that turned heads around the nation. His one-yard grab from Matthew Stafford in the first quarter was topped off by this strange move: That...
After Cleveland Browns cornerback Joe Haden recorded back-to-back pass interference penalties, the Detroit Lions had the ball on the Browns goal line.  Lions quarterback Matt Stafford threw one up for grabs for tight end Joseph Fauria, who used his size and athleticism to make the easy catch.  Fauria then got up and did another hilarious touchdown dance, thought I'm not sure where...
Lions undrafted rookie tight end Joe Fauria is quickly becoming one of my favorite Lions.  In Week One, he already provided one of the best touchdown dances of the year.  And Sunday, he dusted off a quick version of N'Sync's "Bye Bye Bye" after catching a five-yard touchdown pass from Matthew Stafford. Joe Fauria, American hero.
MORE STORIES >>
Bengals News

Delivered to your inbox

You'll also receive Yardbarker's daily Top 10, featuring the best sports stories from around the web. Customize your newsletter to get articles on your favorite sports and teams. And the best part? It's free!